Here you can find all info about Area 41 from AlienLabs. If you are searching for information about Area 41 from AlienLabs, check out our Basic Infos, Lineage / Genealogy or Hybrids / Crossbreeds for this cannabis variety here at this page and follow the links to get even more information. If you have any personal experiences with growing or consuming this cannabis variety, please use the upload links to add them to the database!
Basic / Breeders Info
Area 41 is a unknown variety from AlienLabs and can be cultivated indoors and outdoors . AlienLabs' Area 41 was never available as seeds (It's a clone-only variety!).
AlienLabs' Area 41 Description
Area 41 was bred and selected with the intention of bringing big gas back to the flavor conversation and power back to the top shelf. By lending the bag appeal of Gelato 41 to an old school OG cut and selecting it based on the flavor of the Lemon Fuel OG. The top reported aromas of the Area 41 strain are citrus and wood. It is said to taste of lemon, fruit, and cedar.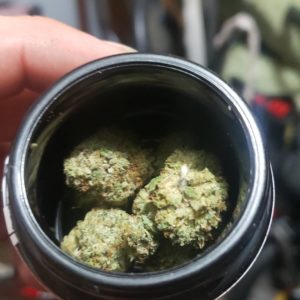 Appearance – Upon spinning the top of this limited edition strain I was simply amazed by these fat dense nugs that awaited me, the buds started fat on the base and thined as it reached the perfectly pointed top, like little mini christmas trees. The color fluctuated between a medium green to dark green tint to the flower, small patches of orange hairs scattered tightly across the bud, there was a fair amount of trichs on the outside of the bud, there but jot enough to shimmer in the light, I cracked the top off a bud and there was the nice frosty sheen of trichs hiding underneath the outer layer of this beautiful plant and the tint was of a more lime green on the inside.
Effects – After two bong rips I could feel the elctricity corsing through my entire body, my mind feels sharp and clear, there is absolutely no thinking other than what task is at hand. I am relaxed but am ready to rock, after my third rip upon the exhale I felt a warm sensation run from my shoulders to the bottom of my back,
Smell – As soon as you opened the jar you could smell straight OG gas and a pungent lemony citrus scent that tappered off into a earthy musty odor, upon the grind of the flower my nose tingled with gas and full on citrus terps, I knew I was in for something special.
We sell different Feminized seeds for Indoors and Outdoors. Click to see our Feminized Seeds
Before choosing your type, take a look at this information about Marijuana Seeds and Cannabis Seeds. Amsterdam Seed Supply has the best Feminized, Autoflowering and Medical Marijuana seeds available in Amsterdam. Each marijuana seed has their own specifications and are grown for different purposes. Please read the specifications of each seed before placing your order at Amsterdam Seed Supply and start growing.
We sell different seeds for medical purposes. Click to see our selection of Medical Seeds
Amsterdam Seed Supply has experience with the best marijuana seeds available. Below is a selection of some of our favourite cannabis seeds and books.
We sell different Outdoors seeds for all kinds of climate. Click to see our Outdoor Seeds
We sell different Cannabis Cup Winner seeds. Click to see our Cannabis Cup Winner seeds
We sell different Autoflowering seeds for Outdoor growing. Click to see our Autoflowering Seeds