Order
within
Avalon regular cannabis seeds from Next Generation Seeds can be yours for your cannabis seed collection or just as a kick-ass souvenir right here from Ice Headshop. These incredible cannabis seed genetics will make your collection proper and on point in no time flat. Having kickass cannabis seed collection such as this is where it's at if you're a serious cannabis connoisseur. Procuring a diverse selection of genetics for your collection is your goal. After all your prized cannabis seed collection gets all your love and affection. No more busting your ass trying to find kick ass grass only to be let down buy fly-by-night seed salesman and bodegas with no good seeds to be found.
customer reviews
customer reviews alt="Rating">
THC percentages start at 12% with this lady but are known to come in as high as 22%. The results you get will be based upon environmental conditions as well as experience level of the grower. Having cannabis seeds like these in your collection or just as a souvenir is a great way to make it shine. So when it is time remember to add Avalon to your selection.
Popcorn: After picking and husking, spread the ears in a dry, airy place and allow to cure for several weeks. Test-pop a few kernels periodically to determine when the kernels are dry enough to twist from the cobs, store in airtight containers. Large quantities can be processed by placing into heaps and stomping the kernels off the ears. For best results, isolate from any other corn.
Culture
• Corn performs best in fertile, well-drained soil with a pH between 6.0-7.0
• Corn is a heavy feeder requiring high amounts of nitrogen during the vegetative stage
• Waiting for soil to reach optimum temperature is critical to successful corn growing
• Corn is wind pollinated, for proper pollination plant individual varieties in blocks of at least 4 rows
• Separate varieties by time (plant 10 days apart), or distance (200 feet) to reduce cross-pollination
• For optimum growth ensure beds are watered evenly and deeply
Days to maturity are calculated from date of direct seeding.
OP Sweet Corn: For best seed saving results we recommend bagging plants to avoid cross pollination.
Transplanting
• Start indoors 2-3 weeks before desired transplant date
• Avoid letting starts get root bound and avoid damaging roots when planting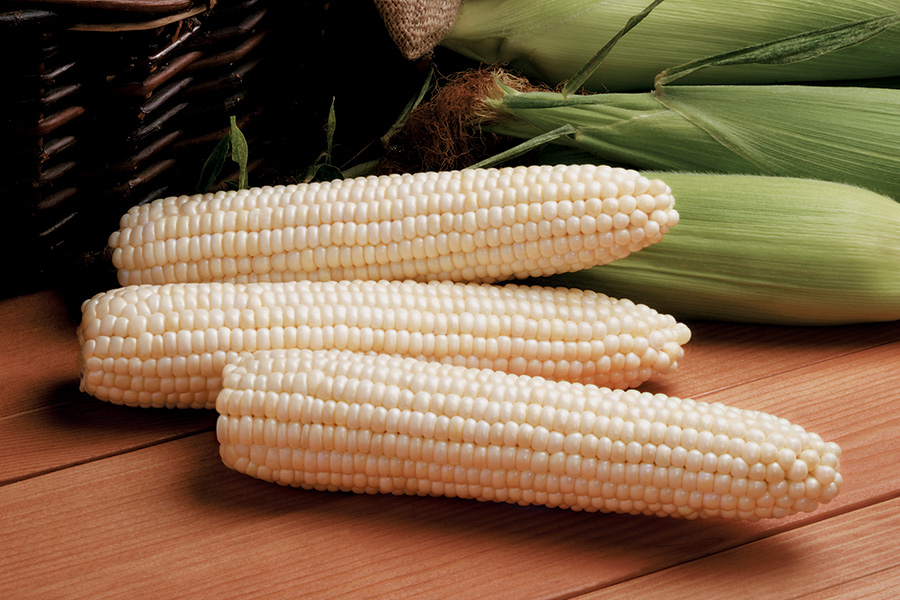 Sweet corn maturities are publicized as days to relative maturity. This information comes from supplier data, as well as our trial observations in the Midwest. Prolonged excessive heat or cool temperatures can cause maturity dates to fluctuate to some degree . Monitor your crop through the growing season in order to pick at optimum freshness.
Treatment
A white version of Providence.
SE/Synergistic types and SH2/Improved Super Sweet types should be isolated both from each other and from other types of corn including field corn, popcorn and ornamental corn.
Attributes
Harvest sweet corn when the end kernels of the ear feel developed. Approximately 21 – 25 days after half silk. Sample sweet corn to ensure quality.
Be sure to read the block on Managing Insects in sweet corn on the following page. Also take a look at our "Insect Scouting Resources" on page 38. Scout field every 7 days to check for insect, weed, and disease pressure. For identification of weeds, insects, and diseases consult your local extension office or view the Midwest Vegetable Production Guide.
18,000 – 22,000 seeds per acre or one seed every 8 – 12 inches. To achieve this singulation use a finger or air seed delivery system.
Avalon
×
For all high quality sweet corn varieties, maintaining an isolation is required to protect the high sugar and flavor characteristics of the sweet corn as cross pollination from other types of sweet corn or from different types of corn will result in starchy kernels.