Some seeds germinate very rapidly while others can take a while, but generally, seeds should germinate in 3-10 days. If it's been two weeks and a seed hasn't sprouted, it's probably a dud and won't sprout.
Viable or not, there's only one sure way to find out if a bagseed will grow. If you're simply curious to learn and not as concerned with the overall outcome, you can plant a couple of bagseeds outside and see what happens.
Growing marijuana takes a certain level of commitment: time, energy, and financial resources, so be sure you can commit to the whole process.
Step 2
Because they grow and flower quicker, growers can fit in multiple autoflower cannabis harvests into the span of one regular harvest.
Through cloning, you can create a new harvest with exact replicas of your favorite plant. Because genetics are identical, a clone will give you a plant with the same characteristics as the mother, such as flavor, cannabinoid profile, yield, grow time, etc. So if you come across a specific strain or phenotype you really like, you might want to clone it to reproduce more buds that have the same effects and characteristics.
Time to germinate
Also, autoflower plants are small—perfect for closet grows or any small grow, or growing outdoors where you don't want your neighbors to see what you're up to.
After completing these steps, it's time to wait. Check the paper towels once a day to make sure they're still saturated, and if they are losing moisture, apply more water to keep the seeds happy.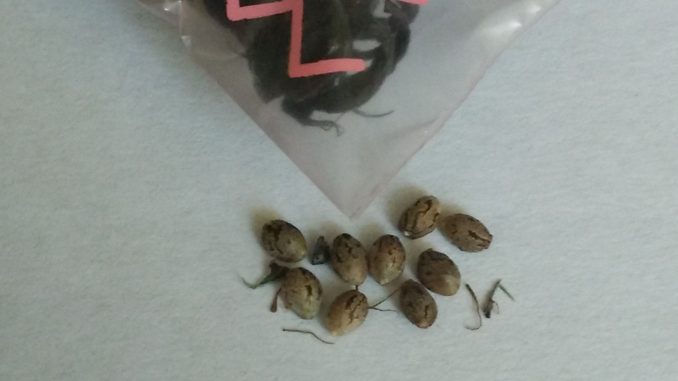 Fem plants produce seeds just like any other type of plant (if you pollinate them). It doesn't matter whether you have grown a plant from fem seeds or regular. Neither type is infertile. Of course, bud growers do everything they can to produce buds without seeds, but shit happens, doesn't it?
What we don't recommend is growing bag seeds indoors. With the cost of the setup and electricity bills and what not, the money you spend on seeds is arguably the least significant expense item.
I've been asking everyone about these bag weed seeds, and no one can explain this to me. Because I swear to God I can't understand it myself. If the buds haven't been pollinated, then the seeds should be sterile. But they aren't! I've germinated one such seed myself, and it was growing fine.
Obviously, the only way to tell if your bags seeds are feminized or regular is to grow and flower them.
Is it Normal for Fem Plants to Produce Seeds?
Growing unknown bag seeds is always a toss of a coin. Even if you like the buds in which you have found these seeds, it doesn't mean you'll get the same quality. Let's put it this way: you've now met the mother (the buds you've just smoked), but you don't know anything about the father (the source of pollen). It may have been outstanding, it may have been mediocre, or it may have been the most worthless ditch weed that grows in your area.
Most seeds you find in a zip lock will definitely grow. For plants, seeds are a means of reproduction. They aren't just for show. Of course, there are sterile or infertile seeds in other crops that have been artificially modified, but not in cannabis. So these seeds grow like any other: they germinate, they sprout, they get bigger, and then you see your bag seeds flowering as any other type of marijuana would.
Whether the seeds found in buds are feminized or not depends on the source of the pollination. If the pollen was from a male plant, the seeds will be regular, meaning that the ratio of male to female plants will be around 50/50. But if the source of the pollen were male flowers (hermies) from the same plant or another female/hermie plant in the garden, the resulting bag seeds are feminized. Please note that such seeds are also very prone to become hermies if you subject them to stress.
Some Questions about the Genetics
Most female plants can become hermies if you subject them to stress. It all depends on the amount of stress needed before you see male flowers in your female buds. If the buds have been pollinated by a male (see above), they will show more stability. If they have been pollinated by a hermie, watch out because even the least amount of stress can make such plants 'turn to the dark side'.
Suppose you buy some buds in a 'bag' (a zip lock). You expect the buds to be high quality which means—among other things—that they'll be without seeds. The buds really do look, smell and taste great, and make you high, too. However, when grinding them, you find a seed or two. And this is what we call 'bag seeds'.