Growing high-quality weed requires more nutrients, or fertilizer, than most common crops.
What are cannabis nutrients?
Additionally, cannabis plants derive these non-mineral elements from air and water:
Phosphorus
Indoor growers typically use liquid nutrients and mix them in with water before watering plants. Using liquid nutrients is usually more time consuming, as you typically have to measure and mix them in water 1-2 times a week.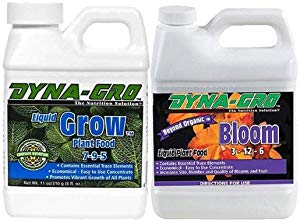 When using a complete nutrient system like the ones listed above, always start at half the recommended strength by the manufacturer, and only increase nutrient levels if your plant is getting pale. If you're giving too low levels of nutrients, the entire plant will start to appear overall pale or lime green. If you have a different nutrient deficiency (diagnose your plant here), chances are it's caused by incorrect pH, not by too-low levels of nutrients.
How to Adjust pH in an Organic Soil Grow (regular PH Up and PH Down can harm the natural balance of the soil)
Best supplement ingredients for organic growing
What's the Best NPK Ratio for Cannabis Nutrients?
My favorite organic supplement contains all of the above: Floralicious Plus
As a cannabis grower, your goal is to give your plants the right amount of nutrients at the right time. There are two main life stages for cannabis plants (vegetative stage and flowering stage). Each stage has different nutrient requirements. Luckily, many nutrient companies make great products even though they're all using different formulas and techniques. Here's how they differ:
Examples of Good Can nabis Nutrients
Learn About Cannabis Supplements:
Note: Don't use any type of non-organic time-released nutrients (like fertilizer spikes, or "slow-release" Miracle-Gro soil) because they deliver too much N in the flowering stage and may reduce bud growth.
For its part, phosphorous is needed more during the flowering stage and is only required at about half the ratio of N levels during the vegetative phase of development. During this phase, K is needed at between half and two-thirds the level of N.
What follows is an oversimplification of the exact roles of each nutrient (in some cases, we still don't know what all essential nutrients do and how exactly they interact with one another). Nitrogen is needed for the development of foliage and the production of proteins. Phosphorus is critical for root, flower, and seed development. Potassium is a requirement of overall plant health and aids in water absorption.
Essential Secondary Nutrients
Some sources do not separate the secondary nutrients and instead lump them in with the macronutrients since they aren't needed in the same high quantities as the macronutrients.
A nutrient is considered essential when it meets certain criteria. It must be directly involved in plant nutrition, be a vital component to the plant's life cycle such that without it the plant would die or not be able to perform one or more of its necessary functions, and it must be unique enough that no other nutrient can replace it or perform the same function. Let's examine which nutrients found in nature are essential for the cultivation of top-shelf cannabis. These vital nutrients can also be found in organic fertilizers.
Essential Macronutrients
Other trace minerals thought to be essential include cobalt (Co), silicon (Si), chlorine (Cl), and selenium (Se). Not all sources agree on their inclusion in the essential group, though they are important to support all plant life.