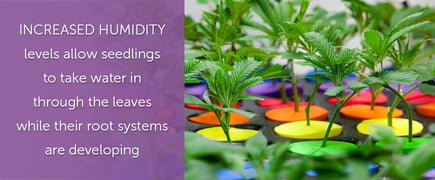 "Wet trimming" involves trimming as soon as plants are ripe. Remove individual branches and proceed to use sharp scissors or shears to precisely trim excess plant matter. As soon as the plants are cut down, the drying process begins. What's immediately noticeable is how sticky and wet the buds are. While this is an excellent indicator of potential quality, it's also a breeding ground for contaminants. Buds left in this state will almost certainly be ruined so it is best to act quickly to begin a controlled drying process.
While it's tough, just know that every grower working at a scale similar to you is going through this as well.
To get started, you'll want to buy a hygrometer and a thermometer. With these tools, you can accurately monitor and then alter humidity and temperature conditions in an attempt to strive for repeatable quality levels time and time again.
Curation
While not strictly a necessity, the following can have a direct impact on yield, flavor and appearance:
Though it may be exciting to see the fruits of your labor as you begin harvesting, the work is far from done. Correctly processing your crop helps prevent any chances of it becoming damaged or rendered non-smokeable. Proper drying and curing are essential to minimizing the risk of mold contamination and it also greatly improves the taste when smoked.
Ways to Lower Humidity
If you opt to use the wet trimming method, you will need to spread them out across a large surface area. Aeration is important so you'll want to avoid setting the flowers on a surface like cardboard or newspaper as the buds will dry unevenly. Wire mesh or netted drying racks are more beneficial. This allows airflow to reach all sides and lessen the chance of moist air pockets. Make sure to allow yourself enough space to spread your crop out evenly with a small amount of space between buds for the best results.
Here again is the equipment you can use to help you attain these levels: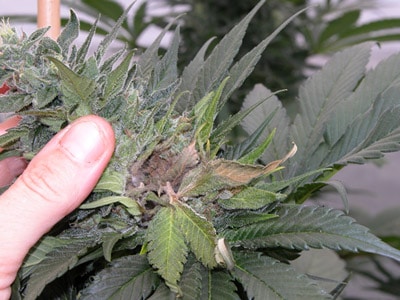 Below is a quick reference for the major stages of the cannabis life cycle in regards to the relative humidity you are aiming for. We'll go through them all in more detail
Young & Vegetative Plants (seedling to end of vegetative stage)
Okay, so now you know why you need to manage humidity when growing cannabis, but you may not know what humidity you are aiming for. This chart is the quick-and-easy answer:
When the air is dry (low relative humidity)
Did you know that mold infestation on one cannabis flower can ruin your entire harvest? Lowering the humidity in this stage is, therefore very crucial and should not be overlooked. The humidity can also be reduced below 40% when the cannabis is close to harvest. This, however, depends on how your cannabis plants respond to changes in humidity.
To understand how humidity affects the growth of cannabis, let's first understand the plant's respiration process.
Should Humidity Be Low Or High For Cannabis Plants?
If your grow tent is adequately ventilated, the relative humidity is reduced due to increased air circulation. Ventilation is required for mature cannabis plants that require low relative humidity.
Watering cannabis plants in a grow tent increases the plant's water intake through the roots. High uptake of water by the plant increases the water loss rate through the leaves, making the room more humid. The induced moist environment, in turn, regulates the respiration process keeping the marijuana plant healthy. Again, watering should be optimized to maintain the grow tent in the recommended level of humidity.
Frequency of Watering
When you cultivate cannabis in a grow tent, conditions such as humidity and temperatures must be appropriately controlled. While by now we know that different growing stages of the cannabis plant require different levels of humidity, it would help if you kept the humidity in your grow tent relatively high for cannabis seedlings. Several factors affect the amount of humidity in your cannabis grow tent. These include:
While many cannabis growers identify sensitivity to the condition of the soil and the nutrients available for the plant, it's environmental conditions that really matter. One of the environmental factors that affect the growth of cannabis is humidity.