Standard plastic containers are a popular option for growers operating on a budget. These pots are inexpensive, but still provide the essentials for your plants.
Fabric containers
Common pots used for cannabis growing
Pros:
Traditional plastic containers
Check out these additional resources on soil and planting: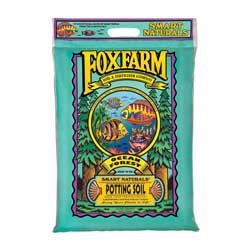 You will need to amend and compost your soil to use this method, which can take a lot of time, or buy amended and composted soil from a quality source
8-10 gallon container
Beginning Stage
This leaves a small pool of water in the bottom of the container after watering
If you want to capture the water from a lot of plants in one space, I recommend using a tray set one a slight incline, so the part of the tray furthest away from you is raised slightly off the ground.. With even a tiny incline, the runoff water will pool at the front of the tray, and a wet vac can be used to capture all the water from the plants. This can be a lot easier than emptying saucers, depending on your setup.
Soilless Potting Mix – (coco coir, perlite, vermiculite, etc)
Important: Always wait until the top inch (up to your first knuckle) is starting to feel dry to the touch before watering your plant again. This prevents both overwatering and fungus gnats
Transplanting will provide your plants with faster growth if done right. This is because transplanting allows you to set up an environment where your roots are getting access to plenty of water and air. However, transplanting can stress your plants (and slow down growth) if not done properly. When transplanting, it's important to carefully move plants so that their roots are not disrupted in any way. This means moving plants before they get root-bound, and creating a hole in the potting mix of their new container so the plants can be placed right in without disturbing the roots.
There are many kinds of popular rowing containers for cannabis gardens…

When growing cannabis, you're bound to get some water runoff. As the water moves through the soil, it may pool at the bottom unless you have adequate drainage. Most plant pots have holes in the bottom for this purpose – but you don't want water ending up all over the floor!
In the main, you need to ensure that the container is the correct size and provides adequate drainage and airflow. Once you have that covered, you should be good to go!
Of course, these are not the only pots available. There are other containers you can use, but most growers use the above.
A good rule of thumb is to use two gallons for every 12" of height. You will need to research the strain you're growing to find out what containers you will need. Here is a rough guide to the size you will require:
4. Transplant When Needed
You need to consider things like cost and the size of your grow room, as well as how many plants you are growing. Even with limited space and a reasonably low budget, you can make any of these pots work for you; but you may need to adapt the growing process depending on the qualities of your container.
However, the task of growing cannabis can be daunting for novice cultivators. Marijuana can be quite particular about its growing environment, so you need to read up on the proper techniques. It can even be helpful to find growing guides for specific strains!
A seedling will only need a very small pot. Some growers even use a solo cup, to begin with! As it grows, you will need to transplant it to larger pots (more on this in the next section).
5. Make Sure You Catch Water Run-off!
Other growers use hydroponics, which means growing in water with an alternative medium such as rock wool or coco coir.
Cannabis is becoming legal throughout the United States, whether for medical or recreational purposes. Those in medical states may be able to grow their own marijuana, depending on the specific legislation. If you live far away from a dispensary, then growing can be an excellent option; plus, it's a rewarding task!