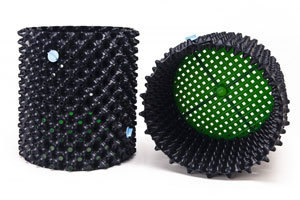 Although water seeps out the sides when watering, air pots are tall and thin so you can use a regular size saucer for each container
Moist at all times – roots die when they dry out! Good watering practices combined with a great growing medium will make sure your roots never dry out
Prevents plants from getting "root-bound" via "air-pruning" from the sides
Here's a very quick breakdown of some of the most common cannabis growing mediums for a hand-watered grow. This is not a comprehensive list, but should give you a place to start your research. Each of these different growing mediums have pros and cons.

A few days before it's time to transplant, avoid watering your plants. This helps the soil to stick better when removing it.
When growing cannabis, you're bound to get some water runoff. As the water moves through the soil, it may pool at the bottom unless you have adequate drainage. Most plant pots have holes in the bottom for this purpose – but you don't want water ending up all over the floor!
4. Transplant When Needed
Other growers use hydroponics, which means growing in water with an alternative medium such as rock wool or coco coir.
3. Finding the Right Sized Container
Of course, these are not the only pots available. There are other containers you can use, but most growers use the above.