These micronutrients are needed as well, but in much smaller quantities:
Nitrogen
We recommend not using nutrients made for indoor growing for outdoor plants, as they are usually composed of synthetic mineral salts and can damage soil bacteria.
What nutrients does a cannabis plant need?
There are some complications in working with organic fertilizers. The main issue is if your weed plants have a nutrient deficiency, it takes longer for a plant to absorb organic powder nutrients, which can increase the damage to plants. Liquid nutrients act much quicker. Other disadvantages:

On the plus side, sandy soil is easy to prepare for cultivation, offers good drainage, and contains high oxygen levels. It is one of the best options for growing weed indoors.
The size of the containers you choose will dictate the size of the marijuana plant's root system. The more space the roots have, the faster they grow. You can expect problems to arise when the roots outgrow your container, so choose wisely! There is no need to go beyond a 10 x 10 x 10 cm container while your plants are still seedlings.
Clay Soils
If you try to use this kind of soil, expect to have difficulty in getting the plant's roots to penetrate the surface. Clay soil has a high pH. While it stabilizes plants, the soil is heavy and requires a lot of effort overall.
Quality Soil for Cannabis
This organic blend is designed to enable a higher water-holding capacity. It includes ingredients such as bat guano, kelp meal, and fish & crab meal. It is suitable for marijuana plants that are beyond the seedling stage. We love the ready-to-use pot because it enables you to transfer your plants immediately.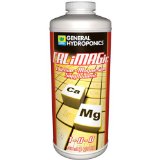 ·Soil version
Examples of Good Can nabis Nutrients
For the best results, your cannabis needs the following nutrient ratios…
What's the Best NPK Ratio for Cannabis Nutrients?
This plant was grown using the House & Garden Line-up (A+B as base nutrients, plus the supplements Roots Excelurator, Algen Extract, Bud XL, and shooting powder)