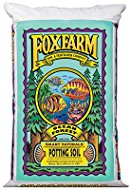 Their Ocean Forest soil mix is "hotter" soil (higher levels of nutrients) that contains ingredients that cannabis plants love, including earthworm castings, bat guano, fish meal and crab meal. The nutrients contained in the soil will provide everything your plant needs for several weeks. Although it might give young seedlings just a touch of nutrient burn at first, they can be started in Ocean Forest soil and will soon be able to use the nutrients and start growing quickly. Some growers might put a little big of Happy Frog on top of a container of Ocean Forest, just to make it a little more gentle for seedlings the first week or two.
The composting process creates a "living" soil that is full of microorganisms in the rhizosphere (area around the roots). Properly composted soil has nutrient sources that slowly break down over the course of your plant's lifecycle. It very closely mimics what happens in nature.
Coco Coir
Fox Farm Ocean Forest Soil
Bad Cannabis Soil
Although this seedling is over a month old, it has stayed tiny. Its growth is stunted by the thick heavy soil that holds way too much water and not enough air. Note how some of the soil looks like one solid object.
If you are willing to keep transplanting to bigger pots as your plant uses up the nutrients in the soil, you don't need to supplement with extra nutrients. However, even if you grow in the same pot from seed to harvest, Fox Farm offers a complete nutrient system that is also formulated for plants like cannabis and goes perfectly with their soil to make sure your plant is getting the right levels of nutrients throughout its life.
This is what kind of soil to get if you don't have any "good" soil available, but want something that is known to work for growing cannabis.
Kind "Super" Soil (Living Soil)
What gets the best results for growing cannabis is a soil with a light texture that is good at retaining water…but not too much!
Here's organic "super" soil up close
If growing cannabis is an art, then the soil is the canvas, paint and even a little bit of the brush. As your "grow medium" (the material that your plants grow in), the balance of nutrients your soil contains shapes how your plants grow, how fast and abundantly they flower and how many buds they yield.
Fox Farm's Happy Frog Potting Soil
Red's Premium is another all-in-one, ready-to-use soil blend. But what makes it one of the best soils for weed is its stand-out feature: biochar. Biochar is an amendment that excels at protecting and promoting the growth of bacteria, fungi and other microorganisms that are essential for root development and strengthening your plant's immune system.
Red's Premium Biochar-Based Soil
If you're planning on planting a large container cannabis garden outdoors, Roots Organics Formula 707 is a versatile and capable option. An organic soil designed with greater water-holding capacity, Formula 707 contains ingredients and beneficial microbes specific to using larger containers.