Cannabis gardeners who plant by the moon report faster-sprouting seeds that grow into vigorous plants. However, scientific evidence is lacking in regard to cannabis and other plants' relationship with agricultural astrology.
Moon phases cause ocean tides to rise and fall. They also affect the rise and fall of moisture in soil and fluids inside plants. The moon phase influence is said to be the same indoors, outdoors, and in greenhouse-grown cannabis.
Temperature: Overall, cannabis seeds germinate in temperatures from 70°F–90°F (21°C–32°C) and grow best at 78°F (26°C). Temperatures below 70°F (21°C) and above 90°F (32°C) impair germination. Low temperatures delay germination. High temperatures upset seed chemistry causing poor germination. Seeds germinate best under the native conditions and temperature ranges where they were grown.
Water: Soaking seeds in water allows moisture to penetrate the protective seed shell within minutes. Once inside, moisture continues to wick in to activate the dominant hormones. In a few days, hormones activate and send enough signals to pro- duce an initial root tip. The white radicle (rootlet) emerges to bring a new plant into the world. Once a seed is moist, it must receive a constant flow of moisture to transport nutrients, hormones, and water so that it can carry on life processes. Some seeds need lots of moisture to wash out the dormancy hormones in the seed coat, and if they do not get enough moisture, they do not germinate. Conversely, too much water deprives the seed of oxygen, reducing its quality or destroying it. If fragile germinated seeds are allowed to suffer moisture stress now, seedling growth will be stunted. Soaking most seeds in water for 12 to 24 hours is all they need to initiate germination. All the nourishment for a seed's initial growth requirement is pulled from the fleshy cotyledons, or seed leaves. Water seedlings with low-EC (electrical conductivity) household tap water during the first week or two of life. Supple- mental nutrients are unnecessary and if applied in excess can disrupt internal seed chemistry. Some gardeners prefer to germinate seeds using distilled or purified water that contains virtually no dissolved solids.
Seeds are Prompted to Germinate By:
Once seeds are rooted, cell growth accelerates; stem, foliage, and roots develop quickly. Seedlings develop into full vegetative growth within 4 to 6 weeks of germination.
Cannabis seeds need only water, heat, and air to break dormancy and germinate; they do not need extra hormones, fertilizers, or additives. Seeds sprout without light in a range of temperatures. Strong, viable, properly nurtured seeds germinate in 2 to 7 days. At germination, the outside protective shell of the seed splits, and a tiny, white sprout (radicle) pops out. This sprout is the root, or taproot. Cotyledon, or seed, leaves emerge on a stem from within the shell as they push upward in search of light.
At 36 to 96 hours – Water is absorbed, root tip (radicle) pops through outer shell and is visible.
At 10 to 14 days – First roots and root hairs become visible.
At 21 to 30 days – At least half of seeds are rooted by day 21. Seeds not rooted by day 30 will probably grow slowly.
Timeline for Germinating Most Seeds:
Ancient Babylonians and Egyptians planted and harvested based on moon phases in relation to geographic location. The premise is that plants grow better when planted during the appropriate moon phase.
water
temperature
air (oxygen)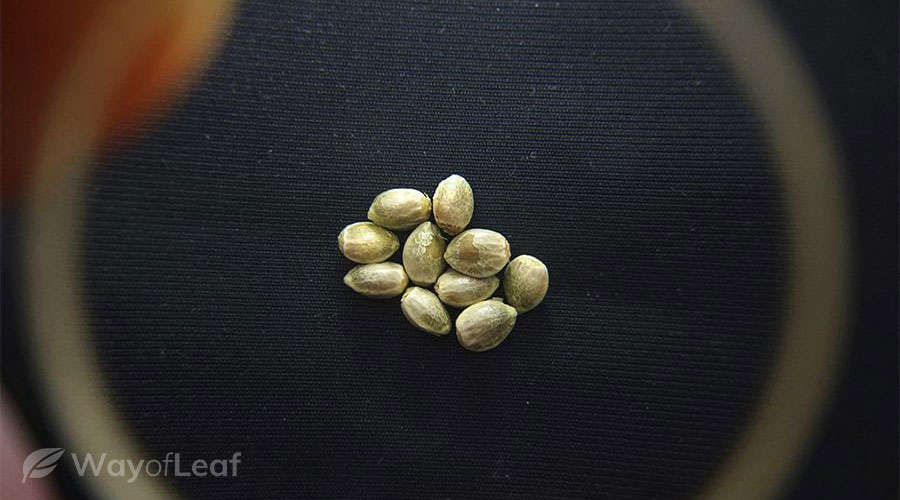 First and foremost, seeds perform at their best when they are left alone! When you check them for the taproot, handle with care! Try to avoid touching the white taproot because it can easily break off.
The main downside with this germination method is that such plugs are generally available in packs of 50. Waste is inevitable if you only plan on planting a few cannabis seeds. The plugs dry out in a week or so and become unusable.
Are Your Seeds Good or Bad?
For the first few days, use a spray bottle to water the seeds, because adding too much water can drown them. It is worth investing in a pH meter to test the soil regularly and make sure it has enough moisture. If all goes well, the seed should sprout from the earth within a week. If it hasn't sprouted within ten days, it will probably die.
3 – Starter Cubes and Seedling Plugs
In theory, germinating cannabis seeds is a simple affair. They only need three things: Air, water, and heat. The famed 'paper towel' method is incredibly easy as long as you follow the steps outlined below. Here is a quick overview of the best germination practices before we show you the various methods.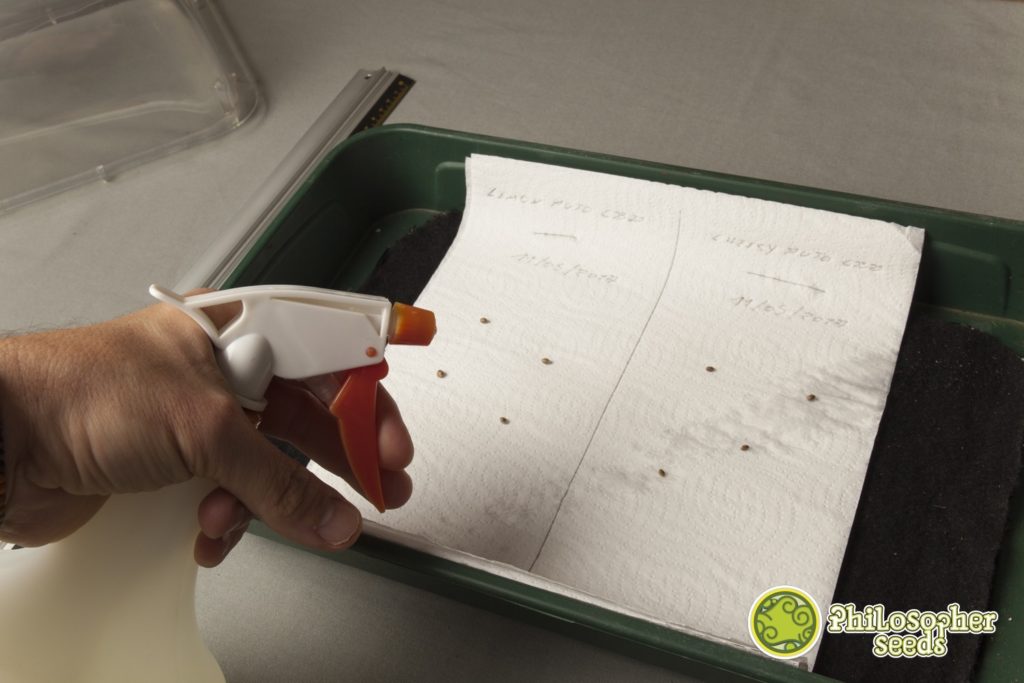 Too often the seed is buried too deep (a problem that we have already seen in case of watering after planting the seed), so the seedling may never emerge. In the other case, if we sow too close to the surface, we can find that the seed germinates well but the stem grows weak, bending and not allowing the seedling to develop correctly.
Tim 2021-09-08
Hi and thanks for your comment. To work out the problem, we need to eliminate a few possibilities. First, check that the temperature and humidity levels within your grow area are suitable for vegetative growth: ideally from 20 to 28ºC with 40-60% RH. Then verify whether your lamps need changing – old bulbs put out significantly less light than new ones, which could be leading to poor growth. If all those factors are as they should be then the most likely culprit is the soil mix itself – the quality can vary from season to season, even with the best brands, so it's always possible that there could be pests or pathogens in the soil which are preventing the seedlings from making progress. I would recommend trying with a different brand of soil to see if that makes a difference. I hope that helps. Best wishes and good luck!
Temperature and humidity for germination
Although it may be tempting, germinating several seeds in the same container is not usually successful. In addition to the difficulty of correctly planting several seeds in the same pot, once they are born they will compete for the little space available for their roots. Having restricted root growth does not suit cannabis plants, which will grow more weakly and with greater internodal distance.
Raz 2021-09-08
I have germinated five seeds of different stains, all paper towel method. All sprouted.. All healthy.. All put in good seedling raising mix but the problem is they just sit dormant just not growing. I grow under lights. Last year.. No problems this year no growth. Seeds r less than a year old. HELP.
Planting at the incorrect depth
Tim 2021-11-24
Hi, thanks for your comment and question. The older the seeds are, the less chance they will germinate, and if they weren't stored in good conditions (dry, cool, stable, e.g. in the fridge) then the chances of non-germination become even greater. You can try a few things to help improve germination rates, for example, the application of fulvic acid and/or gibberellic acid will give older seeds a better chance of germinating. Try germinating a few of the seeds in the normal way and then if you don't get success I'd look at using one or both of the compounds I mentioned. I hope that helps, all the best!