Inez from Montserrat
Is it good to know what the flavor of Blackberry Cream is before you buy Blackberry Cream seeds online. It said Blackberry Cream tastes mostly like:
You want to buy Blackberry Cream seeds? Get yourself informed about the effects of the Blackberry Cream strain. Blackberry Cream is known for the following effects:
Sweet
Berry
Blueberry
Woody
Vanilla
Blackberry Cream reviews
Read what other people has to say about Blackberry Cream seeds.
Read about this strain on Seedsbay and a week later it's on the menu of my medical marijuana delivery service here in Las Vegas. Distinct Blackberry taste and a sweet earthy cream like finish. It comes on slow and hits hard. Pain and depression fade fast leaving you happy and after awhile you sleep like prince Valium. My son and I fell in love with this strain. Wow am I glad I tried this one. Normally I don't like indica but this one makes me happy.
Buy Blackberry Cream seeds online with Seedsbay. Here you will find detailed information on the Blackberry Cream cannabis seeds, from specifications and reviews to flavors and effects. We have listed every seedshop where you can buy Blackberry Cream seeds along their offers. Compare prices on Blackberry Cream seeds and get the best deal for yourself!
Blackberry Cream flavors
The Blackberry Cream has a Sweet, Berry, Blueberry, Woody and Vanilla taste and the blackberry cream has a happy, relaxed, sleepy, euphoric and uplifted effects.You cannot buy Blackberry Cream seeds in one single seedbank on the internet, as soon as we know a shop which are selling Blackberry Cream seeds, we will post it here.
Blackberry Cream is a strain which is mainly indica and has a THC percentage of 25%. This strain has CBD levels around 2%. Blackberry Cream has similarities with Blackberry Kush and Cookies and Cream and is a combination of 70% indica and 30% sativa. Grow Blackberry Cream seeds and get a fine marijuana plant with generous crops. Grow Blackberry Cream seeds into a nice and bushy marijuana plant, the Blackberry Cream has an average flowering time.
Do you know something more about Exotic Genetix' Blackberry Cream? Please help to make this database better and upload/connect your information here!
You've stumbled upon a Blackberry Cream related thread into a forum or growers community? Connect it here and enable othe users to find this information fast and easy!
Here you can find all info about Blackberry Cream from Exotic Genetix. If you are searching for information about Blackberry Cream from Exotic Genetix, check out our Basic Infos, Direct Comparisons or Lineage / Genealogy for this cannabis variety here at this page and follow the links to get even more information. If you have any personal experiences with growing or consuming this cannabis variety, please use the upload links to add them to the database!
Upload your info about this strain here:
Exotic Genetix' Blackberry Cream VS. Alien Genetics' Bearclaw
Blackberry Cream is a mostly indica variety from Exotic Genetix and can be cultivated indoors (where the plants will need a flowering time of ±55 days ) and outdoors . Exotic Genetix' Blackberry Cream is a THC dominant variety and is/was never available as feminized seeds.
Threads
Our strain reviews are multilingual, searchable and can be very detailed – including data about the grow, aroma, effects and taste! Please upload your Blackberry Cream Review here to help the other seedfinder users!
Pictures speak louder than words! Upload your "Blackberry Cream" Photos here and help other growers to get a better impression of this variety.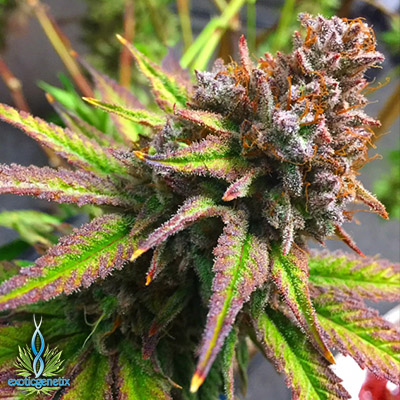 If you want to be notified when this product comes back into stock, please enter your email address below:
Please be aware that you will need to confirm your submission.
A verification email will be sent to you to confirm your email address.
If you have not recevied an email within a few minutes after your submission, please check your SPAM/Junk folders.