DSS Services Ltd
Prezviter Kozma 3
Plovdiv 4000, Bulgaria
E-mail: [email protected]
Cannabis seeds are sold to customers over the age of 18 and are sold strictly for souvenirs or storage purposes only. The cultivation and germination of cannabis seeds is illegal in most countries. We advise customers to check the laws in their country before ordering.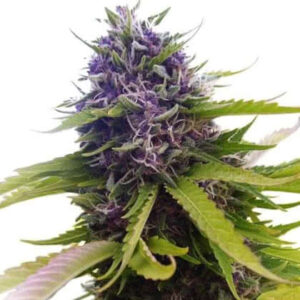 Buy the best Blueberry feminized seeds to grow for abundant harvests. Guaranteed fast shipping to all 50 states of the US. We have sourced the best Blueberry seeds for sale from our trusted marijuana seedbanks—ILGM, MSNL, Seedsman, and Crop King.
Blueberry Strain Description
The origins of Blueberry can be traced back to Canadian breeder DJ Short. Sometime during the seventies, DJ was on the West Coast of the United States, working with hundreds of plants from Colombia, Panama, Mexico, and Thailand. According to Seedsman, his favorites included the Oregon Purple Thai, a special "Juicy Fruit" Highland Thai, and the "Flo" Afghani hybrid. Growing out and crossbreeding these genetics together, he created the Original and True Blueberry strains, highly respected in the cannabis world. At the HTCC 2000, Blueberry took home the prize for best indica. The strain remains among the most coveted varieties to this day.
Blueberry Origin and Genetics
Blueberry is one of the most visually stunning and best-tasting marijuana strains in the history of cannabis. It's been a hit among stoners worldwide for decades. Brilliant blue, purple and red colors develop throughout the plant and its buds. Blueberry marijuana has an incredible fruity flavor that tastes just like real blueberries. The effects are euphoric, pleasant, and last a long time. Up to 19.5% THC.
The smell of Blueberry alone is enough to make your mouth water. The sweet, musky, fresh blueberry, and sour cherry smell overpower any other strain in the garden. The smoke is buttery smooth and has blackberry, vanilla, and sweet piney taste. If you're paying attention you'll notice a little Afghani spice flavor as well. The Blueberry cannabis strain is great for breeding when you're looking to add some extra fruity terpenes to your garden.
Blueberry is a moderately easy strain to grow but can offer some challenges due to its wide branching growth. Otherwise, the plants grow very sturdy and with little distance between the flowers they often fuse into one giant bud down the stalk. Blueberry has little unwanted leaf making it easy to prune and trim. Outdoor Blueberry plants do especially well but give off a strong forest berry and skunky odor during flowering. Outdoor plants yield 25oz/plant and finish flowering in mid-October. Indoors, Blueberry takes 9 weeks to bud and produces 18oz/m2.
Flavor & Aroma
Blueberry is an extraordinary strain that's known for its incredible blueberry taste with a deeply relaxing and cerebral high. DJ Short created Blueberry pulling from a pool of landrace strains that he collected during his travels through Southeast Asia and Latin America. The exact genetics are Highland Thai and Oregon Purple Thai crossed with an Afghani male. Blueberry is an 80% indica strain with THC levels of 15-22%. The strain is much beloved and has won many awards including best overall strain in the 2000 High Times Cannabis Cup. The Blueberry strain is used to create many sought-after strains such as Blue Cheese, Berry White, and Blueberry Kush.
Blueberry grows berry-like buds with bubbly calyxes and dense round flowers dripping with trichomes. Blueberry has forest green colored leaves with traces of red, purple and blue throughout. A blanket of white crystals on top of all of these colors gives Blueberry a seductive bag appeal.
Blueberry Strain Effects
Blueberry is known for its incredible blueberry taste with a deeply relaxing and cerebral high. Blueberry has been used to create many sought-after strains such as Blue Cheese, Berry White, and Blueberry Kush.