Here are a few different HID grow lights at different price points.
You can find lights for under $100, but they may be low quality and not produce the right spectrum of light, and you can also easily spend as much as $2,000 for a large, state-of-the-art LED.
Aside from the price of the actual light, also take into account utilities—all lights will add to your electricity bill every month, but some more than others. High-intensity discharge lights—known as "HIDs"—may be cheaper to buy but can gobble up electricity, whereas LEDs are more efficient and kinder on your electricity bill but usually more expensive to buy.
HPS (High-pressure sodium)
These HID bulbs usually contain sodium, mercury, and xenon, and produce a yellow/orange light, and are commonly used for flowering plants. Some growers will start plants under MH bulbs and switch them to HPSs when plants go into the flowering stage, using the same hood. These lights also require a ballast.
Consider how often you'll be growing weed and how long it will take to pay off the initial investment—if you grow once a year, it'll take a lot longer to pay off an expensive light than if you grow multiple harvests a year.
Another consideration with cost is that some lights run hotter than others—HIDs, for example—so they may require additional fans or an AC unit to cool down a grow space. Extra equipment means more electricity, also driving up your utility bill.
How many grow lights do I need to grow weed?
When growing outdoors you can harness the power of the sun, but in an indoor environment, sunlight is mimicked through the use of grow light bulbs, which aim to display the same spectrum of light as the sun.
New LED grow lights come out all the time, but knockoffs abound. There are a lot of cheap LEDs that don't produce the right spectrum of light for plants.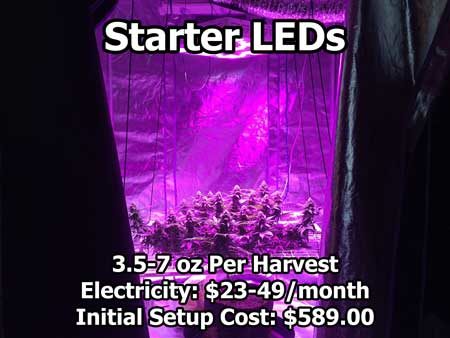 Simply hang an LED light over your plants and start growing!
Keeping CFLs close results in the best yields and growth
3.) LED Grow Lights
T5 Grow Lights
Compare the Pros and Cons of Each Grow Light
T5 grow lights are one of the most easily available types of grow lights and are used to grow many different types of plants. As a result, they're available in many garden and home improvement stores.
For growers who are looking to harvest 1/2 to 1 ounce of cannabis a month, LEDs may be your best choice. At this size, they are super low on electricity, run cool and need almost no setup! They get better yields than fluorescents but don't run as hot as an HPS of similar wattage.
Full tutorial on MH & HPS grow lights
(most common grow light combination for cannabis)
Ceramic Metal Halide (CMH) & Light Emitting Ceramic (LEC) Grow Lights
As a plant that does not have sufficient lighting in veg will not produce as well in flower. That said, the spectrum with the most blue did produce the flower with the most terpenes and THC.
The best advice I have is to get a comparison of your ROI done by a versatile company. One that can offer both technologies where you can have light plans designed to the same levels with both technologies. Don't trust just what the LED guy says or the only HPS guy says. Look at both, do your own math. Know what works for the strains you are growing and measure your own ROI. The easiest way to do this is going to this link and ask your local PL Light Territory Manager for advice as we are the "Lighting Knowledge Company" and whether you decide to use LED or HPS, you will get a true and honest comparison of both technologies.
Cannabis Research in Canada
"What lighting source should I use for my licensed cannabis grow?"; "I am comparing LED to HPS for my cannabis operation. Which source do you recommend?" These are questions people ask me almost on a daily basis. We have covered this question in past posts on our blog, like this one by our very own head of marketing: LEDs vs Traditional Lighting but most cannabis growers know that this crop is different than most and many growers have experimented with lighting technologies on a small scale to find they can sometimes increase terpenes and THC levels just by changing their light sources. To begin, let's unpack the information that exists on this complex topic.
HPS or LED: A Key Factor to Consider
Another area you should always do your own math on is the BTU calculation for your grow room. Yes, LEDs produce less heat than HPS and this can be the deciding factor. As the cost to cool your grow room can be one of your highest production costs. Your AC load is based on the amount of BTUs produced from your fixtures. This is simple math as 1 watt equals 3.412 BTUs. No matter what 1000w HPS fixture you use the BTUs from that fixture will be 3412!