Read the Cancers Nightmare seed specifications in the table below. The values may vary between the different seedbanks where you can buy Cancers Nightmare seeds.
Buy Cancers Nightmare seeds
There are 49 seedbanks selling Cancers Nightmare seeds, you have several options to buy your Cancers Nightmare seeds through a good deal.
About Cancers Nightmare seeds
The Cancers Nightmare strain is a hybrid strain both sativa as indica with a level of 14 percent THC. This strain has approximately 14% CBD. Cancers Nightmare has genetics related with Cannatonic and the proportions are 65% indica and 35% sativa. The Cancers Nightmare will grow into medium sized plant giving a small crop. Growing Cancers Nightmare seeds is fun and with the right info anyone can cultivate this cannabis plant, it has an average flowering time of 63 days.
Buy Cancers Nightmare seeds
Cancers Nightmare specifications
Buy Cancers Nightmare seeds online with Seedsbay. Here you will find detailed information on the Cancers Nightmare cannabis seeds, from specifications and reviews to flavors and effects. We have listed every seedshop where you can buy Cancers Nightmare seeds along their offers. Compare prices on Cancers Nightmare seeds and get the best deal for yourself!
We have listed all seedshops where you can buy Cancers Nightmare cannabis seeds. Compare prices and offers before you buy Cancers Nightmare seeds and get yourself the best deal available.
Cancers Nightmare from Sin City Seeds is available as regular and feminized seeds. In 1 seedbanks, we found 2 offers, all for EUR 119.84 for 15 regular seeds. If you are looking to buy Cancers Nightmare Cannabis Seeds from Sin City Seeds somewhere – have a look to our Cancers Nightmare Price Comparison page with all current offers from all the connected seedbanks and shops – or visit one of the following tested, trustworthy and recommended seed-shops directly to check out their current Cancers Nightmare offers: Herbies Head Shop.
You have grown Cancers Nightmare together with another variety? Please fill out our Strain VS. Strain direct comparisation form!
Map of the Cancers Nightmare Descendants
Ratio: 12-16% CBD 12-16% THC
Cancers Nightmare is an indica/sativa variety from Sin City Seeds and can be cultivated indoors (where the plants will need a flowering time of ±63 days ), outdoors and in the greenhouse. Sin City Seeds' Cancers Nightmare is a CBD Strain with the same amount of THC and CBD and is/was never available as feminized seeds.
Comparisons
Our strain reviews are multilingual, searchable and can be very detailed – including data about the grow, aroma, effects and taste! Please upload your Cancers Nightmare Review here to help the other seedfinder users!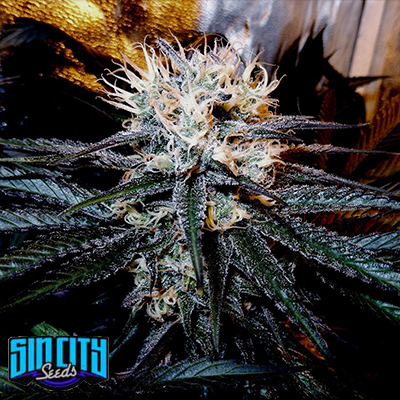 If you want to be notified when this product comes back into stock, please enter your email address below:
Please be aware that you will need to confirm your submission.
A verification email will be sent to you to confirm your email address.
If you have not recevied an email within a few minutes after your submission, please check your SPAM/Junk folders.