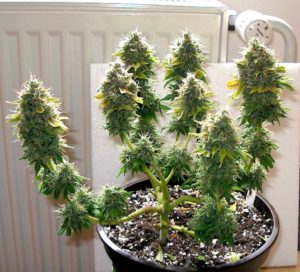 Restricting root size reduces plant size dramatically, especially when combined with 12/12 from seed. Look how big this plant is in relation to the lighter!
There's just one major problem… 12/12 from seed often causes stunted growth and small yields. This results in yields that are often less than 1 ounce per plant, even under strong grow lights.
Something that's a bit confusing about 12/12 from seed is it seems like seedlings should start flowering immediately. They don't. I've found that photoperiod seedlings won't start flowering until they're 3-4 weeks old no matter the light schedule. That means your harvest won't come any sooner if you initiate 12/12 before seedlings are 3 weeks old. When you give the plant 3-4 weeks of 18+ hours a day, THEN switch to 12/12, you often get better results because plants are quite bigger when buds start forming, without adding much (if any) time to harvest.
12/12 From Clone – When You Want TINY Plants
The "modern" version of 12/12 from seed is simply using an autoflowering strain. They don't need special light schedules and are ready to harvest in just 2-3 months from germination.
The "12 /12 from seed" technique aims to initiate the flowering stage immediately after germination. Learn about cannabis light schedules.

12/12 from Seed – What You Need to Know
If you want to grow the absolute smallest plant possible, "12/12 from clone" may be a better choice than 12/12 from seed. A clone is a piece of a bigger plant that was removed and forced to grow roots. Since a clone is technically the same "age" as its mother plant, it's pretty much a mini mature plant as opposed to a seedling. Because they're already mature, clones start flowering almost immediately after getting 12/12. That can result in some REALLY small plants at harvest.
Most seedlings won't make buds until they're at least 3 weeks old from germination. There's nothing you could do to get this little seedling to start flowering.
Vegetative plants appreciate healthy soil with nutrients. Feed them with a higher level of nitrogen at this stage.
The weather will start to turn and the sun will begin descending in the sky as your plants fatten up with sweet, sticky buds. It might be tempting, but wait until around the Fall Equinox to start harvesting.
Outdoors, flowering occurs naturally when the plant receives less light each day as summer turns into fall. Indoor growers can trigger the flowering cycle by reducing the amount of light marijuana plants receive from 16 to 12 hours a day.
Marijuana light cycle: 16 hours a day
Vegetative stage
The biggest variability in how long a marijuana plant takes to grow will happen in the vegetative stage—after the seedling phase and before flowering.
Even if growing outdoors, a lot of growers will start their seeds inside under an artificial light to help them through this delicate stage of marijuana growth.
Harvest happens sometime between September and November. This depends on your local climate, as well as the weather that particular year—one year it could be the end of September, the next, end of October, and growers in the Pacific Northwest will have to pull down their crops earlier than those in Northern California.
Important dates for growing marijuana outdoors
If you're growing indoors, you can force a weed plant to flower after only a few weeks when it's small, or after several weeks when it's big. If you're growing outdoors, you're at the whim of the seasons and will have to wait until the sun starts to go down in fall for it to flower and then to harvest.
If you're growing outdoors in the Northern Hemisphere, growers usually get their seeds between February and April, and you should start your seeds by the end of April. Some growers will start their seedlings inside in a more controlled environment because seedlings are more delicate, and then put their seeds in the ground outside once they're a little bigger. If you're growing clones or autoflowers, you have a grace period of another month or so. Plants usually need to be outside, in the ground, by the end of June.
You're probably thinking: grow plug? Propagator? Root stimulator? What?! No worries: germinating is 100% natural. All cannabis seeds really need is light and water. Check out my preferred germination method here, or follow this grow guide to plant germinated seeds directly into the soil. Find out what works best.
Baby Steps: Germinating Your Weed Seeds
My biggest mistake ever was leaving the lights on after flowering in the room where I set up my tent. Sadly, the tent wasn't light-proof, so my plants got stressed out and turned into hermaphrodites. The result: a whole harvest full of seeds that was no use at all… Fourteen weeks of work down the drain! I also made the mistake of pumping out my entire 60L nutrient mix tank in one go once. Pretty bad for plants capable of handling 10 litres at once max…
Curing Your First Cannabis Home Grow
Personally, I prefer the following high success rate germination procedure. I take a glass of lukewarm water and gently chuck in the seeds. Then, I leave them alone someplace dark for 12 to 24 hours. I check them regularly: as soon as I see white tips (taproots) emerge, I carefully pick up the seed with a pincer. I place them root-down into a pre-watered grow plug. I use a water and root stimulator mix following user instructions. Then I put the plug and seed in my propagator and patiently wait for them to surface.