All of the hardware used for each project can be ordered online or bought at a local hardware store or grow shop.
Who should use this build?
Total cost: $466
Supply list:
This build is a perfect fit for a small room or garage space. At 64" tall, the tent affords enough room to propagate most smaller, bushier cultivars. There is a canopy height limit of between 35" and 42".
Dealzer's Cash Crop 6.0 grow box system comes in a hydroponic or soil-based version. This 2-plant grow box is perfect for growers who want to grow 1-2 lb. of dried herb per cycle. This grow box uses a full-spectrum LED top and side lighting. It comes with durable odor control fans and a 2-plant reservoir.
Additional upgrades include a CO2 kit, a germination package, LED grow glasses, a dryer tent, and a water filter.
You also get a 9-episode video tutorial to get you started.
Unique Hydroponics' Yield Machine grow box stands 4 ft. tall, 18 in. wide, and 13 in. deep. Each box uses a 20-quart hydroponic system or a version that supports a 6 plant, 6-quart system. Enjoy its 150-watt high-powered UFO LED grow lights capable of providing light during all stages of growth. You can also upgrade to a 300-watt LED with dual exhaust.
5. Dealzer Cash Crop 6.0
The SuperFlower box comes with an activated carbon air filtration, a Kind LED L3 Series 2 XL450 lighting system, an adjustable fan, and a hygrometer and thermometer. A durable construction and locking door provides you with a safe and secure garden. Enjoy a 1-month warranty and a free 5-day/week lifetime customer, technical, and grow support.
Its Bubble Tub hydroponic system is a professional-grade 4-site growing set-up. Its system utilizes a deep water culture (DWC) hydroponic method. This method gives your plants the maximum amount of oxygen and nutrient-enriched water right to your root zone.
Sometimes, grow tents can come with much of the equipment needed. However, additional equipment in these "grow kits" increases the total price and may even end up costing more than a turn-key grow box. If you can find affordable and effective equipment, you can create a garden unit for about $500-$600, about half the price of a grow box.
4. SuperCloset Grow Box LED SuperFlower 3.0
The Cash Crop 6.0 is just 45 lb. It's 35 in. tall, 16 in. wide, and 11 in. deep. Each box comes with a Quasar LED light, a light timer, an air pump, a water pump with hose, and Ona block deodorizer, pre-installed fans and a carbon filter, 1.5-gallon reservoir, 2-in. net pots, starter plugs, 3-set pH perfect Advanced Nutrients, clay pebbles, lockable latches, and more.
If you're considering growing cannabis indoors, our marijuana grow box buyer's guide can help you choose the best growing solution for your space. Grow boxes, also known as grow cabinets, are self-contained units that provide your marijuana plants with the right growing conditions throughout their life cycle.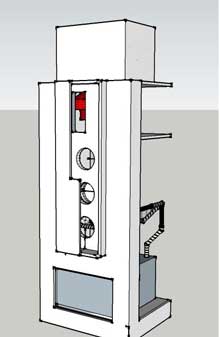 A rule with any grow space is to have the intake's opening twice the open area of the exhaust's.
I installed a sealed fan room to house the 6″ inline fan mentioned above. This sat in the top inside of the cabinet, pictured below.
Then reality set in: I have a small space, in a small house, in a crowded neighborhood.
On Craigslist I found a cabinet kit still in the box for only $35. It came in at 24″ L x 30″ W x 70″ H. Next, I purchased a 6″ inline fan for another $100. The fan combined with a 400 watt light and Cool Tube from a previous grow gave me something to design around.