The tent's frame is made from aluminum with powder coated poles to keep the paint stable. Altogether the structure can support up to 350 lbs. LA Garden tents are super thin; their fabric density is 210D. It is prone to tear, so exercise caution when setting up the lighting and ventilation system.
Autoflowering seeds are not photosensitive. That means they do not need a change in lighting to begin flowering. Normally you'd need to follow a precise schedule and change the lighting in your grow tent as your plant's needs change. This step can lead to additional maintenance, and possibly, more extensive (and expensive) lighting. With autoflowering varieties, you do not need to worry about this. A single LED light from A Pot for Pot is enough to grow any autoflowering marijuana plant.
There's a lot to think about when you consider using grow tents. How do you set up your grow lights? How do they work, and which ones are the right size? Although you may have many questions, the process does not need to be hard. This article will explain how to set up and maintain some of the most popular grow tents available online.
Easy to Take Down/Destroy
When you are growing marijuana using an indoor grow tent , you will need a grow lamp. Grow lamps provide plants with a reliable source of energy to start healthy, vigorous, and fast-growing marijuana plants. When using a small grow tent , connecting LED grow lights is straightforward. The grow light is set above the plants pointing down, to make sure that it promotes upward and robust growth of the plant.
Like the others on this list, this tent uses 6000D material, which is light-proof and tear-proof, and its zippers have privacy flaps. The tent's interior lining is mylar. CoolGrow's grow tent structure consists of sturdy metal poles, bars, and metal connectors, all of which make the tent super sturdy. The grow tent also has a window for plant observation.
This grow tent uses 600D Oxford cloth. The lining is made of mylar, which is 100% reflective. TopoGrow grow tents are popular because they make it easy to manage marijuana plants at different stages of development.
Easier to control environment
Many people choose grow tents because they make it easier to grow indoors. However, if you'd like to keep it as low maintenance as possible, you should try autoflowering seeds.
The last tent on this list uses a high-quality canvas. Apollo tent zippers are heavy-duty, with double stitched seams to ensure no light leaks through. The canvas lining is made from light-proof, tear-proof material. This construction makes it easy to integrate indoor growing fixtures and equipment. The lining also helps keep the grow tent at an optimal temperature for your plant's growth. The instructions make it a breeze to set up. Best of all, the Apollo Grow Tent has a 90-day warranty and a 30-day money-back guarantee.
In practice, this means operating multiple, self-contained chambers for vegetative and flowering plants because they require different amounts of light—18 hours of light per day for the vegetative cycle and 12 hours of light per day for flowering.
Bud sites on a plant also need room to breathe. A little extra space encourages airflow between colas and helps prevent common diseases like powdery mildew and botrytis, and pests like spider mites.
AC Infinity's CLOUD LAB 642. (Courtesy of AC Infinity)
CLOUDLAB 743D by AC Infinity. 48" x 36" x 72" ($169.99). Fabric: 2000D. Poles: 22mm steel. Weight Limit: 150lbs.
Budget veg tent
The Bud Grower's Dual Power Kit. (Courtesy of The Bud Grower)
In addition to high-end 1680D canvas and diamond mylar reflective material, specs include 25mm steel poles and corner connectors reported to support up to 300 pounds of equipment, as well as a spill tray floor insert, dual mesh intake vents, hydro/irrigation port, electrical port, two duct ports, and three Velcro-affixed windows.
For instance, garages and attics can fluctuate widely in temperature and humidity throughout the year and might not be well-suited to new growers. When raising plants in uninsulated spaces, success often rides on the use of heaters, ACs, dehumidifiers, and automated environmental control technologies that can add a lot to your utility bill.
Electrical & irrigation ports
CLOUDLAB 866 by AC Infinity ($189.99). 60" x 60" x 80". Fabric: 2000D. Poles: 22mm steel. Weight Limit: 150lbs.
Between better yields, healthier plants, and savings on your electric bill, many hobby growers opt for a tent before building out dedicated rooms or modifying their homes.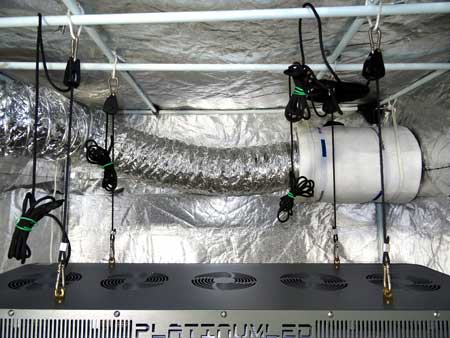 If you're using a grow light that has an air-cooled hood that contains all the heat, like many MH or HPS grow lights, you can connect the exhaust fan to the hood directly for ultra efficient cooling. This lets you vent hot air directly out a window so heat is never beaming down onto your plants.
Light & Smell Check
When all is said and done, a stealth cabinet with fans on the inside (even one done very professionally so it's completely light proof) is only marginally more stealthy than a black grow tent with a zipper down the middle. When it comes to stealth, don't expect any grow tent or cabinet to be stealthy enough for someone to be hanging out in your room without noticing the fact that it's emitting light/noise/heat. Instead, you're looking for something that can fool someone who is quickly passing by it for a moment or two.
No matter how you end up doing it, the main idea is to ensure any air leaving the tent must first pass through this carbon filter.
When it comes to grow tents two of the most common sizes (in the US) for hobbyist growers are the 2'x4′ and 4'x4′ tents. These are also made to fit the most common grow lights.
As long as you keep the tent closed and the fan on, you should never be able to smell cannabis in your home or outside. The negative air pressure caused by the sealed tent prevents any air inside the tent from leaking out.
I think the best way to make an efficient exhaust system is to hang your exhaust fan inside the tent. This significantly muffles the sound of the fan running, and lets you create a relatively straight path from your light to the fan for maximum circulation and airflow.