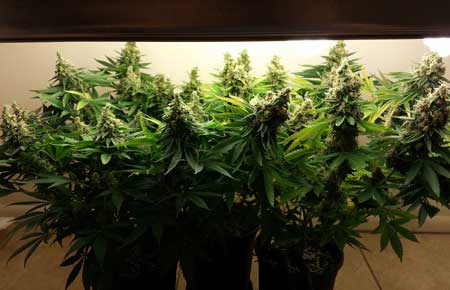 If possible, I recommend getting a tent that's 6 or 7 feet tall so you never have to worry about running out of height. This easily supports up to a 400W grow light. However, very tall tents in this size are relatively rare and it's much more common to see grow tents that are 2'x4'x5′. The shorter versions will also do the trick (and can support up to a 400W light if you have a great exhaust system and use careful plant training). Another advantage is that smaller tents are a little less conspicuous looking and people sometimes mistake them for a cheap Ikea-style clothing wardrobe. Just remember with a short tent to keep a close eye on plant height to make sure you don't run out of head room as plants get taller.
A good rule of thumb is to keep all electronics above the waist, while anything to do with water is kept below the waist. Don't leave cords hanging around in the tent. It's not only safer, but it looks a lot nicer when you wrap cords up neatly and secure them in place
When used correctly, a grow tent lets you recreate nature under its most ideal conditions! Possibly the hardest part of being able to grow cannabis in these ideal conditions is getting set up. However, once everything is set up, it's mainly a matter of planting a seed and watering your plants until you harvest bud!
You want to make sure no light or smells will make it outside the tent!
Also, here's a trick I learned from a dispensary owner: set up a carbon filter with a fan attached inside the room itself (in addition to the one in your tent), and run it alongside some ONA gel whenever you need to make sure all smells are gone quickly in the room, even if you've opened the tent. It works to keep a dispensary smelling neutral and it works just as well in the home!
The Bud Grower's Dual Power Kit. (Courtesy of The Bud Grower)
Designed for flowering plants under LEDs, these efficiency-minded, five-foot-tall tents are all over Amazon and eBay—under names like Mars Hydro, MAXSISUN, VIVOSUN, Hydrobuilder, and Spider Farmer, which have largely supplanted the leaders of yore like Gorilla Grow Tent, Lighthouse Hydro, and Secret Jardin.
Here's a breakdown of features to look for in a tent.
Best short tents
When determining tent height, growers need to account for the type of light as well as space for an exhaust fan and carbon filter.
Tents come in sizes ranging just a few square feet all the way up to multi-room mini-mansions. Some are fairly basic and others are decked out in features that we'll explore below.
Apart from readymade convenience, growers use tents to improve a garden's efficiency, increase yields, and save money.
Our pick for best flowering/all-purpose tent
TheBudGrower.com's Dual Power Grow Kit ($995.95) is another great short tent to buy and comes complete with LED lights, fans and filters, a living-soil kit, timers, sensors, and hardware, and a 1680D-canvas tent that measures 5' in height with a 2' x 4' footprint.
While I would like to see zipper covers to protect against light leaks, the balance of high-end features and affordability makes for one of the best value buys on the market and one of the nicest tents I've used, period.
According to international statistics an estimated 159 million people worldwide use marijuana. In the United States at least 94 million Americans have used the drug at least once in their lifetime. In fact, marijuana is the second most-consumed substance after alcohol in the U.S.
What do the Chinese emperor Shen Nung and the ancient Romans and Greeks have in common? Cannabis (the seed, fiber and leaves). They all used it for medical purposes. And they are not the only ones.
With the legalization of marijuana, an interesting trend has emerged. Regular consumers of the plant prefer to grow it themselves rather than buy it from expensive and sometimes unscrupulous sources, and a Pot for Pot can help.
Four Best Grow Tents for Growing Marijuana
Cannabis is a versatile plant which, unfortunately, is primarily known for its euphoric effects while other aspects of the plant are ignored.
Of course, not everyone has acreage to grow the plant, but the alternative of a grow tent comes in handy for small scale consumers.

Before spreading to countries like Spain and Chile, marijuana history shows that it was consistently used in the Islamic empire.
Did you know that cannabis seeds can be used in animal feed? Or that its fiber is used to create hemp rope, which was actually the first use of cannabis when it initially appeared in North America. And its oil has been used to manufacture paint.