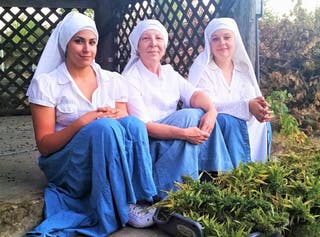 A documentary released to mark the annual 420 cannabis celebration – on 20 April – explores how Sister Kate and her team have fought bitterly against "white man rule", including the obstructionist country sheriff and black market thieves.
Meet the nuns who rake in £850k a year growing and selling cannabis
"We intend to have enclaves in every town and province in the next 20 years," said Sister Kate.
Meet the nuns who rake in £850k a year growing and selling cannabis
The Breaking Habits documentary, directed by British filmmaker Rob Ryan, is just part of the sisters' plan for world expansion of their medicinal-marijuana empire.
The Sisters of the Valley, a group of self-styled "weed nuns," are putting their faith in the healing power of cannabis.
"We believe in paying taxes," she said. "We believe quite frankly that America's culture of starving the tax system is wrong, it's morally wrong. Most of us have lived in other places where the tax system actually works."
Meeusen is the matriarch-in-chief at the Sisters of the Valley. The divorced, former marketing consultant raised two children and said she had to start from scratch after her marriage came apart. She said her company grew out of the Occupy Wall Street movement and a desire among her and her peers to build their own commune in an environment that allows for "healthy socialism."
In the middle of California's Central Valley, in a modest milky-blue home on one acre of farmland, lives a small group of nuns. They wear habits and abide by a set of vows, but as the door opens, it's clear that the Sisters of the Valley, as they're known, aren't living in a traditional convent. Because as the scent wafts out, it's unambiguous: It's the earthy, pungent smell of weed.
How a New Age order of feminist nuns is reimagining spiritual devotion and trying to heal the world — one joint at a time
Sisters Sophia, Camilla, Luna, Quinn, and Kate (from left) partake in their harvest, which is grown in California's Central Valley. "One thing I love about Covid is nobody passes joints anymore," says Sister Kate. "We roll, and we smoke our own joints — it's a very personal thing." She sees cannabis as medicine: "If I could grow a bed of poppies, I'd figure out how to make that medicine."
Related Stories
Sisters Luna, Sophia, Kate, Quinn, and Kass (from left) near their farm. "At this point, I feel like we're all family," says Sister Kass, a mother of two. "We basically do everything together."