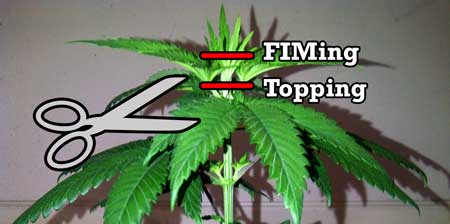 12-12 From Seed is the technique of trying to make seedlings start flowering (making buds) as soon as possible by giving them a "12-12" light schedule from seed. The idea is to get a harvest as quick as possible.
Sea of Green in Action
Next: a breakdown of each plant training technique so your garden has tons of colas!
Introduction: How to Train Indoor Plants for Bigger Yields
Supercropping – this technique is a more "extreme" kind of bending, and is used for stems that are too tall but have become woody and difficult to bend. With supercropping you "soften up" the stem first before bending it at an extreme angle. Supercropping can be incredibly helpful towards wrangling an out-of-control plant, and it has a few other benefits too because it can stress the plant in a "good" way.
First off, what is plant training?
Even outdoors, lower buds tend to grow smaller than the top ones (cannabis is a wind-pollinated plant and favors buds that are higher up). But the lack of growth in lower buds becomes more pronounced indoors. With grow lights, the vast majority of the light produced is aimed straight down over the top of the plant, and in most setups the sides don't get much light at all. Because of these reasons, the Christmas Tree shape can be really inefficient indoors, causing your plant to have just one big, top bud and many smaller ones that don't weigh nearly as much.
The best way to get quality buds and big yields is to grow strong, healthy plants. Here's a quick rundown of the most important things you need to know about growing weed:
*Illinois and Washington are adult-use states but require a medical card to homegrow.
Growing outdoors is the cheapest and easiest way to grow, because you can utilize the power of the sun and other natural resources, but you need the proper space to do it, and the space needs to be able to get ample sunlight throughout the growing season. Often, you can let plants grow large and get big yields with more space outdoors.
What does a marijuana plant need to survive and thrive?
Check out our Guide to marijuana legalization for more details on homegrowing in your state.
Because the plant was illegal for so long, a lot of grow info has been passed down by word of mouth. There are many myths and traditions about growing weed, so it can be hard to sort good, sound advice from hearsay. Also, because it was illegal, there's ample information on indoor growing and how to get the most out of a small space by maximizing harvests and training plants.
Whether indoors or outdoors, growing marijuana is fun and rewarding, but it can also be challenging and takes a certain amount of patience, time, and money. We'll walk you through all the steps of growing, from preparation, to seed germination, plant growth, and harvesting, as well as best practices and how to troubleshoot common problems.
Quick overview of the basics of growing marijuana
At the end of the day, you want to grow a strain you like. A single plant can yield between a half-pound and a full pound of dried buds, depending on how big your plants get, so you'll have a lot of it come harvest time.
Before you get started growing, you'll need to see if you even can grow in your state. Below is a list of states in which it is legal to grow your own marijuana at home, both states with medical and adult-use legal status. If your state does not appear on this list, it is not legal to homegrow in your state .
You ready?
1. Topping
Lollipopping will get rid of the extra, unwanted parts of your cannabis plant so that your young plant can put its energy into growing bigger buds and giving you a better yield in the end.
5. Monster Cropping
Do you have any other tips for growing amazing cannabis plants? Comment them below!