The plants are still illegal to possess, Trent said, and once police become involved, they are obligated to treat the weed as legitimate, high-quality marijuana. Narcotics officers can spot the differences, but they still seize the ditch weed and take it for standard testing.
But such incidents have declined as the wild pot has increasingly paled in comparison with imported marijuana, he said, and even though the weed can be found in large quantities, anyone looking for a quick high would likely be disappointed.
But not all property owners see the wild plants as a major issue.
Since the early 1940s, thickets of wild marijuana have sprung up each year throughout northwestern Indiana, a remnant of World War II-era industrial hemp fields that were sown to support the war effort by furnishing raw material for parachute cords.
Joe Burkus, who manages a large South Bend farm, said he has occasionally encountered people on the property and has little doubt they were looking for marijuana. And he once found a pile of leaves drying under a nearby overpass, but the farm has seen few problems overall.
As recently as 1999, county weed control boards worked with the state police to find and destroy the wild pot crop every year, a program authorities described as an effort to keep Indiana from becoming part of the illegal marijuana trade, according to Tribune archives.
Police and local officials have taken measures over the years to get rid of the so-called "ditch weed" when it makes its annual appearance, but in many areas the plants are as rampant as ever, sometimes growing eight to 10 feet tall.
"You can eradicate ditch weed as well as you can eradicate dandelion," said Capt. David Bursten, an Indiana State Police spokesman.
The ditch weed has a very low level of the psychoactive chemical THC compared with cultivated pot, but some dealers have combined it with more potent marijuana to increase their profit margins, the state police official said.
Thickets of cannabis can similarly be found across Asia from Pakistan to China. Cannabis: Evolution and Ethnobotany, a 2013 scientific profile of the plant, even found examples of decorative cannabis being grown alongside a public street in Kunming, China.
Glenn Panik, a California-based medical marijuana blogger, wrote in 2014 about how wild cannabis can frequently be spotted among stands of overgrown vegetation, particularly in urban places like abandoned lots or construction sites.
Former boxing promotor jailed for 13 years after getting busted dealing drugs by his own security cameras
"The ruderal plants pose a minor weed problem to agriculture but a major problem to law enforcement," it wrote.
Advertisement
Cannabis used to grow wild across Europe, according to a recent University of Vermont study of fossil pollen. However, the plant had already begun to die out by the time Europeans started experimenting with agriculture – and there is no evidence that Neolithic humans ever discovered its psychoactive properties.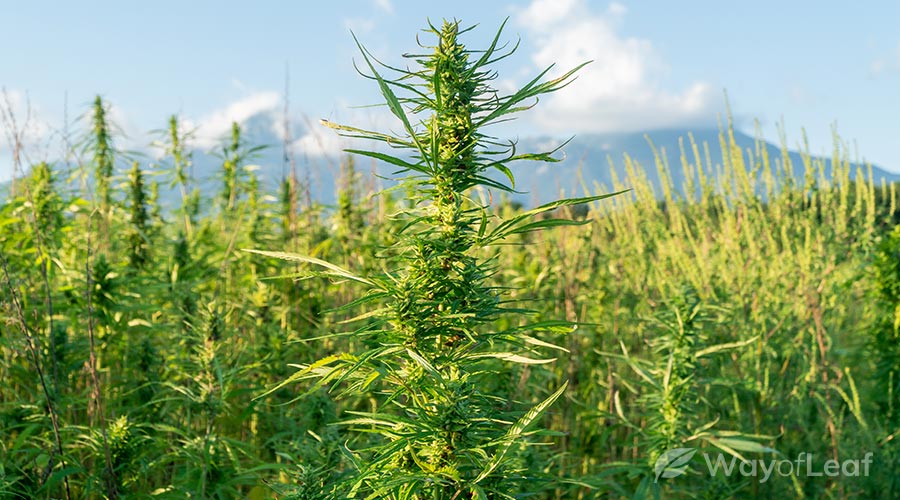 However, this carries potential legal issues. There is a possibility that local police are well aware of the cannabis, and are watching out for people stealing it. While there probably isn't an officer hiding in the bushes, you could find yourself in a police car. There is also a chance that the cannabis is part of an illegal growing operation. Once again, there is likely someone watching the crop. If they catch you taking some, the police will become the least of your worries.
The third option is to try and claim the plants. This is another decision fraught with legal jeopardy. If they are not ready to harvest, you have to tend to them. This is illegal in practically every state unless you have an exclusive grower's license. Even in legal states, growing is only allowed in a private space. Tending to these plants requires being outdoors in a public space, an illegal act.
The final, and most sensible option, is to admire the plants and go on your way. Take a few pictures to show your friends, but make sure you don't take any weed with you! If the plants are growing miles away from civilization, you can forget about them with a clear conscience.
The issue only worsened in the years after World War II. The American Midwest was the scene of widespread industrial hemp cultivation. The goal was to use the versatile plant to aid in the war effort. Production shut down in the late 1950s, but the damage was done. Since then, the plant has re-seeded naturally and spread throughout states such as Minnesota, Iowa, Nebraska, Oklahoma, and Missouri. Cannabis activists have also deliberately planted seeds in secret.
The Cannabis Is Beckoning Me! What Do I Do?
First and foremost, you must understand that what you, Miss Marple, have uncovered, is called 'ditch weed' in the U.S. Known as wild marijuana or feral cannabis, it is usually descended from industrial hemp plants previously grown for fiber. The DEA says ditch weed is wild scattered marijuana plants with no evidence of tending, fertilizing, or planting. By the way, cannabis technically can't be 'wild' in America since it is not a native species here. The correct term, in this case, is 'feral.'
Some claim that people get hemp mixed up with ditch weed. It is an easy mistake to make; even the police find it hard to differentiate. These individuals assert that you will get high if you smoke enough feral cannabis. The amount you need depends entirely on your tolerance level.
Your second option involves getting in contact with the police. If they are unaware of the cannabis, they may thank you for bringing it to their attention. Those who regularly use the field won't be as grateful! That said, you should consider the location. If it is within walking distance of a town, you can justify your actions by thinking about the possibility of children using it.
How to Find Marijuana Growing Naturally
First of all, you need to gauge how mature the plants are. If they are in the vegetative stage, there is no point in taking any home. These plants are several months away from producing usable buds. If they are tall and producing nugs, you have the option of taking a few free samples home with you.
Picture the scene. You are wandering down a highway when, suddenly, you see a group of plants that appear different to the rest. Your brain is telling you one thing, but you refuse to believe it is your lucky day. A sudden breeze arrives, causing these plants to sway majestically. You edge ever closer, the level of anticipation growing. YES! You have stumbled upon cannabis growing naturally in the wild. Time to light up! Or is it?