Vegetative stage length: 3-16 weeks
The biggest variability in how long a marijuana plant takes to grow will happen in the vegetative stage—after the seedling phase and before flowering.
Once your seed has germinated, or sprouted, it's ready to be placed in a growing medium, like soil. The tap root will drive down while the stem of the seedling will grow upward.
Seedling stage
As roots develop, the stalk will rise and you'll begin to see the first iconic fan leaves grow, at which point your cannabis plant can be considered a seedling.
Be mindful to increase your watering as the plant develops. When it's young, your plant will need water close to the stalk, but as it grows the roots will also grow outward, so start watering further away from the stalk in the soil so roots can stretch out and absorb water more efficiently.
If you're growing outdoors in the Northern Hemisphere, growers usually get their seeds between February and April, and you should start your seeds by the end of April. Some growers will start their seedlings inside in a more controlled environment because seedlings are more delicate, and then put their seeds in the ground outside once they're a little bigger. If you're growing clones or autoflowers, you have a grace period of another month or so. Plants usually need to be outside, in the ground, by the end of June.
How long does it take to grow a marijuana plant?
Outdoors, flowering occurs naturally when the plant receives less light each day as summer turns into fall. Indoor growers can trigger the flowering cycle by reducing the amount of light marijuana plants receive from 16 to 12 hours a day.
Marijuana light cycle: 12 hours a day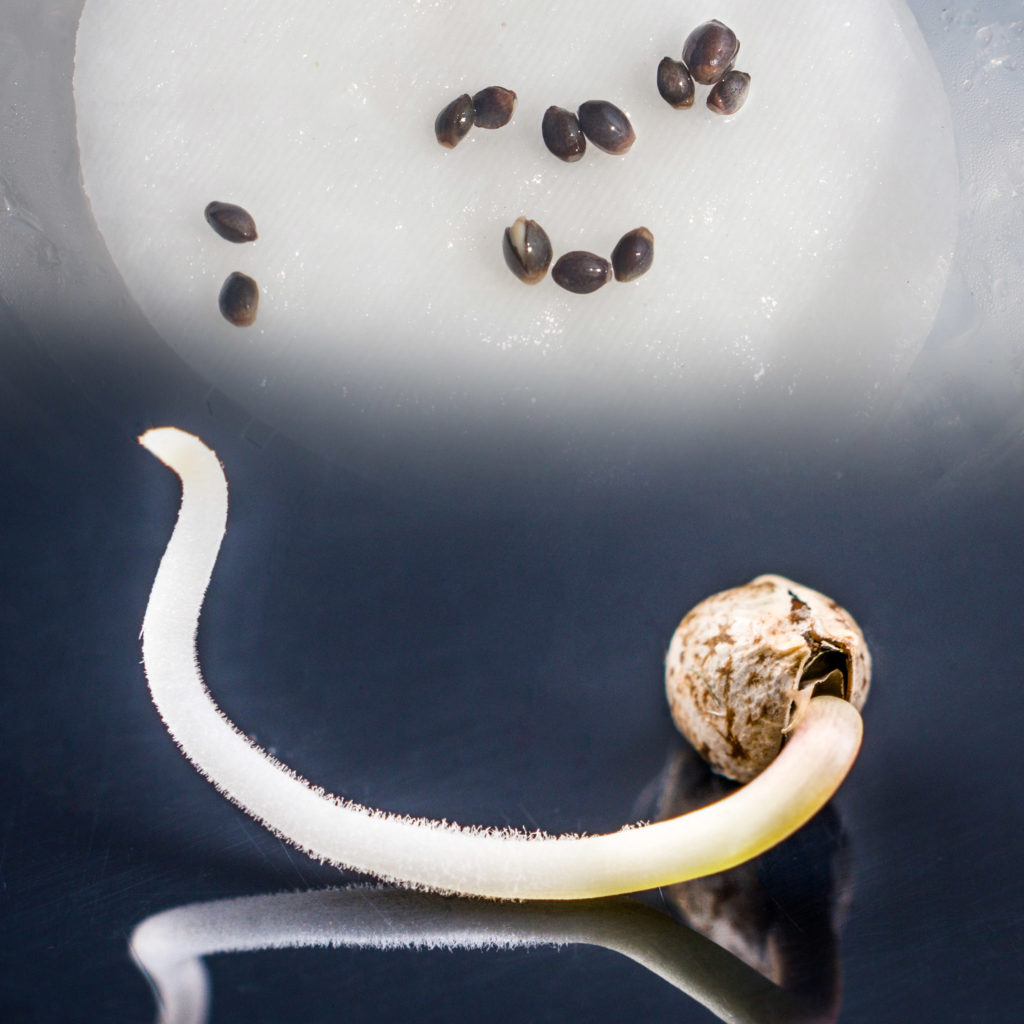 All forms of life start from a seed of some kind. High-quality seed is the single most important factor for successful cultivation. Cannabis seeds should be hard, dry and brownish in colour. There are a number of different ways of getting the seeds to germinate. The easiest is the paper towel method.
For most people, the flowering stage is the most exciting stage in the lifecycle of a cannabis plant. Once the days become shorter and the plant receives less light, it starts to take care of reproduction.
Related post
The germinated seed can now be placed carefully into the growing medium. The plant will start to grow and force its way upwards.
How to Harvest Cannabis Plants
The leaflets are long and jagged. Initially a leaf has just one leaflet, although a mature cannabis plant will have five to seven leaflets per leaf.
When growers receive their Cannabis seeds, it is time to germinate. Germination is the first step of the real growing adventure: so far, everything was just preparation. Once a cannabis seed germinates, its protective shell cracks open, and the first tiny root peeps out. For the sentimental grower, this is an emotional moment – a bit like childbirth, actually. It's also a moment, however, to be very delicate in handling cannabis seeds.
Nibameca
The growth stage begins.
From Growth To Flowering
Now comes the last stage: curing your cannabis and processing the trimmings. Never just dump your trimmed leaves in the bin; use it for good. You can make hash or delicious edibles from what's left over: this plant has more to offer than buds alone!