Cannalope Haze has a fair bit of stretch quite during the flowering phase and therefore indoor growers without a lot of head-room are advised to switch to 12/12 after a short period of vegetative growth to avoid any height issues. It grows in a Christmas tree shape and is suitable for a Sea of Green set-up. This plant does not like to be either over or under-fed although its nutrient requirements are not high by any means but some care needs to be taken. It is recommended not to prune too enthusiastically. The flowering time is 8 – 9 weeks which is very fast for such a predominantly sativa strain and yields are very good at between 500 – 600 gr/m 2 under 600 watt lights.
Cannalope Haze was bred using a Haze Brothers strain and a Mexican Michoacan plant. Cannalope Haze is 95% sativa yet is a pretty fast finisher producing good yields of hard buds.
The dried and cured buds are hard and very compact, especially so for a sativa plant, and they produce an aroma of sweet melon. The smoke is smooth and sweet/sour tasting with a hint of Haze spiciness. The smoke is very expansive in the lungs and the effect is a very uplifting, cerebral sensation and quite thought-provoking. It is a very resinous plant which makes great bubble hash by the water ice method. One of the best sativa hybrids and worthy of its reputation. It makes a good breeding plant due to its relatively short flowering time.
Genetics: Haze Brothers x Mexican Sativa
Variety: 100% Sativa
Harvest Date: October
Flowering Period: 9 weeks
No. of Seeds Per Packet: 13
Characteristics: Fast Flowering sativa
Here you can find all info about Cannalope Haze from DNA Genetics Seeds. If you are searching for information about Cannalope Haze from DNA Genetics Seeds, check out our Basic Infos, Gallery, Degustation, Awards, Strain Reviews, Direct Comparisons, Shop-Finder and Price Comparison, Lineage / Genealogy, Hybrids / Crossbreeds or User Comments for this cannabis variety here at this page and follow the links to get even more information – or list all Cannalope Haze Strains (±2) to find a different version. If you have any personal experiences with growing or consuming this cannabis variety, please use the upload links to add them to the database!
DNA Genetics' Cannalope Haze Description
Cannalope Haze from DNA Genetics Seeds is available as regular and feminized seeds. In 7 seedbanks, we found 19 offers between EUR 34.00 for 6 regular seeds and EUR 85.37 for 13 regular seeds. If you are looking to buy Cannalope Haze Cannabis Seeds from DNA Genetics Seeds somewhere – have a look to our Cannalope Haze Price Comparison page with all current offers from all the connected seedbanks and shops – or visit one of the following tested, trustworthy and recommended seed-shops directly to check out their current Cannalope Haze offers: Samenwahl.com, Linda Seeds | Linda Semilla, Seedsman, Cannapot Hanfshop, Herbies Head Shop, Oaseeds and Alchimia Grow Shop.
This perfect strain is the work of selection and a little luck. We found an 8 week wonder that lives up to all the controversy. Amazing you may ask an 8 week sativa, but we say grow these out and find out for yourself the magic in this strain. The bubble hash from the Cannalope is above average and the yield is good. The Cannalope can be mastered by experts and is a good teacher for beginners. The taste is like melon with a hint of Haze.
Basic / Breeders Info
Cannalope Haze is a sativa variety from DNA Genetics and can be cultivated indoors (where the plants will need a flowering time of ±63 days ) and outdoors . DNA Genetics' Cannalope Haze is a THC dominant variety and is/was never available as feminized seeds.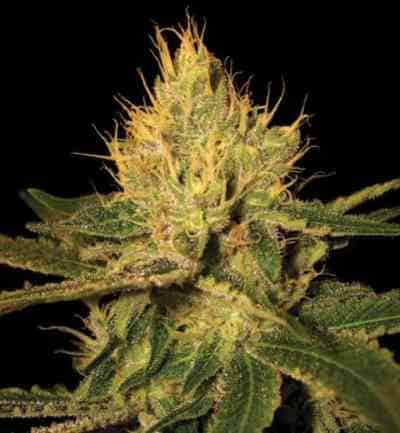 Cannalope Haze strain
Cannalope Haze Seed > DNA Genetics
Characteristics
Blüht für irgendwas mit Haze drin wirklich schnell. Hab zwar kein Haze gerochen und geschmeckt, wirkt aber hazeig und wächst auch so. Sie war dafür in 8 Wochen fertig. Schöne feste und harzige Knospen. Wächst recht spargelig und wird relativ groß.
Definitely not cheap, definitely worth it to give it a try. Really smooth and mild Haze!
Cannabis seeds recommendations | TOP 10 sativa strains