Here you can find all info about Caramelicious from The Bulldog Seeds. If you are searching for information about Caramelicious from The Bulldog Seeds, check out our Basic Infos, Shop-Finder and Price Comparison or Lineage / Genealogy for this cannabis variety here at this page and follow the links to get even more information – or list all Caramelicious Strains (±2) to find a different version. If you have any personal experiences with growing or consuming this cannabis variety, please use the upload links to add them to the database!
Caramelicious is a mostly indica variety from Bulldog Seeds and can be cultivated indoors (where the plants will need a flowering time of ±60 days ) and outdoors . Bulldog Seeds' Caramelicious is a THC dominant variety and is/was only available as feminized seeds.
Basic / Breeders Info
This tasty variety has some big, fat buds with a nice, fresh smell of caramel. It has been bred for at least 15 years with great success.
This Indica/Sativa hybrid is easy to grow, has lots of crystals and a high calyx/leaf ratio. Therefore it is very easy to clean and dry after harvest. It has been selected for its sweet taste and long lasting high. This variety has a good yielding and a high quality. Furthermore it has great CBD and THC levels. The flowering time is about 8-9 weeks.
Bulldog Seeds' Caramelicious Description
THC level – Up to 21 %
Genetics – Indica 65% | Sativa 35%
Climate – Indoor / Outdoor
Yield indoor – Up to 450 gram / 15.9 ounces per sq meter
Yield outdoor – Up to 550 gram / 19.4 ounces per sq meter
Height indoor – Up to 70 cm / 27.6 inch
Height outdoor – Up to 210 cm / 82.7 inch
Flowering time – 8 To 9 weeks
Harvest month – September / October
Grow difficulty – Easy
We do not support the transgression of laws. We provide a legal business informing the pubic regarding the characteristics of a range of top-grade cannabis strains and provide purchase of Caramelicious feminized seeds and other marijuana seeds to all people legitimately allowed to buy marijuana seeds.
Known for its great aroma and taste, this strain becomes covered in fine THC concentrated crystals as the plant matures.

A highly-refined hybrid developed from years of selective breeding at Amsterdam Marijuana Seeds, Caramelicious feminized seeds deliver large yields of resin-sticky dense buds with a distinctive 'caramel' flavour.
A Sativa / Indica hybrid, Caramelicious grows thick Indica-like buds yet produces a soaring cerebral high when smoked like a Sativa.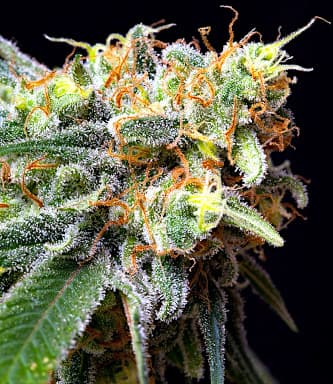 With Caramelicious, breeders of all levels will be able to quickly obtain amazing results whether they decide to grow indoors or outdoors. However, an eye should be kept on its behaviour if cultivated in extremely humid regions.
Caramelicious by The Bulldog Seeds is a feminised cannabis seed that has its origins in the cross of a Californian Orange Bud and a Skunk. It is a hardy and sturdy marijuana plant whose generous crops of hard, resinous buds give off a deliciously fruity scent. This strain is characterized by high levels of THC as well as high levels of CBD.
Caramelicious Seed > Bulldog Seeds
The flavour and aroma of Caramelicious are pronounced, with hints of sweet fruits and gummies. It provides a potent and long-lasting effect. Initially cerebral but more physical as time passes by.
Characteristics
Feminized Marijuana Seeds | Indica | THC content >20% | High yield