Before consuming Sour Face users should be aware of the potential negative effects it carries. Although uncommon, you might experience some of the following:
Sour Face is an evenly balanced marijuana first strain by Archive Seed Bank. This hybrid is obtained through the crossing of Sour Diesel with Face Off OG bx1 strain, and it has a very pungent and minty aroma that resembles a mix of peach and mango. It has a CBD range of 0.6% – 0.82% and its THC average is 16%, making it a moderately potent weed strain. Sour Face cultivar has the following terpene profile:
Sour Face can have lasting effects so it's ideal if you have a smoke session in the afternoon. You will feel a euphoric cerebral rush at the start, and your focus will increase. This will probably have you smiling and you'll sense how tension is slowly leaving your muscles making you more relaxed and maybe sleepy. This is why Sour Face cannabis can be used to relieve symptoms of conditions such as hypertension, stomach cramps, ADD / ADHD, and migraines.
The average plant height is 45 inches but it generally grows between 30 and 60 inches. You can expect to get around 400g of weed per plant once the harvest starts. The flowering time is approximately 8 and a half weeks or between 55 and 61 days. The buds are compact and neon green in color. This makes amber hairs quite noticeable and the white crystal trichomes make it seem like the buds are covered in glitter.
Sour Face Strain Uses, Effects and Possible Side Effects
Growing Information
Sour Face from Archive Seed Bank is available only as regular seeds. Feminized seeds are not available at the moment. In 2 seedbanks, we found 2 offers between EUR 130.00 for 12 regular seeds and EUR 180.00 for 12 regular seeds. If you are looking to buy Sour Face Cannabis Seeds from Archive Seed Bank somewhere – have a look to our Sour Face Price Comparison page with all current offers from all the connected seedbanks and shops – or visit one of the following tested, trustworthy and recommended seed-shops directly to check out their current Sour Face offers: Oaseeds and Cannapot Hanfshop.
Sour Face is a mostly indica variety from Archive Seed Bank and can be cultivated indoors (where the plants will need a flowering time of ±68 days ) and outdoors . Archive Seed Banks Sour Face is a THC dominant variety and is/was never available as feminized seeds.
The Original Sour Diesel we received for the first time in 2004/5. At the time, there were no "named" cuts of Sour. Just one, the original. As was the same case with OG. For all the New Yorkers out there that love Sour Diesel, but hate the 11 week flower time, these seeds for you. As the flower time can be reduced up to and over 2 weeks in some phenotypes! The Face off complements the classic fuel playdoh sugary diesel fuel funk the Sour is renowned for, but adds an extra layer of depth to the after flavor that has made the Face Off a household name. The best of both worlds, Dank sour on the intake smoke, long lasting Kush on the after flavor, what's not to love, eh?
Genetics: Sour Diesel x Face Off OG bx1
Sex: Regular
Height: Medium
Flowering Time: 68 days
Seed Bank: Archive Seeds
Yield: Medium
THC Level: Unknown
Type: Indica Dominant
Where to buy Sour Face cannabis seeds?
Here you can find all info about Sour Face from Archive Seed Bank. If you are searching for information about Sour Face from Archive Seed Bank, check out our Basic Infos, Gallery, Shop-Finder and Price Comparison, Lineage / Genealogy or Hybrids / Crossbreeds for this cannabis variety here at this page and follow the links to get even more information – or list all Sour Face Strains (±2) to find a different version. If you have any personal experiences with growing or consuming this cannabis variety, please use the upload links to add them to the database!
Here you see the latest Sour Face photos, uploaded from our users! Altogether we've collected 1 pictures from Archive Seed Banks Sour Face, check out our Sour Face gallery to view them all.
Basic / Breeders Info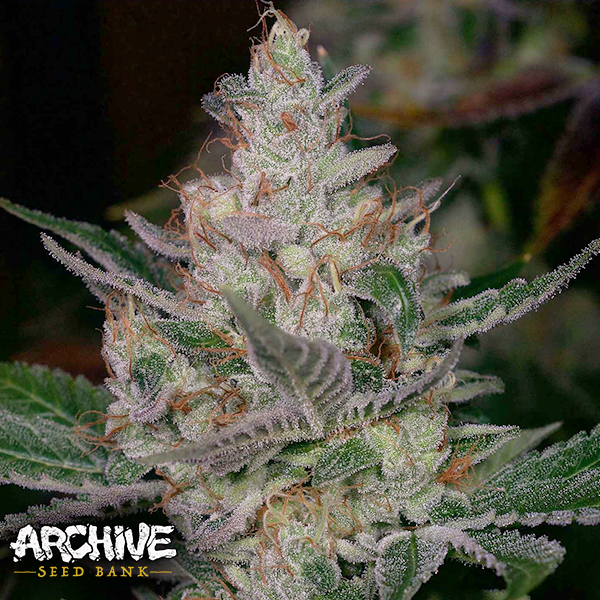 If you want to be notified when this product comes back into stock, please enter your email address below:
Please be aware that you will need to confirm your submission.
A verification email will be sent to you to confirm your email address.
If you have not recevied an email within a few minutes after your submission, please check your SPAM/Junk folders.