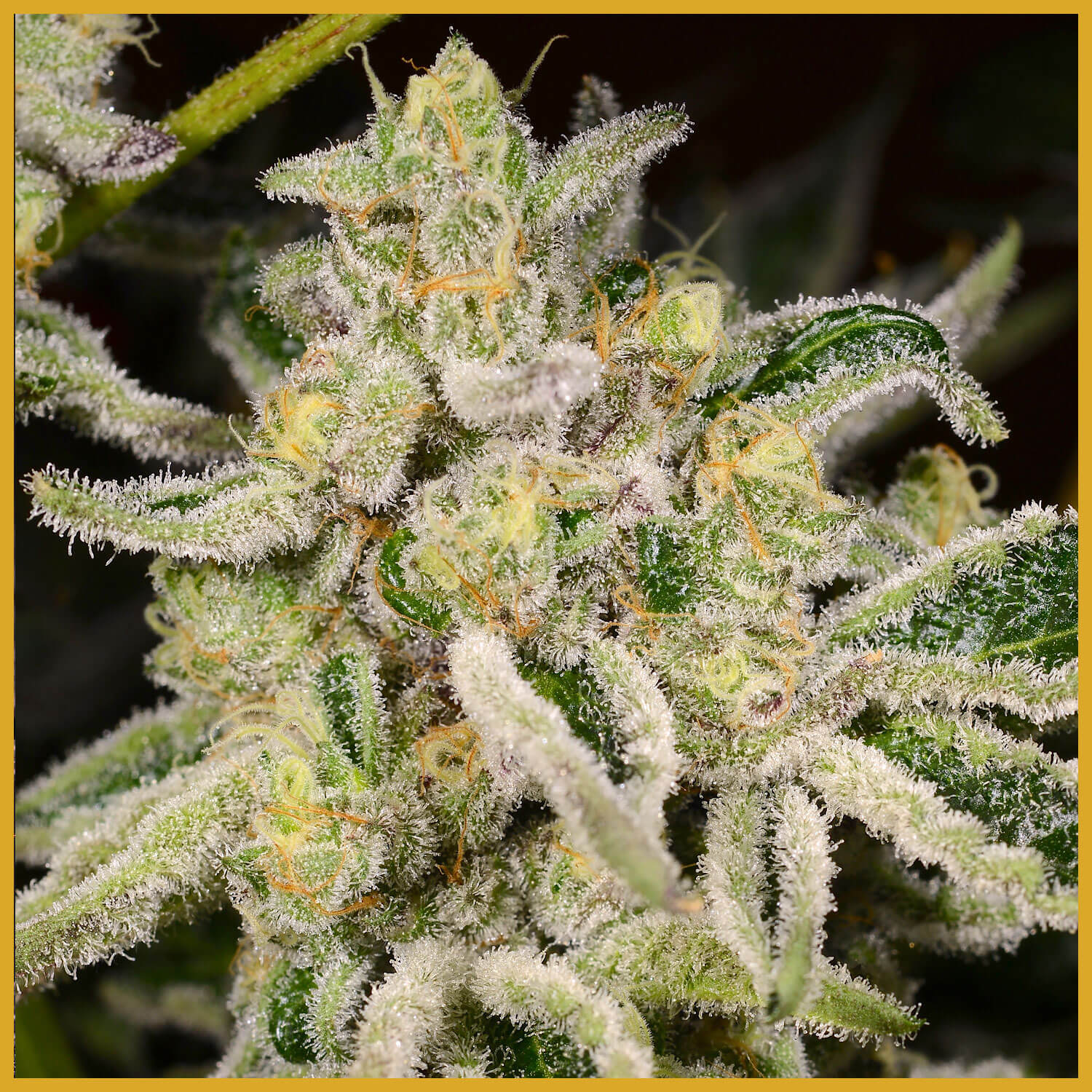 The harvest is ready after about 70-75 days of flowering, with a yield of 300-400g per m2, producing fleshy flowers completely covered with trichomes. It is an ideal variety to make generous and aromatic cannabis concentrates.
Citrus Rush is a variety born from the collaboration between Archive Seed Bank and Orgnkid. This variety has an intense and complex fruity flavour, it is very resinous and offers a harvests with exceptional characteristics. It is now available in our regular cannabis seeds catalogue at Alchimia Grow Shop.
On the one hand, we encounter in this genetic cocktail a Skunk Tangerine phenotype, a Tangie x Lemon Skunk hybrid selected by OrgnKid due its intense fruity aroma and famous in the cannabis breeding world for its Ghost OG clone. In order to soften the terpenes profile, it was then crossed with Do Si Dos, adding its sweet and floral flavours to Skunk Tangerine while maintaining its maximum resin level.
Citrus Rush offers an ocean of acidic resin
Its delivers an intense aroma, so it is recommended to use carbon filters when it is cultivated indoors. Its flavours and aromas combine strawberry and tangerine sweeties with sweet, floral and pastry touches.
Citrus Rush produces vigorous plants that adapt well to different cultivation techniques, adapting well to pruning and trellising in order to control their vegetative vigour and maximise flower production.
Citrus Rush produces a balanced effect, initially stimulating and euphoric and then gradually more relaxing and quiet.
Archive Seed Bank Citrus Rush harvest
Sign up for the newsletter
By staying on this site, you agree to the use of cookies. You can find out more by following this link.
Int: 011 44 1473 724698
Please Note: This content is for informational and educational use only. The Attitude Seed bank sells all seeds strictly for souvenir purposes or for storage and preservation of genetics in case the laws may change. We do not condone or encourage the germination of cannabis seeds and we will refuse a sale to anyone who leads us to believe they intend to use our products in an unlawful way.
WARNING: IT IS A CRIMINAL OFFENCE TO GERMINATE CANNABIS SEEDS IN THE UK AND MANY OTHER COUNTRIES.
Int: 0044 1473 724698
We sell our seeds for souvenir purposes only and for storage in-case the laws change. We at 'The Attitude' are here to help, but we do have our restrictions. We CANNOT, and WILL NOT discuss germination / yields / THC levels, etc. of seeds as it is ILLEGAL to germinate seeds and sell them for germination purposes in the United Kingdom and we cannot be seen promoting this. Unfortunately, E-mails may be ignored and remain unanswered if questions relate to the above and you may be refused a sale should you persist in requesting further information. For more information in regards to our website, please head over to the F.A.Q. section.
Int: 011 44 1473 724698