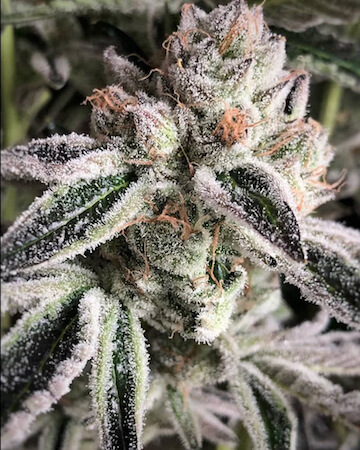 Cultivated outdoors, Crescendo RXB1 can grow to a large size and offer a high production as long as it is provided as many sunlight hours as possible, good substrate amount and balanced nutrition. It is ready for harvest in October with a yield that can easily exceed 1000g per plant.
Its aromas and flavours are notable for containing a terpenic mixture inherited from its ancestors, a combination with earthy sour touches and petrol with mandarin and orange syrup nuances. It is a powerful blend of flavours that will surprise those consumers who are looking for a complex and complete flavour.
Cultivated indoors, this variety will at least double in size after the change to the flowering photoperiod. This pronounced stretching develops long branches that produce a long column of tight, compact buds that are very bright due to the large resin amount. It is certainly an ideal variety for resin extractions fans. Crescendo RBX1 has a flowering period of 8-9 weeks with an abundant yield of more than 500g per m2.
We are glad to present Crescendo RBX1 by Ethos Genetics seed bank, a feminized poly-hybrid cannabis plant. It is a cross between (Chem D x i95 x Mandarin Cookies) x Headband x i95, different varieties as powerful as they are delicious.
Crescendo RBX1 cultivation
Crescendo RXB1 seeds produce medium sized plants that develop with a marked stretching as they move to the flowering stage. It is a plant with vigorous growth, balanced between the Indica and Sativa worlds. It adapts well to cultivation techniques such as SCROG, through continuous canopy pruning in order to develop a good lateral branching. It can be also used the SOG technique to obtain a plant with only a large central bud.
Crescendo RBX1 offers a powerful, euphoric, psychedelic and cerebral effect as well as a relaxing action. It is ideal for treating chronic pain, headaches, insomnia, reducing stress, etc. It is certainly a good companion to enjoy a relaxation state and a good dose of euphoria. This effect is obtained thanks to its high cannabinoids content between 30-37%, where THC can reach a level of up to 30%.
Crescendo RBX1: Power, flavour, aroma and a high production
If a problem arises, it's unnecessary to send long, usually exaggerated emails when photos can be sent to us with a short message requesting help. We really appreciate patients remain friendly toward our sales staff who are not directly responsible for the plants you've purchased. They are on your side when reaching out to nursery managers to create the fairest solution for each individual's case.
Bred by Ethos Genetics, Crescendo crosses Chemdog, I-95, and Mandarin Cookies to create this THC-dominant hybrid. Its terpene profile produces sweet, earthy, and citrus aromas with gassy, kushy, and sweet cookie dough flavors. Buds are large in size and mostly green with purple accents.
Our website is constantly being updated . Below is the most updated pricing as of 1/11/2022 . For any applicable discounts contact us directly.
In instances where exchanges are requested, The Clone Conservatory can help those who remain calm, respectful and honest. In other words, we do not help anyone who is demanding or rude, nor anyone making false accusations not represented by photos.
Autos
What You Receive
It delivers a powerful effect thanks to its high THC levels of 25-30%, together with a CBD contain of 1-2% and CBG contain of 1-2%. A very complete plant at cannabinoid level, with a total concentration of 35% in the plant.
You have grown Crescendo together with another variety? Please fill out our Strain VS. Strain direct comparisation form!
Map of the Crescendo Descendants
Our strain reviews are multilingual, searchable and can be very detailed – including data about the grow, aroma, effects and taste! Please upload your Crescendo Review here to help the other seedfinder users!
Footer
Crescendo from Ethos Genetics is available only as feminized seeds. Regular seeds are not available at the moment. We found 1 offer for EUR 100.00 for 10 feminized seeds. If you are looking to buy Crescendo Cannabis Seeds from Ethos Genetics somewhere – have a look to our Crescendo Price Comparison page with all current offers from all the connected seedbanks and shops – or visit one of the following tested, trustworthy and recommended seed-shops directly to check out their current Crescendo offers: Alchimia Grow Shop.