Below are all the topics covered in our growing guide. That is followed by a list of where it's legal to homegrow in the US and a quick overview of the growing process.
*Illinois and Washington are adult-use states but require a medical card to homegrow.
Where is it legal to homegrow cannabis?
You might be surprised which states don't allow homegrowing—only five medical states and one medical territory allow homegrowing at all, and some adult-use states require a medical card.
What does a marijuana plant need to survive and thrive?
The best way to get quality buds and big yields is to grow strong, healthy plants. Here's a quick rundown of the most important things you need to know about growing weed: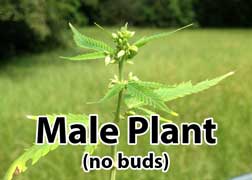 Plants in the vegetative stage only grow stems and leaves, no buds!
If your plants are female they will start growing wispy white hairs that eventually turn into buds. If your plant is male, it will grow pollen sacs that look like little bunches of grapes, and these will open up into flowers that can pollinate your buds and make them full of seeds.
Step 5: Get Your Cannabis Seeds
What Nutrients to Get for Each Stage of Life
There are other ways to germinate seeds if you don't have or don't want to use Rapid Rooters. For example you could use the popular "paper towel method" or even plant your seeds directly into the growing medium! Learn about other ways to germinate your seeds here.
Step 7: Vegetative Stage
It's important to identify any male plants as soon as possible and remove them from your grow room so your female buds don't produce seeds from being exposed to pollen.
As the eighth week stretched into the ninth, I dutifully burped the curing jar every few days, gazing at the contents with awe before snapping the lid back in place and putting the container away, but I didn't try it. Was I, on some subconscious level, afraid that I wouldn't get high enough (or, even worse, not high at all) off my homegrown handiwork? Perhaps the thrill had really been about the process — the pursuit of happiness — the whole time and not about the ounce of weed curing in my pantry. Or maybe I wanted the best for my baby and was dragging my feet only until Diana Prince had cured a full six months?
Fast-forward two months and, instead of the towering THC-laced tannenbaum I was hoping for, I was headed into Christmas week with a seedling — all of 5 inches tall — curving out of its pot at a 45-degree angle. Since A Pot for Pot purchases include growing consults via email, I sent off a few photos and a plea for help. A few days later, I heard back from an upbeat consultant named Taylor who wrote: "Thanks for reaching out! What a cute little plant!" Then came the bad news: Based on the photos I'd sent and the timetable I'd described, Mariah wasn't going to get much bigger. Taylor's theory was that I had probably waited too long to transplant Mariah from her seedling cup to her 5-gallon fabric pot, unintentionally creating bonsai bud in the process. But the silver lining, as Taylor pointed out, was that because of her stunted size, there would be more than enough nutrients in the soil mix to support a second attempt in that same pot.
I planted my first seed on Oct. 19, 2020, opting for an easy-to-grow strain called Lowryder. Considered one of the first autoflowering strains of marijuana — meaning the plant flowers after a set period of time instead of taking its cue from seasonal light changes — Lowryder is a cross of Cannabis ruderalis, 'Northern Lights No. 2′ and 'William's Wonder' that yields a compact, indica-heavy plant. Based on the grow guide included in my kit, my plant would be ready to harvest just before Christmas. In a nod to the holiday season timetable, when the first green sprout popped out of the soil a few days later, I nicknamed her Mariah in honor of the chanteuse whose 1994 album "Merry Christmas" seems to flower like clockwork year after year.
By late March, Diana Prince was stretching skyward and entering her flowering stage. Two months later, she was nearly as tall as me and appeared ready to harvest. Gun-shy from my earlier experience, I sought one last consult. ("Just going off your timeline, she is definitely ready," replied Taylor — punctuating the sentence with a green emoji heart.)
Get The Wild newsletter.
And there's one last tiny hitch in the homegrown giddyap — and one that's of particular importance in a city like L.A. where most of us live cheek by jowl: any plants you're growing must be in a locked space that is not visible to the public.
That's why, when faced with midpandemic boredom, in a state where it's legal to grow (under California law, anyone 21 and older can grow up to six plants for recreational use) and with an unused everything-but-the-seeds kit from A Pot for Pot (purchased while researching The Times' 2020 holiday cannabis gift guide) lurking in the corner of my home office, I decided to connect with my roots by trying to get a pot plant to put down the same. By following the process from start to finish, I reasoned, I'd be able to better appreciate how those dried little nuggets of instant staycation get from the soil to the dispensary shelf.
Then it hit me: In my haste to marry the nostalgic farm-to-table experiences of my Vermont childhood to my love of weed, I'd forgotten the part about not forming an emotional bond and had done exactly that. Even worse, I'd given her a name and imagined a personality for her. By naming her Diana Prince, I'd become less of an urban herb farmer about to get his buzz on and more like the Titan Kronos of Greek mythology about to swallow his offspring.
If you're wondering why on God's green earth anyone blessed with the SoCal sunlight would choose to grow a cannabis plant indoors — and shell out money for a light to do it to boot — it's worth a slight detour here to give you the straight dope on growing your own dope in the state of California (and, by extension, Los Angeles, because the city doesn't have its own regulations addressing personal cultivation).