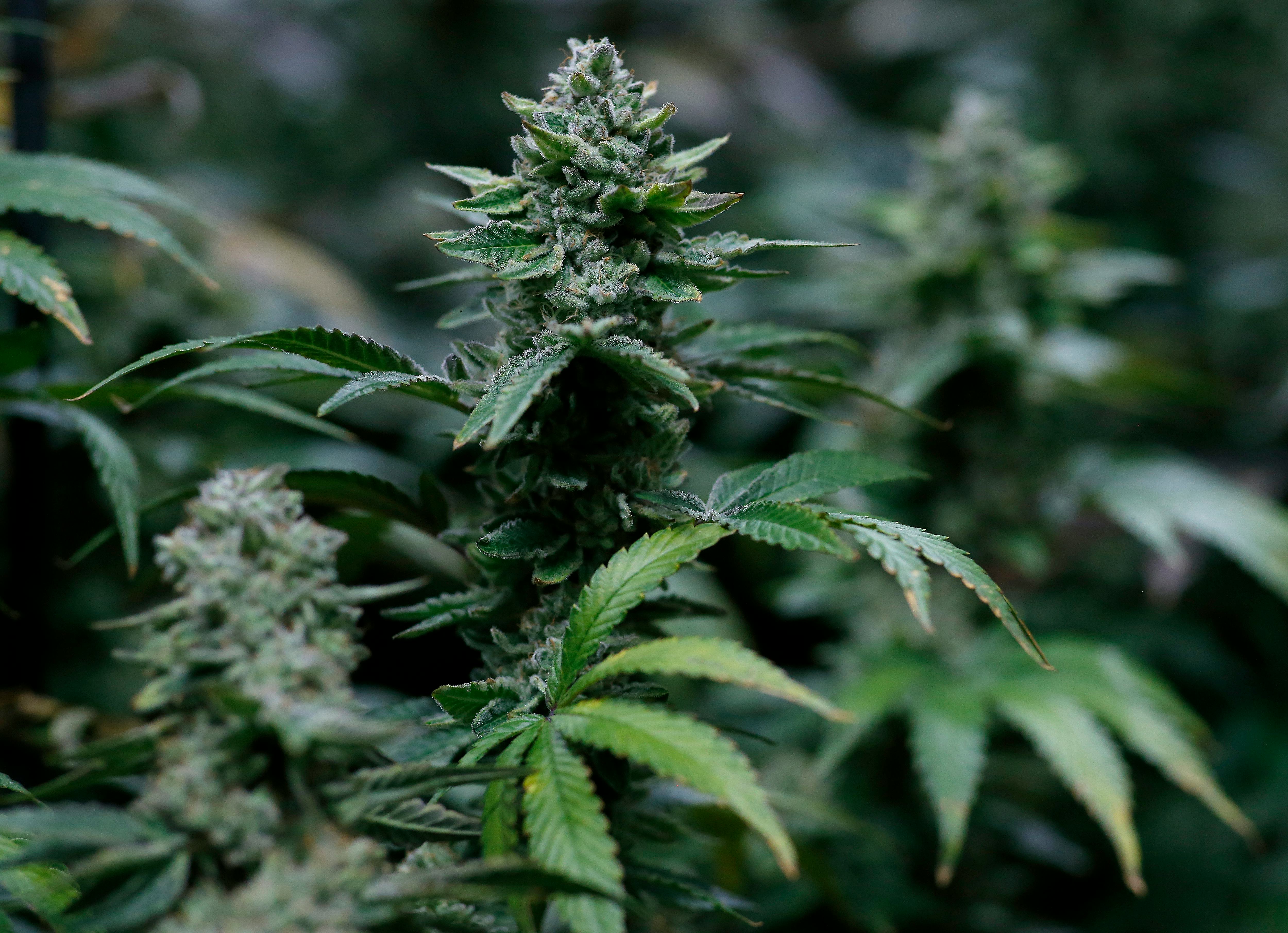 Don't go overboard, though, he warns. Start with growing three plants in five-gallon pots. This way, if one dies, you'll still have two plants, and the pots will limit their growth. A general rule of thumb is that they'll grow one foot for every gallon of soil. He recommends mixing your own organic soil, which he explains how to do on his website and will save you the headache of adding nutrients or pH testing. "The soil is what we call alive," he says. "It's always breaking things down to replenish nutrients that are missing." But if you can't mix your own soil, or don't feel like it, you could buy organic Pro-Mix soil, which Johnson says many outdoor growers use.
Do your homework and read up on the laws in your state. Some states prohibit growing cannabis, while others, like my home state of California, permits anyone over age 21 to grow cannabis, but only up to a certain number of plants. NORML has a pretty in-depth guide to the laws in each state. Colorado, Oregon, Nevada, Vermont, and Maine also allow cultivation, but again, the specifics depend on the state. Definitely clarify what your rights are before you start the glorious path to at-home bud gardening.
Planting
Johnson notes that the outdoor grow season lasts from around April to October, meaning if you plant seeds now, they'd still yield flower, but not much. Since it's late in the season, he suggests buying a large clone, which will have more branches and therefore yield more flower.
Whatever you do, don't plant your clones in the ground. They'll run rampant, and "you'll have pounds of weed in your house," Johnson says, recalling the trays of weed atop his kitchen table when his crop grew wild. "You don't need the stress of plants getting out of control, growing over your fence." If your neighbors can see them, they might complain about them, and having too many plants could get you arrested.
Before you get started
Cannabis cultivation laws vary widely state-by-state. Also, we can't stress this enough: Growing cannabis is illegal in a lot of places, and the penalties — which include steep fines and prison time — can be much worse than possession, since growing can imply an intent to distribute. Black and brown folx need to be especially scrupulous about heeding these rules, since law enforcement targets us way more than white people for weed-related charges, even if we consume it at similar rates.

After 55 to 60 days, growers begin paying close attention to their plants' trichomes — the small, bulbous fibers that develop around the flower of the female plant. "Those trichomes will turn from clear to amber," Lipton said. "They kind of look like red hairs. You know it's time to harvest when about 10 to 15 percent of the trichomes turn that color." On average, cannabis plants have a five- to seven-day window of peak harvest time.
The last step involves curing the bud. "Curing is just as important as the growing process," Lipton added. "We do a slow cure, which means that it takes anywhere from three to six weeks depending on variety." Temperature and humidity play a large role during cure and must be maintained to ensure a great final product. "Our actual cure process is somewhat of a secret, so I cannot share the fine details," Lipton said. "But it's an art form and extremely crucial to our success." The reason growers cure bud after harvesting is that it creates a smoother smoke and increases its potency. Detailed recommendations for proper curing can be found online, here and here.
pH of Water: 6.3 to 6.7. "You'll need a meter that you can stick into your water and tell you the pH," Lipton said. "You want something between 6.3 to 6.7 pH for watering your plants. That sounds like pretty sophisticated stuff but it's really not. A lot of times your tap water will be 7.8. You can use what they call pH down. That's a crucial step."
Though the 12-hour interval is fairly universal, knowing exactly when to induce flowering is less clear. For the home grower, it usually comes down to space; the longer one waits to trigger the flowering cycle, the taller their plant will be. A good rule of thumb: cannabis will only continue to grow 30 to 50 percent once the light source is reduced. If the plant is growing in a closet, growers should trigger the flowering cycle, understanding that there must be more than two feet of space between the canopy of the plant throughout the entirety of its life.
Trigger the flowering cycle.
Space: 3 x 3 x 5 feet, minimum. "The bigger the space, the better. With all the lights, closets get hot," Lipton said. That said, closets help growers control light pollution when the plant is in its flowering cycle — one of the main reasons home growers favor them over larger spaces, such as living rooms. "If you have a spare bedroom, or a basement even, you can just use that and close the door," Lipton said.
Sticking to that schedule is key, he added. "Say you're at day 30 of the flowering cycle and you come into that closet when it's supposed to be dark and turn a bunch of lights on. You're going to throw the whole cycle off and that's the end of that. It only takes 10 seconds."
"Growing cannabis in tight spaces is not my usual recommendation," said Stephen Lipton, the cultivation manager at The Farm Recreational Marijuana Dispensary, an award-winning recreational facility in Boulder, Colorado, specializing in what it calls "craft cannabis." At any given time, Lipton oversees close to 15,000 plants across seven different facilities in Boulder County. "If you have a really tight space and it gets too hot or too humid, you're going to have big trouble."
Harvest and cure.
Both medical and recreational dispensaries now sell female cannabis clones, which retail for about $15. Alternatively, it's commonplace for home growers to gift clones to their friends. "When you get a clone, someone will likely give it to you in a four-inch pot. You're skipping that whole step of having to germinate seeds. You're already 10, 14 days ahead of the game and basically ready to plant."
Relative humidity: 30 to 45 percent. "If you live somewhere humid, you're probably going to want to buy a dehumidifier," said Lipton. "In Boulder, we sometimes have to add humidity." At home, that can be done with a reliable humidifier.
Indoor cultivation provides many benefits compared to outdoor cultivation, including control, reproducibility, and risk mitigation — not to mention location, location, location. The goal is to artificially create the ideal environment for your plants at all growth stages. This is achieved through precise lighting, temperature, humidity, carbon dioxide content, and air movement within each indoor growing space.
How to start growing weed
Ultimately, the costs of equipment and recurring utility bills are more expensive than in outdoor and greenhouse settings. However, specialized indoor cultivation equipment allows cultivators to achieve multiple harvests per year and a more reproducible product. If you're detail-oriented and technologically inclined, indoor gardening is a fun and rewarding pastime, or could even be a full-time job.
What Is the best way to grow marijuana indoors?
Feeding your plant is the process of giving it the chemicals and compounds that it needs to grow out its leaves, roots, and ultimately produce the heavy, trichome-covered flower clusters called colas. There are two main types of feeding systems: drain-to-waste and recirculating.