Euphoria CBD combines the genetics of Royal Medic and Shark Shock. Royal Medic is a medicinal strain that is largely comprised of Juanita La Lagrimosa and which carries the high CBD-production through to Euphoria CBD. Shark Shock is a hardy plant which has won many awards in various cannabis cup competitions since the late 1990s.
Euphoria CBD grows to between 60 – 100 cm. indoors or between 100 – 150 cm. when grown outdoors. It has the structure of an indica plant, short and stocky, as its genetics are 80% indica. Yields are between 400 – 450 gr/m 2 grown indoors or a similar amount per plant outdoors. The flowering time comes in at a very respectable 8 weeks, not bad for such a beneficial medicinal strain, with outdoor harvestsbeing during October in northern latitudes. Of course indoor growers will not realise this amount per plant if they are all crammed in closely as per the Sea of Green method.
The dried buds have a sweet and fruity perfume which carries over onto the palate. The THC:CBD ratios delivered by Euphoria CBD are close to 1:1 with THC at 9% and CBD at 10%. For therapeutic purposes Euphoria CBD has applications in the treatment of anxiety (including social anxiety), pain-relief, Crohn's Disease and as an anti-inflammatory agent.
customer reviews
Order
within
Euphoria feminized cannabis seeds from Royal Queen seeds are considered to be some of the strongest Indica genetics around. This particular strain of cannabis is not one meant to get you super stoned. Instead this is a medical patients best friend. Medical cannabis consumers look for strains like these because of their CBD to THC ratios. A combination of impressive yields with a beautiful taste and aroma profile along with the medicinal attributes medical cannabis consumers look for can always be found in the incredible Euphoria feminized cannabis seeds.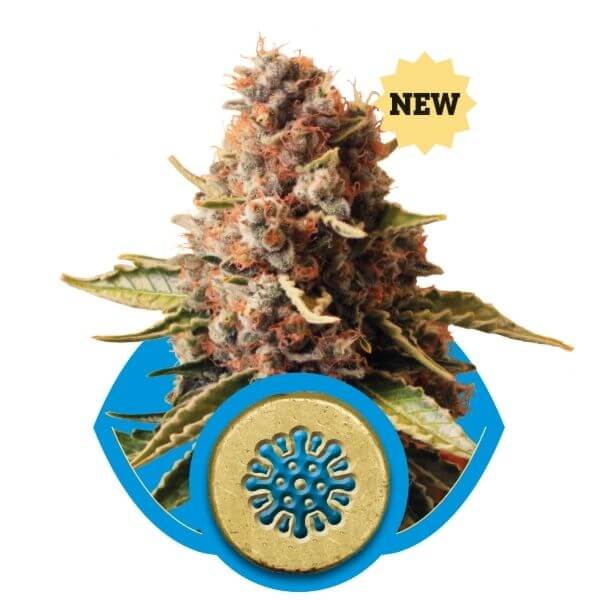 For this reason, the resulting plant will acquire a maximum height from 100 to 150cm, growing compact, stocky, woody and robust, typical from indicas.
This strong tendency (35% sativa – 65% indica) will let us easily harvest up to 450g/plant, taking only 8 weeks to finish its flowering period.
This strian was created with the intention to provide a 1:1 THC: CBD ratio, crossing the Royal Medic genetics with Shark Shock, both with high CBD levels and relaxing effects.
Its combination of cannabinoids and terpenes causes a soothing and energetic effect, very medicinal, but free of heaviness or depression, acting superbly as an anti-inflammatory, for pains or jitters, and making those who smoke it to socialize and chat.
Euphoria is a medicinal cannabis strain developed by Royal Queen Seeds – now available in Alchimia – which offers 9% THC and 10% CBD levels, grows about 150cm tall and matures in just 8 weeks.