Another common measurement used is ppm (parts per million) which is another way of looking at how nutrient-dense your solution is. There are two different scales for ppm used in the cannabis industry: the 500 and the 700 scale. The most efficient way to determine ppm is to take an EC reading, multiply it by either 500 or 700 depending on the scale you are using. An EC reading of 2.0 would equal either 1,000 ppm (500 scale) or 1,400 ppm (700 scale). Many readers used to measure EC or ppm will do this conversion for you.
Growing hydroponically does require that you invest a good amount of time and money into developing your system prior to actually starting your garden. Additionally, you'll want to make sure your system works effectively and your nutrients are high quality so that your plants will flourish. Once you gain a knack for hydroponics, you'll be on your way to producing world-class cannabis that is well worth the effort.
Next, you'll need to balance the pH level. Between 5.5 and 6 is ideal for cannabis to absorb the nutrients. If levels are off significantly, the plants will fail to uptake the nutrients and will suffer deficiencies.
Nutrients for Hydroponic Cannabis
Hydroponic Cannabis Supplies:
Raising a plant with hydroponics is different in many ways from growing in a soil garden. One thing to consider is the support the plant is receiving. Unlike a plant growing in soil, plants in hydro mediums might be vulnerable to tipping or breaking. Trellising your garden will help to prevent this from happening and will also allow you to train your plants to grow in specific directions.
Nutrients will come either pre-mixed in a solution or in powder form. While powder form might be cheaper and less bulky, it is best to stick with liquid pre-mixed nutrients if you are a small-time grower as they mix with water easily and are more forgiving.
Explore Nutrients for Your Hydroponic Cannabis
You should continue to monitor your solution by taking readings two times a day to make sure everything is at the correct levels. Regardless, it is good practice to switch out your solutions every week or two to keep the solution as optimal as possible.
First we will start with the supplies needed. Keep in mind this is just an example, and depending on your space and desired results, many things can be tweaked in a hydroponic system to make it most beneficial to you. This list specifically outlines equipment needed to install your hydroponic system and does not include lights, fans, filters, and other basic needs for any grow room.
Hydroponic growing is a horticultural method for growing crops, including cannabis, without the use of soil. In place of soil, growers use a mineral nutrient solution in a water-based solvent. Occasionally, growers may also use clay pebbles and sand.
What is hydroponic growing?
It can be time-consuming and expensive for those setting up hydroponic systems for the first time. There are two other main drawbacks to consider before trying this growing medium.
Image lightbox
As a cannabis cultivator, you have an array of choices when it comes to growing your own herb at home — outdoor, indoor, and greenhouse cultivation, to name a few. But what about hydroponic growing mediums? Could this futuristic-sounding, soil-free method be the right solution for you? In this beginner's guide to weed hydroponics, you'll learn everything you need to know to start your own hydroponic garden at home.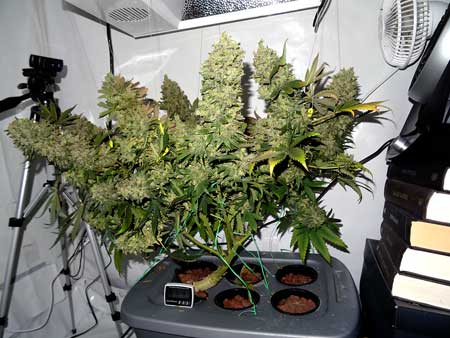 How to Grow Cannabis in DWC
Hydroponics is when you grow your cannabis plant in an inert medium like coco or a reservoir of water, and provide all the nutrients to the plant directly in the water.
Have you seen cannabis plants growing with their roots just floating in a reservoir of water? This type of hydroponics is known as Deep Water Culture (DWC), and has been around for over a 100 years! As more growers gain experience with this medium, DWC has become increasingly popular for growing cannabis. Hydroponic setups are really neat and offer some big benefits over growing in soil!
Growing in coco coir can be considered a type of hydroponics since it naturally contains no nutrients and you must provide all the nutrients in the water. However, when you say "hydroponics" most people think of this:
So there are five major parts to getting set up. You need….
Cons of Hydro
Hydro is a no-brainer for me. Whenever I go back to a hand-watered grow like coco coir, I am always surprised by how much extra time it takes to water plants and remove the runoff. The most intimidating part of hydro is just getting started – after that it's actually really easy to take care of your plants. In my opinion, hydro is far easier and less time consuming than growing in soil or coco coir once you're set up. If you are interested in hydro, go for it! If you follow this tutorial you will succeed!
When it comes to hydroponic cannabis…
Is Hydroponics Good for Growing Cannabis?