If you are with a big screen and not browsing with your mobile, check out our dynamic family tree map with all known hybrids of Falcon 9! (but this maybe will need some time to load all the data!)
Do you know something more about Exotic Genetix' Falcon 9? Please help to make this database better and upload/connect your information here!
Map of the Falcon 9 Descendants
Mother: Sunset Sherb
Father: Tina
Family: 70/30 Indica
Sex: Reg
Growing Conditions: Multi-Topped Bush
Height: Medium­
Flowering Time: 56-63 Days
Yield: Heavy Producer
Comparisons
Pictures speak louder than words! Upload your "Falcon 9" Photos here and help other growers to get a better impression of this variety.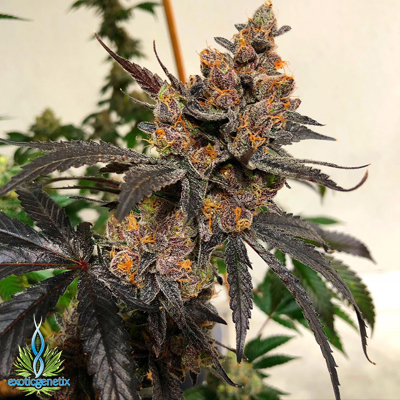 If you want to be notified when this product comes back into stock, please enter your email address below:
Please be aware that you will need to confirm your submission.
A verification email will be sent to you to confirm your email address.
If you have not recevied an email within a few minutes after your submission, please check your SPAM/Junk folders.
We sell our seeds for souvenir purposes only and for storage in-case the laws change. We at 'The Attitude' are here to help, but we do have our restrictions. We CANNOT, and WILL NOT discuss germination / yields / THC levels, etc. of seeds as it is ILLEGAL to germinate seeds and sell them for germination purposes in the United Kingdom and we cannot be seen promoting this. Unfortunately, E-mails may be ignored and remain unanswered if questions relate to the above and you may be refused a sale should you persist in requesting further information. For more information in regards to our website, please head over to the F.A.Q. section.
> Suggestions for you
Int: 011 44 1473 724698
Phone Us: (01473) 724698
By staying on this site, you agree to the use of cookies. You can find out more by following this link.
Int: 011 44 1473 724698
Int: 0044 1473 724698