Your marijuana plants will remain in the vegetative stage as long as they receive 14+ hours of light a day. Traditionally, plants grown using an 18/6 cycle (18 hours of light, 6 hours of dark) are more resistant to pests and diseases. However, if you expose your plants to 24 hours of light a day, they will grow faster. As a result, you can force them into the flowering stage sooner.
The strain gets the name 'Superglue' because users are typically glued to their sofa or bed soon after using it!
White Dwarf is said to be effective as medical marijuana. Its sedative effects make it a great option if you suffer from insomnia. Have a few tokes about an hour before bed, listen to some good music, and drift peacefully off to sleep. White Dwarf is also great if you need to alleviate the yolk of body pain. Finally, it is a strain that may have some merit if you suffer from depression or an anxiety disorder.
Although it has ruderalis genetics, Red Dwarf is a pure indica and a cross of ruderalis and a White Dwarf phenotype. Aside from the rapid flowering time, this strain is adored by indoor growers because it grows small and squat, which makes it easy to grow in a smaller space. Seriously, you can place a few pots in a broom closet and it will provide more than enough room! Moreover, it is possible to grow up to 16 ounces of bud per square meter planted.
3 – React to problems quickly
It is a tough plant capable of surviving in harsh climates, which is why it is grown in places such as Finland, Alaska, and Canada. It is regarded as an all-time classic hybrid and is a cross of Willy's Wonder and Northern Lights #2. With a THC content ranging from 12% to 20%, Lowryder is a strain suitable for most novices, so long as they use it responsibly.
It is an aromatic strain known for its earthy scent that carries the merest hint of sourness. It offers a creamy, herb-like taste with a slight touch of citrus. Critical Kush has become one of the most popular medical marijuana strains and is used to treat and manage a host of conditions. It is championed by many as an excellent stress-reduction tool, and also has pain relieving qualities. That's why MMJ cardholders use it to treat migraines, muscle spasms, back pains, and a variety of other inflammatory conditions.
Today, this knowledge has been gathered and updated. As a result, novice growers can utilize a huge array of cannabis strains with short flowering times. It is even possible to shorten the vegetative period in certain strains, which means professional growers can churn out multiple harvests each year.
6 – Red Dwarf (Indica Cannabis Strain)
Once you include the seedling and vegetative stage, you will find yourself waiting months for your marijuana to harvest. The internet age has spawned an era of impatience; a desire to get things done yesterday. As a result, breeders have busily looked for ways to speed up the weed growing process.
In this guide, we have located ten marijuana strains that grow exceedingly quickly; the best short flowering strains as well as the quickest autoflowering seeds. Imagine finding a strain capable of flowering in just seven weeks! We have included auto-flowering and photoperiod options to increase the likelihood of you finding the perfect marijuana strain for your needs. Before you start, lease make sure that it is legal to grow cannabis in your state of residence and that you remain within the legal limits.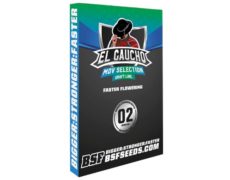 SensorySeeds cannabis strains are sold exclusively as collectible seeds, with the only purpose of preserving genetics. Therefore, the use done by those who buy them on SensorySeeds shop is not our responsibility.
As far as light is concerned, the risk of germination occurs especially when the weed seed receives direct sunlight. It is therefore advisable not to expose the seed to this type of light, but to leave it in a dark place.
SensorySeeds fastflowering strains will be even faster than usual and, in addition to that, they come from automatic and feminized varieties, being therefore particularly resistant to external agents. A perfect mix and a one not to be missed! Discover SensorySeeds shop!
Selling or buying cannabis seeds is not forbidden by European laws, that only indicate that it is not allowed to grow marijuana plantations if the THC level is above 0,2%. The latter is a rule that is applicable to cannabis plantation for industrial purposes. Nothing is said for domestic cultivation, a matter regulated by each Country internal law.
Is it difficult to breed cannabis plants growing from fast seeds?
In order to preserve the collectible Sensoryseeds cannabis strains, it is necessary to make sure that they remain in their resting phase, avoiding that germination begins. Particular attention should be paid to: light, temperature and humidity.
We also know how important easiness and rapidity can be: not only placing an order on our website it's a very simple procedure, but we also chose an express delivery service, which make it possible for you to receive your Sensoryseeds cannabis seeds order in the shortest time possible.
This means also that the fast seeds of SensorySeeds shop can be grown both outdoors and indoors, provided that all the appropriate measures have been taken in order to adjust: sun exposure (which does not need to reach 12h but which is however important), humidity (to avoid mold), temperature and soil nutrients.
Are we allowed by law to purchase marijuana seeds?
The weed seeds obtained from this hybridization do not require a full 12 hours daylight cycle; this is why they are not affected by the change of seasons (this is one of the major characteristics of the Ruderalis variety); in addition, the probability that they give origin to female plants is greater than 90% (such as the feminized cannabis seeds).
Hemp seeds can survive and be much better preserved at low temperatures. However, temperature swings are particularly harmful for the seeds, at the point that they could irreparably ruin them. For this reason, if you choose to use the refrigerator as a place for storage, it should not be opened and closed too frequently.
Cannabis plants need more or less days to ripe depending on the grown strain. Some varieties bloom very fast – taking less than 2 months to ripe – while others may extend their bloom for more than 3 months.
Indoors, a quick flowering allows us to perform several harvests per year. Outdoors, faster strains avoid the risk of rains and molds in October and November.
Cannabis cultivation involves several stages. Seed germination is followed by the growth and flowering of the plants, which are harvested later on, when they're ripe.
The bloom period begins with the appearance of the first flowers, about 10-15 days after switching the photoperiod to 12 hours of continuous light followed by 12 hours of complete darkness. Autoflowering strains do not depend on photoperiod to develop flowers, for they automatically start flowering 2 or 3 weeks after seed germination.
When does the flowering period start?
The bloom phase is the most important stage of your crop. It ends when we finally harvest our plants.
Here we list the fastest flowering strains on our catalog, with a theoretical bloom period of 8 weeks.
How long does the flowering stage take?