Feminized seeds are created when a female cannabis plant is forced to produce pollen. This is then used to pollinate another female cannabis plant – the results of which are seeds that are almost guaranteed to be female. Why is that important? Because only female plants produce smokeable buds. Nowadays, most autoflowering strains come already feminized.
By contrast, photoperiod seeds will be in full vegetation mode for the first couple of months of their life, and will only flower if they receive less than 12 or 13 hours of light per day, depending on the strain.
Breeders have even done an exceptional job of refining terpenes so that the flavor and aroma profiles of new autoflowering strains are just as good as their photoperiod counterparts. However, some autoflower seeds offer greater output than others, so we've compiled this list of the top ten highest-yielding autoflower strains the modern market has to offer.
Experience a creativity-cultivating high with this drool-inducing autoflowering strain from Fast Buds. The 26% THC content of Gelato Auto works to offer energy, focus, and innovative thought – perfect for those long hours spent at the drawing board.
How to Tell if Seeds Are Autoflowering
Autoflower seeds are faster and easier to grow than their photoperiod counterparts, as they require no manipulation of light cycles to induce flowering. This means you can potentially grow four or five different crops back-to-back over a spring-to-summer growing period. Many autoflowering strains are ready to harvest in just 7-8 weeks from germination, making them an excellent choice for those who don't have a long growing window to work with.
This 60% Indica-dominant hybrid also produces gigantic yields for an autoflowering version – growers can expect up to 600g/m2 (2oz/ft2). You will experience a tangy citrusy flavor that's complemented by aromatic whiffs of diesel and cookies. This strain is also freakishly fast to ripen, taking just 70-75 days from seed to harvest.
Its 70% Indica dominance at first offers a lofty head high that transitions to fully-body relaxation as your stone progresses. And those pungent flavors we mentioned? Expect a yummy blend of fruit, spice, earth, and wood.
Do Autoflowering Strains Produce Lower Yields?
If you're searching for a powerful mood enhancer, you've just found it! Tangie'matic Auto tests between 21-23% THC and comes with the added bonus of about 1% CBD. That may not sound like much, but it's enough to offer therapeutic relaxation.
The world-renowned breeders at Barney's Farm have successfully crossed two sought-after strains to create this perfectly balanced 50/50 Indica/Sativa hybrid. Zkittlez OG Auto tests at about 19% THC and features the timeless genetics of OG Kush and Zkittlez, married together with an autoflower to produce one of the heaviest-yielding strains available today.
One of the best Sativa-dominant strains on our list, Mimosa Cake kicks like a mule and is perfect for an active day out in the sun. It's a sizeable yielder as well, being one of the most popular strains in California at the moment and amongst our highest yielding strains. Mimosa Cake usually hits full maturity around week eight or nine, offering up a lemony and floral bouquet of buds coated in resin.
2. Kosher Cake Auto
You can expect beautiful colors and even better aromas, this strain will surely leave your mouth watering due to the delicious sweet blackberry taste with a strong earthy background that comes hand-in-hand with a strong couch-lock effect, better recommended for nighttime use.
4. Blackberry Auto
When grown under the right conditions, this plant will boast beautiful purple colors on the buds and surrounding foliage, and thanks to the 24% THC, produce large-sized buds with lots and lots of resin, perfect for extractors and hash makers.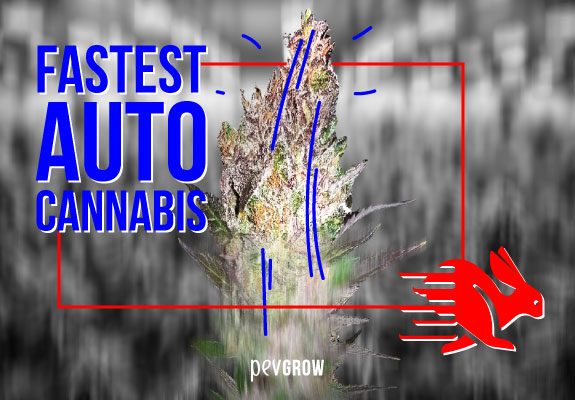 The fastest autoflowering plants are those that bloom with only 20 days of growth. The problem with these plants is that they do not have time to reach a good size before they start to flower, so they are quite small.
What are the fastest growing Autoflowering varieties?
These are the really interesting ones, the ones that offer a great balance between speed and performance. The automatic genetics that take the least time to produce a large crop usually have a whole culture cycle of 70 to 75 days, and among them the following stand out:
Faster and more productive autoflowering seeds
Autoflowering plants don't rely on light or dark hours to grow and flower like photo-dependent cannabis plants. Auto strains begin flowering once they reach sexual maturity, and it may come 3 or 4 weeks after germination.