Hobbit is used to treat a wide range of conditions including insomnia, depression, hypertension, and mood swings. It is especially useful if you have chronic pain and find it difficult to sleep. The sweet aroma is pleasant, and the sugary strawberry taste makes you want to come back for more. When you grow Hobbit indoors, you can get up to an ounce per seed. However, when you grow outdoors, the yield swells to over two ounces per seed. As it is highly resistant to fungus and pests, Hobbit is ideal for newcomers prone to making mistakes.
However, once the initial effects wear off, OG Kush gets to work on your body, and soon you will feel chilled out, relaxed, and happy. It is an ideal strain to use at the end of a hard day at work, but be careful; some users have reported feeling spaced out after using it. This strain is also associated with the munchies.
You can use Lowryder as a daytime strain because your mind remains clear. It is also known as an excellent strain for socializing, so feel free to take some before hanging out with friends. However, as it is a hybrid, it has been known to make some users feel sleepy. We recommend experimenting at home to see how it affects you. Lowryder has been used to treat insomnia and chronic stress disorders.
9 – Purple Cheese (Hybrid Cannabis Strain)
Although it is classified as a hybrid, Lowryder is very close to being a balanced 50/50 strain. It was inbred for an incredible nine generations by Joint Doctor Seeds, which is why it has its famous diminutive size.
Superglue's strong diesel scent may be off-putting to some, and its woody, chemical, and citrus flavor pattern is an acquired taste. While you may think it doesn't sound appetizing, we can assure you that it tastes fantastic. Superglue is used by people with depression and has also been a helpful aid for insomniacs. Once the effects begin to wear off, you're likely to feel extremely hungry.
Often compared to Bonsai trees, Lowryder is a tiny but mighty marijuana strain that seldom grows higher than 16-inches; a fact that makes it perfect for indoor grows with limited space.
Quickest Autoflowering Seeds: Fast-Growing Cannabis Flowers (7-12 Weeks)
Although Early Girl's THC content goes as high as 20%, you can find versions with just 12% THC. Either way, this strain is very different from Critical Kush because it provides you with a gentle, yet noticeable, high. At the start, you will feel clear-minded, and before you know it, your mood has improved and you become more amiable and chattier.
As you can probably guess, Hobbit was named after the famed characters from the Lord of the Rings novels. While its THC content can be described as 'above average' at 15%, it is not a strain that will knock you flat out. Indeed, the high is every bit as balanced as one might hope, which means it can be used in the morning, evening, or at night. For most users, it is the strain of choice when they wish to relax with friends and have a day of pure laziness.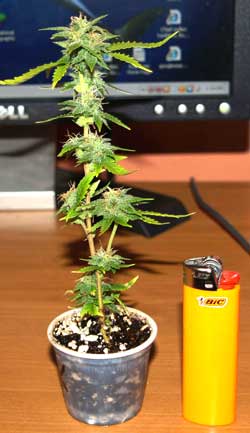 Some strains are 'auto-flowering' and go through their whole life cycle regardless of light cycle or anything you can control. These strains tend to be ready to harvest in only 2-3 months from seed (though you should definitely expect smaller plants with relatively small yields when choosing an auto-flowering strain).
Now if you're starting with a good soil (Fox Farms Ocean Forest soil is a proven choice), you may not need to supplement any nutrients for the first 3-4 weeks, as the nutrients you need are already in the soil.
3.) Give Plants 24 Hours of Light per Day During the Vegetative Stage
This makes the plant "think" winter is coming, and it'll start making buds as soon as it's able. This means that your "flowering stage countdown" begins within about a month from the seed being planted.
The truth is, you can grow weed in only 20-30 minutes a week when you use the right techniques and get used to the process of growing. The following article reveals the best way we know to grow lots of potent bud while using a minimum amount of time to do so. We make this happen using a hydroponic style of growing known as Top-fed DWC (aka "bubbleponics").
6.) Pay Attention To Your Plants and Quickly React to Problems
About Nebula Haze: