Make sure the area the seeds are in is warm, somewhere between 70-85°F.
This is the beauty of seeds—often, you can tell which plants or genetics will thrive right from the get-go. This will help you determine which plants you want to take cuttings from for clones or for breeding if you want to create a seed bank of your own.
Females will have a round structure with long hairs—these hairs will develop into pistils, which will catch pollen in the air.
Step 1
Autoflowering strains require some preparation, as they will grow quickly and start to flower whether or not you're ready for them.
If you're ready for a more serious approach, make sure you have the space for a proper garden and pop the seeds to see what fruit they bear.
Step 4
Once you see the taproot, it's time to transfer your germinated seed into its growing medium, such as soil.
Marijuana seeds can be acquired from an array of sources and can vary in quality. For more info on how to buy marijuana seeds, check out our Guide to buying cannabis seeds.
Male plants essentially produce pollen which is needed for cannabis plants to naturally reproduce; seeds occur when there are male plants in the mix. If you want to make your own seeds you will need a male plant However, if you're growing regular plants and want to harvest flowers, we recommend getting rid of any males as soon as possible. You won't be able to tell them apart until they begin to flower, which is when plants begin to show their sex. Male weed plants grow "balls" that open up to let their pollen out, ending up looking like a small bunch of flowers. You'll need to get rid of them way before this happens. If they manage to release their pollen it'll be too late. They can take up to three weeks to burst. If you're still not sure how to tell them apart, male flowers do not have any pistils on them at all.
Cannabis plants have evolved enormously over the past couple of decades, mainly thanks to human kind. We've spent years combining different species from all over the planet. Every strain has its own specific characteristics, such as structure, type of buds, flavor and effects. When you combine male and female weed plants that are different strains, the new creation takes on characteristics from both, allowing us to create totally new plants.
Male Cannabis
One of the biggest evolutions has been the appearance of feminized plants; after years and years of work, cannabis plants can be created to have a 99% chance to be female. You need to know how to tell male from female plants when growing regular seeds, as you'll only get actual psychoactive weed from the female flowers. Male plants pollinate female plants, which fills their flowers up with seeds so if you're looking to make the most of your plants you'll want to keep them away from each other. Hopefully we can help you to tell the difference between male and female weed plants by the end of this article; it's not that hard, but if it's not explained correctly it can be a bit confusing.
Hermaphrodites are a type of plant that contains both male and female flowers, so they will produce buds but they will also pollinate those buds and the rest of your plants. Plants may naturally become hermaphrodites or be turned into one due to stress. Both female and male plants can turn. Thai strains are more genetically inclined to become hermaphrodites, although any strain can turn when stressed enough. There are many factors that can stress out your plants and end up turning them, such as extra light when they're supposed to be in the night cycle, too much or not enough water, certain insects or pathogens, watering with cold water, or even a badly done transplant. Hermaphrodites aren't the best type of plants to keep around, as they can produce buds but it's definitely a risk because they might pollinate the rest of your plants. We recommend getting rid of them; it's not worth it just for a little bit more weed.
What's the difference between male and female weed plants?
Female plants are basically what everyone is after when growing cannabis, as these are the ones that make buds, which is the part of the plant that contains the most THC. With just one male plant and a miniscule amount of pollen, your plants might end up filling their flowers with seeds. If you have male and female plants in the same growing area, the buds grown there will only produce seeds so you won't be able to smoke any of it. You can tell females apart due to the fact that their flowers don't fully close, they're actually quite open and they produce little hairs called pistils. They're incredibly easy to recognize, as the first thing they produce are their pistils, which male plants do not have at all.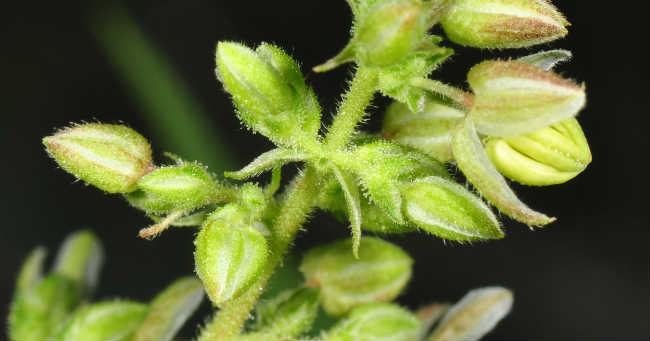 While the process is very effective, it's not perfect. There's a chance that a small fraction of the seeds produced via the feminization method will sprout hermaphrodites, which are still capable of producing pollen.
W hen it comes to growing cannabis, sex is important. Not that kind of sex! We're talking about the sex of the plant, and whether it is male or female. The reason for this is simple enough: only female seeds produce flower, also known as the buds you might have in your stash as we speak.
What Are Feminized Cannabis Seeds?
After a period of several weeks, the plant will begin to pre-flower, or form a small bud in the crux of a branch. One of the first signs your cannabis plant is female is the appearance of pistillates that are wispy and generally white in color. Male plants will instead produce pollen sacs that look rounded with distinct splits running lengthwise, a bit like a tiny crab claw. These are the structures that growers typically look for to determine a plant's sex.
As anyone with seasonal allergies can attest, it only takes a little bit of pollen to have a big impact. The reason that growers are so intent on weeding out male cannabis plants is that a single pollinator can negate an entire potential harvest.
Related Articles
Now consider that a single male plant can spread its pollen to an entire room of females.