Your homegrowing journey starts with the question: indoors or outdoors?
Because the plant was illegal for so long, a lot of grow info has been passed down by word of mouth. There are many myths and traditions about growing weed, so it can be hard to sort good, sound advice from hearsay. Also, because it was illegal, there's ample information on indoor growing and how to get the most out of a small space by maximizing harvests and training plants.
Growing weed is super easy—it's called "weed" for a reason—so don't worry if you haven't grown anything before. Our clear, easy-to-digest guide will help growers of all kinds, especially first-time ones.
At the end of the day, you want to grow a strain you like. A single plant can yield between a half-pound and a full pound of dried buds, depending on how big your plants get, so you'll have a lot of it come harvest time.
What does a marijuana plant need to survive and thrive?
Note that "mature" plants are those in the flowering stage, when plants begin to produce buds; "immature" plants are those in the vegetative stage, before they produce buds. A "household" is defined as two or more people living at a single residence.
Growing outdoors is the cheapest and easiest way to grow, because you can utilize the power of the sun and other natural resources, but you need the proper space to do it, and the space needs to be able to get ample sunlight throughout the growing season. Often, you can let plants grow large and get big yields with more space outdoors.
Before you get started growing, you'll need to see if you even can grow in your state. Below is a list of states in which it is legal to grow your own marijuana at home, both states with medical and adult-use legal status. If your state does not appear on this list, it is not legal to homegrow in your state .
Leafly's complete marijuana growing guide
Check out our Guide to marijuana legalization for more details on homegrowing in your state.
The best way to get quality buds and big yields is to grow strong, healthy plants. Here's a quick rundown of the most important things you need to know about growing weed: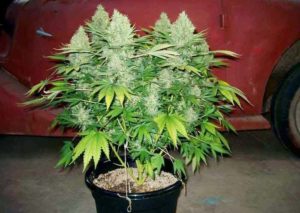 So what does a grower need? A grower needs to make a good environment for their plants with decent temperatures, bright light, and happy roots. Even if you don't do anything else, you'll be able to make it to harvest with really high-quality bud by doing just those things.
The most important elements of a successful grow are…
"Growing our plants has some things in common with flying an airplane. I can go over every fine detail of how to fly the plane. I can tell you exactly what to do when this happens and that happens. I can educate you on every detail of becoming a pilot. That does not mean that you can now fly the plane without crashing. You need experience before you will have a smooth flight form takeoff to landing.That being said, what does a first time grower need, in order to have the best chance for a seed to harvest successful grow?"
It will also help improve density if you trained the plant in the vegetative stage to grow just a few big buds at the top, as opposed to many smaller ones located throughout the plant.
The reason is that those lights are incredibly efficient and easy to understand how to use. With fluorescents like CFLs and T5s, the yields are relatively low for the electricity used, and with LEDs it can be really tough to get the light distance "dialed in." It just adds a lot of variables that make it easy to burn your plants. I like how with the small HID lights you just keep the light about a foot away from the tops of your plants and forget about it, yet you still get those really dense and potent HID buds because of the light intensity. The small HID lights also don't put out a whole lot of heat, so you don't usually need to worry about an exhaust system unless you're growing in a very small space without ventilation. A 250W HPS puts out about the same total amount of total heat as an LED that pulls 250W of electricity out of the wall.
The last incredibly important thing is to always dry your buds slowly and cure them after harvest! A lot of growers skip those steps, but they are necessary to get buds with the best smell, smoothness and potency. If you just smoke buds directly off the plant it will taste horrible, give you a headache, hurt your throat and possibly not even really be potent! The dry/cure will dramatically increase the overall quality and appearance of your buds!
I personally feel like growing in something like coco coir under a small HID light like a 250W MH/HPS or 315 LEC is one of the best ways to ensure good results the first grow if you're just looking to grow 4-7 ounces.
Coco coir offers a great root environment with beautiful water-holding and drainage ability, so you get above average vegetative growth rates. Any hydro or coco nutrients made for cannabis will do a great job. Growing with coco coir will also teach you about pH and overall get you really familiar with the cannabis plant's nutrient needs. By the end of a coco coir and small HID grow, you'll have learned 80% of what you need to know about growing in either soil or hydro if you choose to do that down the road. You'll also have a good base knowledge if you wanted to move onto bigger grows!
When it comes down to it, that's all you really need to grow successfully. If you get an auto-flowering strain you don't even need a timer or to worry about light schedules. Just plant the seed and wait until harvest.

While most, if not all, medical and recreational farms cultivate cannabis from seeds, guaranteeing that their plants are free from viruses, most home growers, even those with experience, typically begin with clones — essentially trimmed pieces of female cannabis plants that have been rooted in separate pots. "When most people think of cannabis — you know, what you smoke — they're thinking about the flowers of female plants," Lipton said. "When you grow from seeds, half of them will be males. If you're only going to do one or two plants, you don't want to waste your time with that stuff." A clone sourced from a dispensary or a knowledgeable friend guarantees that the plant is female and will eventually produce bud pending proper care. "You can get up to four ounces off the right plant — if you know what you're doing."
Know the law.
After 55 to 60 days, growers begin paying close attention to their plants' trichomes — the small, bulbous fibers that develop around the flower of the female plant. "Those trichomes will turn from clear to amber," Lipton said. "They kind of look like red hairs. You know it's time to harvest when about 10 to 15 percent of the trichomes turn that color." On average, cannabis plants have a five- to seven-day window of peak harvest time.
Harvest and cure.
It's important to remember that cultivating even one cannabis plant for personal consumption is felony on the federal level and punishable by up to five years in prison. Meanwhile, four US states — Alaska, Colorado, Washington D.C. and Oregon — have passed local amendments, allowing citizens who are 21 years old and over to grow a limited number of plants without fear of persecution.