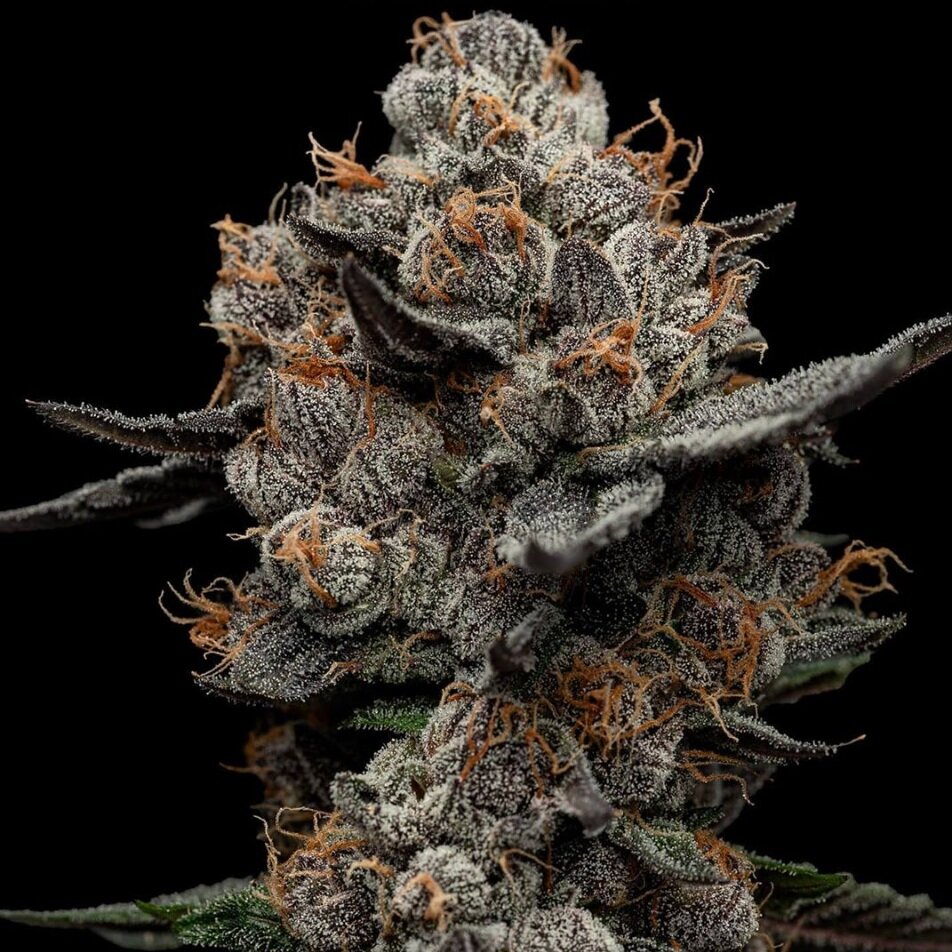 This indica-dominant strain is a mashup of of Sunset Sherbert (Girl Scout Cookies and Pink Panties) and Thin Mint Cookies (F1and OG Kush), offering a thick, rich, heavy smoke. It's like a diving into a big bowl of gelato. With a hint of sweetness up front and heady earth tones on the backend, Bacio has a bold, full-bodied mouthfeel with latent tingly effects. With a higher THC than other Gelato strains, this one is good for higher-tolerance smokers and is a great nighttime smoke to let the day melt away, or something to chase away the blues during the day.
Gello is a nice combination of its sisters Bacio and Mochi, combining the complexities of those two flavors into its own experience. She packs a punch but still motivates at the same time, making this a nice after lunch snack, or what you grab for after getting home from a long day. Relaxation is strong, but it won't wipe you out. Good for going out with friends, staying creative and upbeat. Think of Gello like the dessert you've been waiting for throughout the entire meal.
BACIO GELATO 41
Mr. Sherbinskis FIRST breeding project. Created in a 4'x6' room in Sherb's garage by administering Male Burmese pollen to Sherb's famous OG cut. The strong citrus taste, which reminds some of grapefruit, delivers a light herbal finish. This hybrid will give both a strong head and body high while keeping you relaxed, boosting your mood, and helping put you to sleep.
A flagship for Sherbinski, this indica-leaning hybrid inherits characteristics from Girl Scout Cookies and Pink Panties, making it a powerfully potent smoke. Complex aromas range from citrus to sweet berries and a deep-rooted earthiness this family is known for. The full-body high will melt away everything, from stress and bad moods to PTSD. It's a great one to fire up at a party, to make everyone smile and break the ice.
MOCHI GELATO 47
Taking cues from the frozen dessert it's named after, Mochi is a creamy treat with fruity flavors and a fun high. Good for getting the creative juices flowing without clobbering the mind, this Indica-leaning smoke from the Girl Scout Cookie family is a great way to start the day and still function. Like chewing on a green mochi ball, there's complexity with sweet, tangy notes evolving into an earthy, minty punch. Delivering a heavy high with an uplifting balance, a lot of musicians and artists gravitate to this strong, soothing strain.
Gello is an evenly balanced hybrid strain (50% indica/50% sativa) created through crossing the delicious Gelato 45 X Flo strains. Known for its super delicious toke, Gello is the perfect bud for any indica lover who appreciates a great flavor behind their high. This bud has a sugary sweet fruity berry flavor with a lightly sour citrusy exhale. The aroma follows the same profile, although with hints of earthy herbs to it, too. The Gello high isn't quite as eye-opening as the flavor, with effects that are best suited for a lazy afternoon rather than as a wake-and-bake. The high starts with a sense of lifted creativity, filling the mind with an expansive happiness that pushes out any negative or racing thoughts. This euphoria is accompanied by a deep sense of physical relaxation, washing over you and lulling you into an arousing state of calm. With these effects and its high 17-19% average THC level and 0-1% CBD level, Gello is often said to be perfect for treating those suffering from conditions such as chronic fatigue, depression or mood swings, chronic pain and chronic stress. Gello buds have fluffy flat bright neon green nugs with deep purple undertones, matching leaves, thin orange hairs and a coating of frosty thick purple-tinted white crystal trichomes.
Modified Banana is (Banana OG x Donny Burger)
Banana OG – The smell of banana peels and Christmas pine trees is what you get with Banana OG. The taste is also like bananas and some people report a cinnamon taste. This is an Indica dominant cross 70:30 Indica/Sativa hybrid between Banana X OG Kush. The THC level is 25%. This plant is a light green color. It has brown hairs that grow quickly and get darker as the date for harvesting approaches. While the yield isn't as high with this particular strain of cannabis, the potency of it makes up for it. Many people find Banana OG is affordable and gives them a high they enjoy without it being too powerful. Banana OG offers a mellow buzz that sets in quickly. It affects mainly the body so your mind will relax but still be very functional. The overall mellowing effect can help with reducing stress and an anxiety. If you use large amounts of this cannabis, it is going to make your eyelids very heavy. Large amounts can also result in couch lock. It is a good choice for reducing muscle pain and inflammation.
Skunk House Genetics' Donny Burger strain is a combination of GMO and its proprietary Han Solo Burger. The top reported aromas of the Donny Burger strain are cheese, lemon, and spices. It is said to taste of cheese, citrus, and pepper.
We encourage all customers to follow the laws set forth by their Country, State / Province and local municipalities. Any Seeds sold will be considered sold FOR NOVELTY PURPOSES ONLY! We take no responsibility if they are used in any fashion that can be considered illicit or illegal. All sales are final.
There are no reviews yet.
Reviews
Only logged in customers who have purchased this product may leave a review.