The main downside with this germination method is that such plugs are generally available in packs of 50. Waste is inevitable if you only plan on planting a few cannabis seeds. The plugs dry out in a week or so and become unusable.
In theory, germinating cannabis seeds is a simple affair. They only need three things: Air, water, and heat. The famed 'paper towel' method is incredibly easy as long as you follow the steps outlined below. Here is a quick overview of the best germination practices before we show you the various methods.
This is as simple as option #3. It involves nothing more than placing the seeds in a glass of lukewarm water overnight. It is a good idea if you're using old and hard seeds. The soaking process can breathe new life into them. When you place the seeds in water, they float for a few hours before sinking to the bottom.
2 – Direct Planting
When buying seeds, opt for mature options with a dark brown appearance and a firm feel. Once you have them in your possession, make plenty of space for them to grow and thrive. Learning how to germinate weed seeds correctly is crucial to enjoying years of healthy plants and fruitful harvests. In this guide, we outline the ideal germination conditions and show you five different methods.
You can also use Rockwool cubes as they are cheap and easy to find. However, they are a terrible burden on the environment and bad for your health. Rockwool also has a high pH (which means you must rinse the cubes first) and offers a low cloning and germination success rate.
Water
This is arguably the trickiest aspect of germination. You have to strike a balance between 'warm' and 'hot.' Spring temperatures are ideal in a 'normal' year. While cannabis seeds can germinate in colder weather, the process takes longer. Seedlings also germinate faster when there is plenty of humidity in the air. If you are concerned about low temperatures, invest in incandescent bulbs, and place them over the seed area.
It is a simple method, but also a risky one. You could damage the taproot while moving the sprouted seeds, or else the paper could dry out and kill the seeds. In any case, here is the process: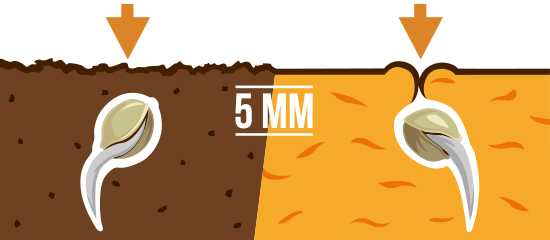 Just drop the seeds in water, they will sprout , don't have to use a towel and check it all the time , drop it in the water , let it float then it will sink and the root will grow out ,let the root get 1/4 inch and plant it where it's going to grow , 8 hours sunlight starting as soon as it is out of the soil. Always grows great , don't have to transplant from cup to gallon to bigger and bigger , if it's growing outside put it where it stays , always does just fine.
Within a few days some or all of the seeds should open and put out a root. It is common for cannabis seeds to open within 72 hours of being put in the germination medium. Less commonly, some seeds may need up to 10 days or even two weeks to open and put out a root.
I lightly score my seeds by shaking them inside a rolled up piece of sandpaper – sandpaper side on the inside before leaving them in a cup of water for a few hours to hydrate. I then place them between wet (good quality) paper towel per instructions above. I find using an old plastic takeaway container with a heatmat below keeps the humidity high and with good end results.
Appreciate any thoughts and advice
Comments
Detects planes? Like magnetic? I've always has best success 24-48 hours soaked In water, spring water if possible. Usually do this in a shot glass, once they pop I'll take a paper towel fold so it's 2 layers then fold once more so you know where center is. Dump the seed in the middle of the edge and the true center (reason we folded a 2nd time)as well as the water just enough to saturate the paper towel. Do not soak! Carefully with the seed in the middle using sterile tweezers turn so the tap is growing down. This will prevent circling and tangling if doing multiple seeds. Now you can fold the other half so your seed will be "sandwiched" between 2 layers. At this time carefully take a corner and the waters attraction should keep your paper towel from unfolding but just in case be gentle. Holding it from 1 corner you can dangle it over a cub or the original shot glass so any extra water runs off. Now take a standard zip or press n seal sandwhich bag and slide your napkin in Carefully . REMEMBER which way was down! Work the air out making jt flat snd seal. Find a temperate dark area around 70°. A cabinet works we'll as your going to prop it up with taproot facing downwards. Now just close it up and wait in 24-72 hours checking once a day. In rare cases you could have a 1/2″ tap root in the first 24 hrs some may take 4-5 days. Once the tap is about 1/2″-3/4″ long its ready for transplant into its first small pot. With this paper towel method I typically have 100% success.
Cannabis seedlings usually emerge from the growing medium 24 to 72 hours after the germinated seeds are planted.
Place the cannabis seed, root first, into the hole and cover with a small amount of growing medium – just enough to block light, not enough to obstruct the seedling when it emerges.
Step 1. The setup – How to germinate cannabis seeds
Thanks for sharing your methods for germination with us,
To learn a little more about medicinal cannabis, here are some links that you might find interesting.
What Is Medicinal Cannabis, and How to Choose a Medicinal Cannabis Strain? and What Are Cannabidiol and CBD Oil & How Is CBD Used in Medicine?.
Thanks again for your comment, and I hope you continue to enjoy the blog.