Check out our beginner grower's guide to learn how to germinate seeds with the paper towel method. Every cannabis plant starts off as a tiny seed with the potential to grow huge yields and bountiful buds. If you want to start your garden on the right foot, the germination phase is critical to its future growth.
What Is Germination?
Are you ready to germinate your seeds? Here's exactly what you'll need:
Maximize Your Root Growth
Here are step-by-step instructions on how to germinate your seeds using this method: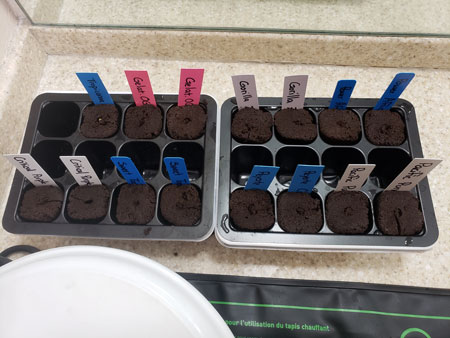 The seedlings are ready to go in plant containers once they've spread out their first set of serrated leaves (to about the width of the Rapid Rooter)
Seeds typically germinate in 1-3 days!
Seedling Tray to hold Rapid Rooters
7.) Check on Seeds at Least Once a Day
Put a single sheet of paper towel on top. With just one sheet you will be able to see whether the seeds have germinated without having to disturb them. You may need to add a little extra water so that the top sheet is moist all the way through.
Create happy little seedlings in less than a week!
Why a seedling heat mat? Seeds germinate significantly faster when they're kept 70-85°F (20-30°C). A seedling heat mat keeps seeds warm during the germination process. However, any warm spot works just as well (for example, on top of the refrigerator is the perfect temperature for some people). When you touch the wet paper towels, they should feel warm but not burning hot.
How to Germinate via the Paper Towel Method
This Critical Purple Kush seed took an extra day to germinate compared to the other seeds. I gave it one more day after this so the root could get longer before I put in a Rapid Rooter.
You don't want to load your plate up with tons of paper towels, but it's nice to have several sheets so they can hold plenty of water. If necessary, fold or cut the paper towels to size so everything fits completely inside the plate. If a paper towel is sticking outside the plates, everything will dry out quickly.