Flowering is a little faster than with Gorilla Glue #4, coming in at around 8 weeks when cultivated indoors. This is a plant which responds very well to training (e.g. SCRoG) such that an experienced grower using these methods can return as much as 1500 gr/m 2 – no, that's not a typo! Outdoors this strain is equally prodigious being able to produce up to 1500 gr/plant when grown directly in well-prepared ground and will be ready during September in northern latitudes.
Godzilla Glue is a hybrid strain bred by crossing the master cut of Dr. Underground's own King Kong (named the "brutal cut") with a male Gorilla Glue #4. The result is a veritable high-yielding resin factory.
As it closes in on maturity the buds appear totally white such is the amount of resin. While the buds are very easy to manicure growers will not want to dispose of any trim or smaller leaves as these too contain a high proportion of resin – great for making extracts and edibles.
Godzilla Glue has a sweet scent and taste with notes of pine and diesel fuel. High THC makes this a very potent weed, stimulating and giggly.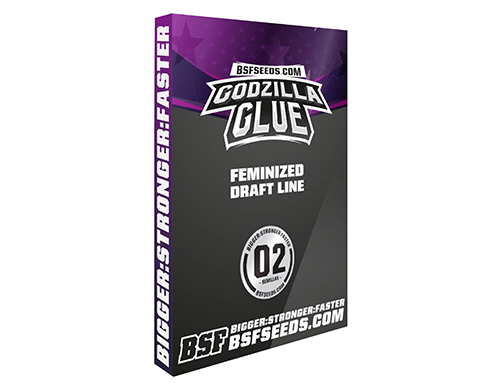 Godzilla Glue is without doubt one of the best hybrids on the market.
From the Marijuana seeds of BSF Seeds we present the other newcomer to the Draft Line, a gem for lovers of american genetics, the monstrous Godzilla Glue Auto.
GODZILLA GLUE AUTO
Godzilla Glue Auto is an easy-to-cultivate plant that loves to be well nourished throughout its process, but especially in the flowering phase where it will require more food. We recommend continuous irrigation without being stressed in the initial phase. Its structure is characterized by a large central apical top covered by a mantle of resin, which results in high levels of THC. Its ntoxicating and powerful odor will not go unnoticed, so we suggest using the odor filter during the whole flowering process.
We have been through two of the most sought after American genetics of recent times: as a mother we use our "California Beast" (La Gorilla Glue #4) and as a father the Grils Scout Cookies.
In BSF Seeds this year they presented a new Draft Line player, Godzilla glue. A monster that comes from the crossing of the two most recognized varieties in America for their effects: the great Gorilla Glue #4 and our elite Girl Scout Cookies clone (mentholated phenotype).
– only £10.00 for orders below £250
She was then pollinated with the famous Gorilla Glue 4 clone, which today is known globally, who has not heard of her now?
Gorilla Glue 4 was the result of an accident between a Chem Sis and a Sour Dubb, producing a plant that is now legendary.
The aroma and flavor is sweet, with touches of pine and a strong Diesel background that will leave you in love.
UK DELIVERY
– only £3.50 for orders up to £25.00
After adding our King Kong to the genepool we managed to shorten the flowering period from 9 – 10 weeks down to around 8 weeks whilst stlll maintaining a brutal yield and overall quality.
To create this plant, we started with our master cut of King Kong that we baptized as 'Brutal Cut'.
Additional Information
The effect is pleasant, strong and stimulating, you will laugh without stopping.
– only £7 for Special Delivery