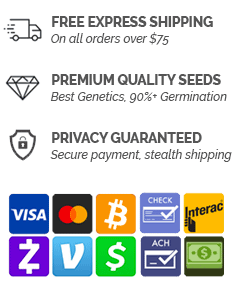 Gold Leaf Seeds are sure to impress you by producing buds with a relatively high THC and CBD content, approximately 21% THC and 17% CBD, and higher than average yields. Gold Leaf strain was bred by Robert Bergman, author of the Marijuana Grow Bible. The Gold Leaf strain carries an aroma unique aroma with pungently spicy and sweet notes against an earthy and herbed background. Gold Lead strain produces a balanced high that begins behind the eyes and moves gently throughout the body resulting in a blissful like state.
Gold Leaf cannabis seeds are easy to cultivate and grow into tall plants with an average yield between 450-650 grams per square meter. Gold Leaf marijuana seeds produce an indica dominant, (60% Indica 40% Sativa) plant which can be grown successfully either indoors or outdoors. Typical Gold Leaf plants reach heights between 100 cm – 225 cm tall when grown outdoors. This strain responds well to the SCROG growing method if you choose to grow her indoors instead of outdoors. Feminized Gold Leaf seed's sativa genetics cause the plant to stretch during the early stages of flowering which produces swollen kolas with yellow/gold/ orange coloring. Buy Gold Leaf seeds today and experience how cannabis can leave you feeling relaxed and euphoric, relieve your stress, and manage your anxiety and insomnia.
Growing Gold Leaf Strain
The blend of both Indica and Sativa genetics make it a perfect choice for growing indoors, yielding large cola's, and an abundance of dense, heavy buds. High THC and CBD levels combine to create a powerful, cerebral high, that leaves you feeling happy, contented and relaxed. A great all-round smoke, perfect for both day-time and evening enjoyment, and a 'cash-cropper' given good, indoor conditions.
About Gold Leaf Seeds
Availability: In Stock
See what our customers say about Gold Leaf Cannabis Seeds.
Gold Leaf seeds produce an Indica dominant, Cannabis hybrid that's strong, vibrant and stable.