It is unlikely that your cannabis soil will have the ideal drainage, texture, and water retaining abilities. Fortunately, there are a host of amendments available to alter the drainage, texture, and water-retaining capacity of your soil. Here are four of the most popular:
The apparent simplicity of picking soil often fools newcomers, and they frequently make mistakes that cost them their harvest. The truth is, you have to make a lot of considerations. For example, the soil you use for indoor growing is not the same one you'll need for an outdoor grow. Then there is the small matter of things like pH, drainage, and a host of other criteria.
The Fox Farm company has over three decades of experience in the industry. It is a well-renowned maker of cannabis soil in the United States. Its FX14047 soil mix contains a unique blend of mycorrhizal fungi, and much more. It helps increase root development rapidly. When you use FX14047, your plants will develop a strong structure and experience rapid vegetative growth.
Perlite
The size of the containers you choose will dictate the size of the marijuana plant's root system. The more space the roots have, the faster they grow. You can expect problems to arise when the roots outgrow your container, so choose wisely! There is no need to go beyond a 10 x 10 x 10 cm container while your plants are still seedlings.
Overall, you can't go wrong with an organic super soil and fertilizer mix. The super soil offers the ideal blend of nitrogen, phosphorus, carbon, and a myriad of other nutrients. You can make them yourself, but once again, we recommend investing in store-bought pot soil.
Pros & Cons of Growing Cannabis in Soil
There are a large number of soil brands available, which is both good and bad news. You get a lot of options. However, with so many choices, how do you determine the best soil for growing your marijuana? The key is to analyze your situation, and our guide will help do the rest.
This is made from coconut husks and manages to improve water retention without causing the soil to become heavy. When you use coco coir, the roots of your plant should develop quicker, and you're less likely to overwater. You can grow your marijuana in pure coco coir. However, a maximum of 30% is best for a productive soil amendment.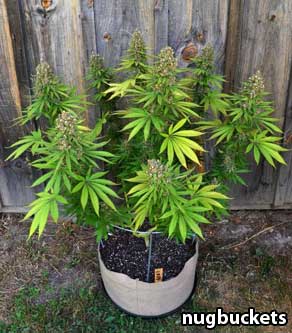 The "micro-herd" in the soil delivers nutrients directly to your plants. As long as you're using decent water, you usually don't need to worry about pH or other things that can disrupt nutrient absorption in regular soil.
Some popular soil examples that I've used with good results include:
Fox Farm has been around for over 30 years and makes some of the most common types of "cannabis soil" (at least in the US). They have several great soil mixes, including "Happy Frog" which is a great choice for seedlings and clones.
The composting process creates a "living" soil that is full of microorganisms in the rhizosphere (area around the roots). Properly composted soil has nutrient sources that slowly break down over the course of your plant's lifecycle. It very closely mimics what happens in nature.
Kind "Super" Soil (Living Soil)
Generally, anything labeled as an "organic potting mix" will work. This type of mix hasn't been amended with chemical slow-release nutrients, which is one of the main things you want to avoid with soil for cannabis. I know it sounds like heresy, but even the Miracle-Gro version of "organic potting mix" will work okay, because unlike their original potting mix it doesn't contain chemical nutrients (though it still has poor drainage and moisture retention – almost any other type of organic potting mix is better!).
Some growers choose an amended and composted "hot" soil that slowly releases nutrients over time. With this type of soil, you typically just add water or natural supplements like worm tea from seed to harvest. Other growers prefer a lighter potting mix so they have more control, and give nutrients in the water once the plant roots have used up the nutrients in the soil. But which brands can you trust?
Good Cannabis Soil
The plant is growing in organic, composted "super soil" which has enough amendments to last your entire grow, so the only thing you do is add water!
Important Cannabis Soil Considerations
Good Cannabis Soil
This soil has quite a bit of perlite, which is a good choice if you plan to feed heavily with nutrients and supplements since the extra perlite prevents nutrient buildup in the soil
Bad Cannabis Soil
Cannabis soil should not have a whole lot of big visible wood chips in it. That means the soil hasn't been fully composted, and all the nutrients and goodness in that wood is mostly unavailable to your plants.