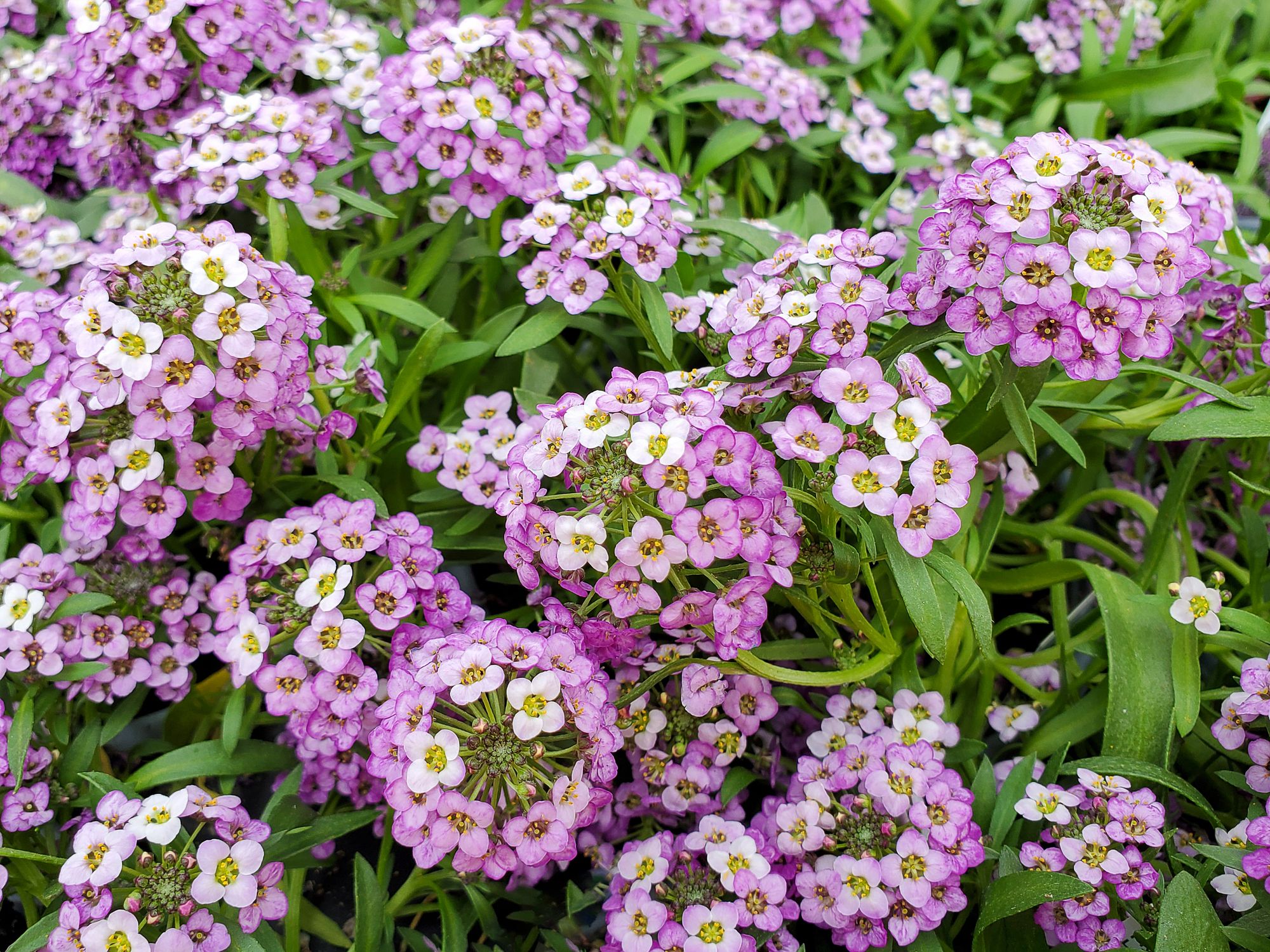 Fix your garden's trouble spots with these low-growing perennials, annuals, and shrubs.
Ground cover plants are all-around problem-solvers: They retain moisture, control erosion, and provide habitat for pollinators like bees and butterflies. While grass is typically the best way to fill out empty space, sometimes low-growing plants are a better — and prettier — option. There are so many options to choose from, including old favorites like Pachysandra and Vinca, as well as small shrubs, perennials, and annuals.
To make sure your ground covers get the job done (ya know, dressing up your landscape), follow the instructions on their plant care tag to give them the right conditions. FYI: Full sun means an area gets 6+ hours of direct sunlight per day, part sun is anywhere from 3 to 6 hours of direct sunlight, and full shade is up to 3 hours of sun. If you're planting a shrub or perennial that you want to last from one year to the next, make sure it's suited according to your USDA Hardiness Zone (find yours here). And remember that although these ground cover plants are extremely tolerant, they still need to be watered during dry spells for the first year or two until their root systems are well-established.
Moisten the soil where you want to put the ground cover sheeting. Use a garden hose to dampen the soil, but don't use so much water that the dirt gets muddy and soggy.
Pull Active Weeds
The sheeting starves weeds of sunlight, which helps prevent their growth. When used correctly, ground cover sheeting is an effective way to prevent weeds and maintain the beauty of your outdoor space.
Rake and Remove Debris
Black plastic sheeting
You can get in-depth information on drip irrigation from the Irrigation and Green Industry Network in the "Where to Find It" section.
Frequent, light watering causes shallow roots and helps annual bluegrass, crabgrass, chickweed, sedges and other weed seeds germinate. If you water too little, the lawn suffers while spotted spurge, Bermuda grass, quackgrass and other weeds adapted to drier soil thrive. Instead, provide your lawn with infrequent, deep soakings. Lawns need about 1 inch of water per week. Set an empty tuna can on the lawn to determine when you have applied 1 inch of water.
Think it's an overstatement to call it the war against weeds? Here's what you're up against.
Apply Preemergence Herbicides
The frequency and timing of your fertilizing efforts are also crucial to healthy lawns. Both vary depending on your lawn type and the length of your growing season. Most northern lawns need only one or two applications of fertilizer annually—once in fall and sometimes a second time in spring. Southern grasses might require three feedings—early to mid-spring just after the grass greens up, early summer and again in early fall.
Irrigation & Green Industry Network
916C N. Formosa Ave.
Los Angeles, CA 90046
www.igin.com
323/878-0318
Water Grass Infrequently and Deeply
Weeds can't survive without moisture. In areas with little or no summer rain, drip irrigation or soaker hoses help prevent weed seeds from sprouting by depriving them of water. These systems deliver water to the root zone of plants at the soil level. The soil surface and area surrounding the plants stays relatively dry. In contrast, overhead sprinkler systems spray water over the entire soil surface and supply both garden plants and weeds with water.
In the process of trying to eliminate weeds, people often make mistakes that lead to more weeds. Here are the most common: