Consider how often you'll be growing weed and how long it will take to pay off the initial investment—if you grow once a year, it'll take a lot longer to pay off an expensive light than if you grow multiple harvests a year.
How many grow lights do I need to grow weed?
The typical homegrower will only need one or two lights. Most states limit grow amounts to 6 or 12 plants, and one or two lights should be plenty for that. If you plan on running two separate rooms, one for vegetative plants and one for flowering plants, you'll need two lights.
Ventilation
For HIDs, light occurs as an arc between two nodes inside the bulb. The gas contained in these bulbs is what makes MHs and HPSs different. HID bulbs are usually more expensive than the reflective hoods that hold them.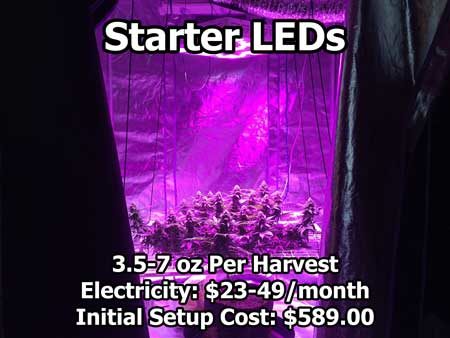 If you get very high-wattage LEDs, you may need to vent out heat to keep the grow space cool
High Pressure Sodium (HPS) Grow Lights
3.) LED Grow Lights
Fluorescents are a great choice for clones, young plants, supplemental lighting and can save you money on electricity in the vegetative stage compared to using high power lights when plants are too young to use it all anyway. They can also be used to flower plants in spaces that are shorter than what's possible with other grow lights (aka 'stealth growing').
Simply hang an LED light over your plants and start growing!
HID grow lights are much more efficient than fluorescent lights and are powered by large, oddly-shaped bulbs. They are usually screwed into a reflector or hood to reflect more light down onto the plants. HIDs are great at growing cannabis, but they also get very hot and are usually hooked up to an exhaust to help vent out heat.
LED grow lights are very popular among cannabis growers as an alternative to HPS grow lights. They tend to run cooler and also usually come with built-in cooling. They can often be plugged into a wall and simply hung over plants which is definitely easier than setting up an HID grow light. LEDs also have great penetration so they don't need to be moved frequently like fluorescents.
HIDs are very well suited to growing cannabis and very easy to use once they're set up. If your main goal is to get the highest yields possible, then HIDs are the way to go! However, they do require extra setup compared to the other grow lights because chances are you will need a fan to vent out heat from your grow space.
T5 Grow Lights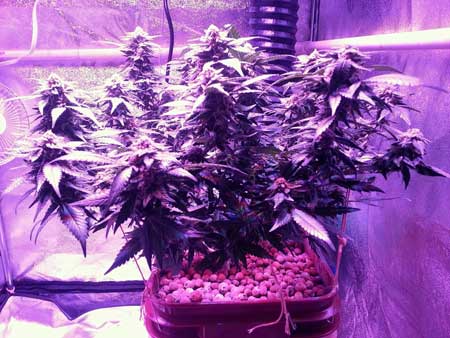 Grow Space: 2'x3′ or 3'x3.5′
Example of cannabis plants grown under the HLG550 LED Grow Light
HLG first coined the term "Quantum Board" for an LED grow light with the diodes spread out over a large area (on a board). The board style LED grow lights have become very popular almost as soon as they appeared on the scene. Growers are reporting results that may beat even other LED grow lights when it comes to the amount of yield for the electricity used. I was impressed when I tried one myself. It's probably too early to call it the winner just yet, but it's undeniable these are some of the best LED grow lights available today!
ViparSpectra LED Grow Lights
Now that you have a basic understanding of the different types of LEDs, lets talk about using them for growing cannabis.
Some COB LED grow lights can be plugged into regular light sockets
AutoCOBs
Breakdown of Different Kind LED Models:
View video of this Eldorado plant by Endive
(check out Endive's website)