This guide will show you how to build three different indoor cannabis garden setups at three different price points. Each build below contains all necessary components needed to create a simple, climate-controlled grow for your weed plants.
The nano cannabis grow setup: $100-150
The 4×4' main tent is powered by a 630w CMH light and the 1×4' two-tiered tent extension is built out with two 4-bulb t5 fluorescent light fixtures. Complete with four fans, two dual outlet timers, and adjustable intake/exhaust components, this 80" tent supports even the most ambitious of grows.
Build notes:
Total cost: $938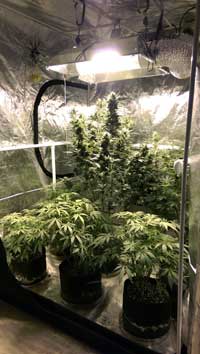 For bigger growers, a 4'x4′ grow tent is great because it can be used with the next class of grow lights up to some of the biggest grow lights. It can support a 600-1000W HPS or LED grow light as long as it's 6-7′ tall.
Pros of Growing Cannabis in a Grow Tent
The best way to hang your grow light is using rope ratchets if you can; they are cheap and easy to set up. Rope ratchets make it incredibly simple to adjust your lights at any time without the chance of dropping the light on your plants. Sometimes it's helpful to be able to quickly put lights up or down, whether you want better access to the back of the tent without the light beaming on your head, or even just to take better pictures of your plants. Make sure whatever you use to secure the lights (rope ratchets!) can handle at least twice te amount of your light just to be safe!