During the vegetative stage, water your plants thoroughly, then not again until the top 1 inch (2.54 centimeters) of soil has dried out. This can be every day or every four days, depending on conditions, but the time between watering will become shorter as the plant grows its roots. Container gardens tend to dry out faster than soil beds, so they'll need to be watered more frequently.
There are also many advantages and disadvantages of using clones. They can often be found at your local dispensary, are from a proven genetic lineage, and typically do well outdoors, making them the perfect choice for inexperienced growers. On the other hand, clones develop a fibrous root system, as opposed to the deep taproots that seeds develop. Fibrous root systems can reduce the plant's ability to deal with environmental stress and predatory insects.
Greenhouse structures range from inexpensive polyvinyl chloride (PVC) tubes, often called "hoop houses," to highly engineered, fully automated, and purpose-built steel greenhouses. Due to their efficiency, greenhouses are quickly becoming the preferred growing method for many large-scale cultivators.
Nutrients
If you live in a climate with exceptionally hot and sunny days, use shade cloth to prevent your plants from overheating. In cold areas, natural enclosures and cement or brick walls can be used to help retain any available heat and keep your plants warm.
Depending on your location, you may need to plan for rain. In most regions, the rainy season is typically aligned with the end of the flowering stage and the start of the harvesting period, but this may not always be the case. Rain can be detrimental to an outdoor flowering crop so being prepared to cover or move plants can help ensure a successful harvest. If it does rain on your plants, make sure to immediately shake off any excess water, as lingering moisture can lead to the formation of mold and nobody likes moldy weed.
Deciding whether to start with seeds or clones will change the timing and manner by which your plants are introduced to the outdoors.
Seeds vs. clones
Some cannabis genetics have adapted to specific climates and are capable of growing more easily in certain conditions than others, so pay very close attention to the cultivars, or strains, that you choose. A little research will go a long way in ensuring you have a successful harvest.
Keep this info in mind as you embark on your cannabis-growing adventure. The smallest adjustments can make all the difference — planting a week earlier, a week later, watering less, watering more, etc.
Start off with fertilizers that are inexpensive and readily available. Some release nutrients quickly and are easily used by the plant, while others take weeks or months to release usable nutrients. If done correctly, you can mix in a few of these products with your soil amendments to provide enough nutrients for the entire life of your plants. Most of these items can be purchased cheaply at your local nursery.
Soil has three basic consistencies, in various ratios:
Sandy soil is easy to work, drains well, and warms quickly, but it doesn't hold nutrients well, especially in rainy environments. You'll want to dig large holes for your plants and add compost, peat moss, or coco coir, which will help bind the soil together.
There are also commercially available soil blends that already contain the proper mix of these types of ingredients.
Growing containers
Your cannabis plants should receive as much direct sunlight as possible, ideally during midday, when the quality of light is best. As the season changes and fall approaches, your plants will get less and less sunlight throughout the day, which will trigger the flowering stage.
Balcony: This can be a great spot if it gets good light—ideally, it faces south—and will usually get good wind. However, you may need to cover your balcony from peeping neighbors.
Growing marijuana outdoors is great because you won't need to spend a ton of money on it and you can rely on the power of the sun. If you have access to a sunny spot in a private yard or even a balcony, terrace, or rooftop, you can grow weed outside. You will be tied to the sun and the seasons and local weather, but you won't have to spend a bunch of money on equipment and utilities like indoor growers.
Soil and other media for outdoor cannabis growing
Most outdoor weed growers will either dig a hole and add fresh soil for the plant, or grow their weed in pots. This will allow you to better control the growing medium and the amount of nutrients your plants receive.
While some plants thrive in their native soils, which are usually one of the compositions listed above, cannabis plants are best grown in soil that includes a combination of the three consistencies above—this mixture is known as loam.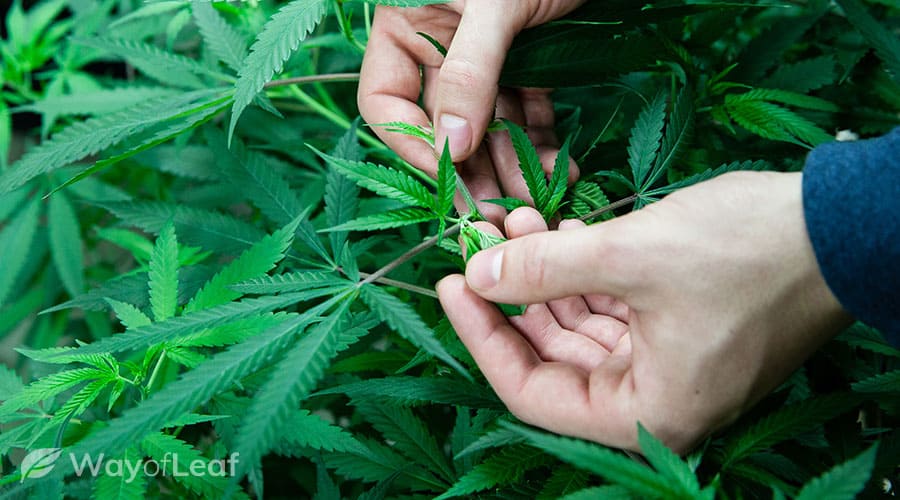 When growing cannabis outdoors, you have to realize that, while weed is reasonably adaptable to different weather conditions, it is still vulnerable to temperature extremes.
Step #1: Determine the Climate in Which You're Going to Grow the Marijuana
If your crop is in a windy spot, create a windbreak such as a wall. Alternatively, tying perforated plastic sheeting to garden stakes is also effective.
Protecting Your Precious Crop from High Temperatures
If you decide to use the soil in the earth, make sure you have its pH tested. Otherwise, purchase the soil from a garden store. Please remember that even store-bought soil could use added nutrients from compost. Your options include: