We also advise against using nutrients designed for indoor weed growing—they are generally composed of synthetic mineral salts and can damage soil bacteria.
Soil also varies in:
Having a constant breeze is good for your plants, and especially in hot climates. But if you live in an area with a lot of high winds, consider planting near a windbreak of some sort, like a wall, fence or large shrubbery.
It's crucial to have a good understanding of the climate in the area you're going to grow. Cannabis is highly adaptable to various conditions, but it is susceptible in extreme weather.
What size pot do I need?
For first-time growers, we recommend avoiding commercial fertilizers like long-release granular fertilizers. These can be used, but you need to have a good understanding of how they work and what your plants need.
Soil has three basic consistencies, in various ratios:
Roof: This can be great for sun but may have too much wind.
Soil and other media for outdoor cannabis growing
While some plants thrive in their native soils, which are usually one of the compositions listed above, cannabis plants are best grown in soil that includes a combination of the three consistencies above—this mixture is known as loam.
You can make this yourself by combining worm castings, bat guano, and other components with a good soil and letting it sit for a few weeks, or it can be purchased pre-made from a local nursery or grow shop.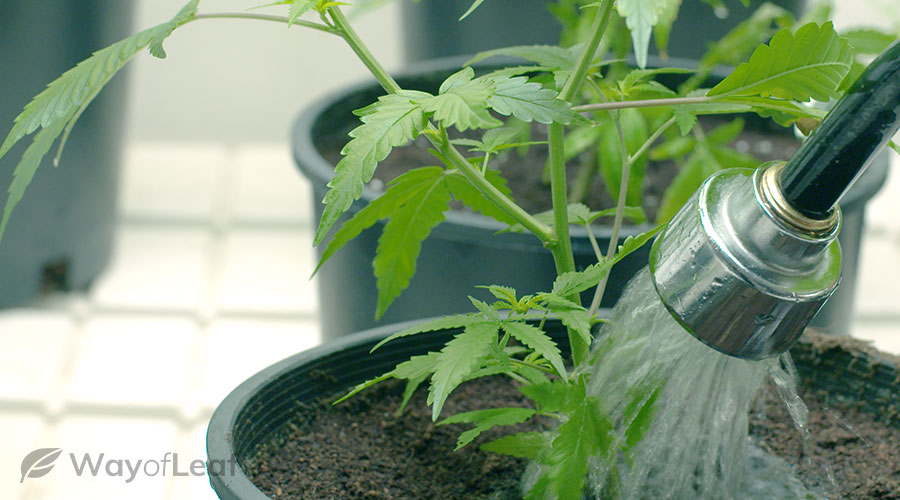 While insects damage your plants over a few days or weeks, larger animals can destroy them in minutes. You must examine your cannabis plants daily.
Composting is the way forward because it is cheap and relatively simple. You can also add all sorts of organic matter from fruit clippings to animal manure. Avoid using meat or animal fat as it will attract pests.
Some places to consider for an outdoor grow include:
Step #7: Protect your Cannabis Plants from Pets and Inclement Weather
If you decide to use the soil in the earth, make sure you have its pH tested. Otherwise, purchase the soil from a garden store. Please remember that even store-bought soil could use added nutrients from compost. Your options include:
It isn't easy to find the best location. Not only must it offer ideal growing conditions, but it must also be safe from discovery, even when planting legally. If you are adhering to the law, private property is best because you have full access and can control security. Otherwise, you have to risk public property, which increases the chances of discovery.
Step #4: Add Some Fertilizer to the Plants
If your crop is in a windy spot, create a windbreak such as a wall. Alternatively, tying perforated plastic sheeting to garden stakes is also effective.
Don't just focus solely on bothersome insects. Larger animals such as rodents, dogs, cats, rabbits, deer, and raccoons can damage or eat your crop.
Clay is just the opposite. When it's hot and dry, clay can become hard as a rock, making it difficult for roots to penetrate. Clay drains poorly and is hard to cultivate. On the plus side, it is rich in minerals and natural nutrients.
Loam is ideal for containers as well as for outdoor growing. Unfortunately, it is usually the most expensive soil to buy. But if you are interested in growing the best plants possible, it can pay big dividends in the long run.
You can also build up your own loam soil by adding organic matter to it. If you have a compost bin, you can use the compost to improve your soil. This will be a time-consuming and ongoing process but with grit and persistence will pay off in the long run.
Soil Types
Test kits are available to measure your soil's acidity, or you can take a sample to your friendly local extension agent. If your dirt does not have the proper acidity, soil amendments are available to lower or raise the pH level in your soil. Your local nursery, garden store or extension agent can make some suggestions.
Silt soils have lots of minerals and retain moisture well. Like clay, however, this type of soil can become compacted and hard in certain conditions. It can also form a crust, making it difficult for moisture and nutrients to reach plants' roots.
Loam for Growing Marijuana & Other Crops
Just like humans, plants need the right nutrients. The most important ones for your cannabis plants are nitrogen (N), potassium (K) and phosphate (P). These make up the ratios you will typically see on fertilizer labels.