Relying on the power of the sun, you won't need to spend a ton of money on an outdoor grow. You'll need some soil, fertilizer, seeds or clones, and maybe a small greenhouse to get them started. You won't need to pay for electricity for lights, AC units, or dehumidifiers, and you can even collect rainwater.
How to set up your outdoor marijuana grow
If you're growing weed outdoors, it's great to find a community of cannabis growers in your area to see how others are growing in your specific climate. Local climates vary, so it can be helpful to see what strains thrive where you are, and also when other growers are popping seeds, harvesting, and more. You can also join online forums or Social media groups, but a great place to start is your local grow shop.
Benefits of growing weed outdoors
Soil has three basic consistencies, in various ratios: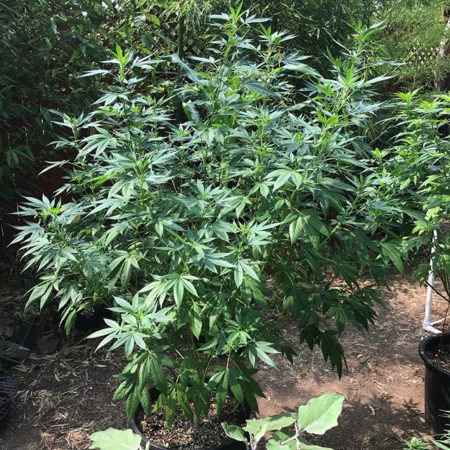 How often do you water seedlings?
"B.T." is an organic and OMRI certified insecticide that kills caterpillars but won't hurt people, bees, animals or plants. It is safe to use on your plant up until the week of harvest. Get Monterey B.T. Ready-to-Use Spray on Amazon.
Follow these steps and you will be harvesting your plants in a few months:
3.) Germinate your seeds and place in containers
Photoperiod strains
I built my backyard for privacy long before growing cannabis outdoors so it was canna-ready, but if fence height and privacy are an issue I'd recommend growing autos or scrogging photos. Have a dog to keep away cats and rodents as much as possible. Be nice to your neighbors, and a little sharing goes a long way! Sunlight availability is my number one challenge. 2-3 hrs in the morning and 3-4 hrs in the afternoon. The more the better!
4.) Water plants regularly
Seeds (or clones)
Photoperiod plants go to a 1-gallon pot first then 5 or 7-gallon then to their final pot. I use 15 or 20-gallon nursery pots for photos.
Depending on your location, you may need to plan for rain. In most regions, the rainy season is typically aligned with the end of the flowering stage and the start of the harvesting period, but this may not always be the case. Rain can be detrimental to an outdoor flowering crop so being prepared to cover or move plants can help ensure a successful harvest. If it does rain on your plants, make sure to immediately shake off any excess water, as lingering moisture can lead to the formation of mold and nobody likes moldy weed.
During the first half of the season, the daytime period increases until the summer solstice, which occurs in the Northern Hemisphere on or around June 21 and in the Southern Hemisphere on or around December 21. While the daylight hours increase, the plant's vegetative stage takes place. During vegetation, the plant will develop the roots and stems that will serve as the foundation for growth until flowering.
Choosing the best site for outdoor cannabis
Wilting plants and dry soil are a direct sign that plants need water. Droopy leaves along with wet soil are a sign of overwatering. Both are common mistakes and can be avoided with some practice.
Plants grown from seeds are typically heartier and more vigorous than clones, as they produce a sturdier taproot that clones are not able to replicate. The vigor that comes from deep roots can be an advantage when dealing with harsh environmental conditions and pest pressures. The disadvantages of growing seeds are the additional attention required to germinate the seeds, the necessity to eliminate any males before they pollinate the females, and the high variability in growth characteristics that results from their genes.
Season
Even if it is legal to grow cannabis outdoors where you live, you should still take some precautions to hide the plants from public view. And it's often required by law. You can grow your cannabis plants among other plants in your garden to hide them in plain sight. Cannabis can easily grow taller than your average fence, though. Training techniques can help keep your plants shorter. The fewer people who know you are growing cannabis, the better. The ideal situation is to have your grow tucked away on a piece of land where your plants can truly flourish away from prying eyes and nosy neighbors.