It's fun and relaxing
Climate in your area
Low costs
Benefits of growing weed outdoors
It's crucial to have a good understanding of the climate in the area you're going to grow. Cannabis is highly adaptable to various conditions, but it is susceptible in extreme weather.
Outdoor cultivators take what Mother Nature gives them and turn it into the best possible harvest. Many cannabis consumers prefer marijuana grown outdoors under the full spectrum of natural sunlight. That unique spectrum creates a greater variance of cannabinoids and terpenes than artificial lighting.
How to grow marijuana outdoors
Whether using seeds or clones, many cultivators start growing their plants indoors to ensure they are not exposed to damaging weather conditions as they develop their initial root system. The plants can be transitioned outdoors when the weather and light conditions are ideal. Extending the indoor vegetative growth period can help increase yields and allow growers time to select the best plants to be moved outdoors.
Image lightbox
The amount of water a plant needs largely depends on its size, the size of its container, the soil type, and general environmental conditions such as the weather and the intensity of the sun. Larger plants in warmer environments tend to use more water than smaller plants in cooler weather. The amount of water needed will change throughout a plant's life cycle.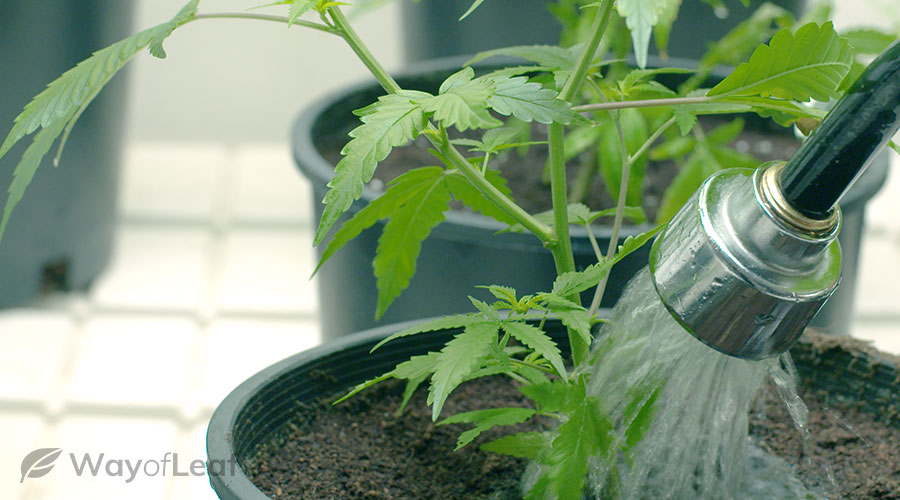 Threats like moles, who push up from the soil beneath your plants, require extra planning. An excellent way to prevent them from causing damage is by building a fence around 2-3 feet beneath the soil. You can also use deterrents such as urine from predators like coyotes, to ward off rabbits, gophers, and raccoons. Household items such as garlic and castor oil are pretty effective deterrents, too.
We are assuming that you intend to grow your cannabis plants from seed. In this case, you should germinate indoors during the early spring. In a warmer climate, seeds can start to sprout by early April. If you live in cold weather, this process probably won't happen until May.
Don't just focus solely on bothersome insects. Larger animals such as rodents, dogs, cats, rabbits, deer, and raccoons can damage or eat your crop.
Protecting Your Marijuana Plant from Pets & Pests
Make sure you layer the compost heap and ensure it has proper airflow. Turn the heap every few weeks and test the pH regularly to ensure it is balanced. These days, consumers are turning to super-soil to help fertilize their plants. This is organic pre-fertilized soil, which contains all the nutrients your marijuana needs.
Congratulations! You have successfully grown a healthy and hearty batch of marijuana. We would love to tell you that it's time to light up and celebrate. However, there are a few more key things you have to do first. Most pertinently, curing and drying the buds.
Tips for Choosing a Grow Site
It is best to maintain the temperature between 55-86 degrees Fahrenheit for as much of the growing cycle as possible. Marijuana plants can survive outside this range for short periods.
You must root the clones indoors before they are 'hardened off.' This is the process of moving a plant outdoors for a few hours a day. This method gradually exposes them to air, cold nights, and sunlight.